Forrester: DevTestOps and Continuous Delivery Pipelines
Check out some of the highlights from Diego Lo Guidice's Continuous Delivery Conference keynote presentation and listen to his thoughts on DevTestOps.
Join the DZone community and get the full member experience.
Join For Free
From Diego Lo Guidice's Continuous Delivery Conference keynote:
What Is a Continuous Delivery Pipeline?
Continuous Delivery involves transforming people, process, and technology for one primary goal: being able to promote code from one phase to the next at the push of a button.
If you really want to increase your velocity, rapidly moving code from one stage to the next is critical. However, even if some parts of your portfolio aren't yet fully Agile, you can still use this type of pipeline; you just push the button less frequently.
What Is DevTestOps?
Testing lies at the heart of the Continuous Delivery pipeline. That's why I use the term "DevTestOps." You have to automate unit tests, functional tests, process tests, performance tests—and code gets kicked back if expectations are not met.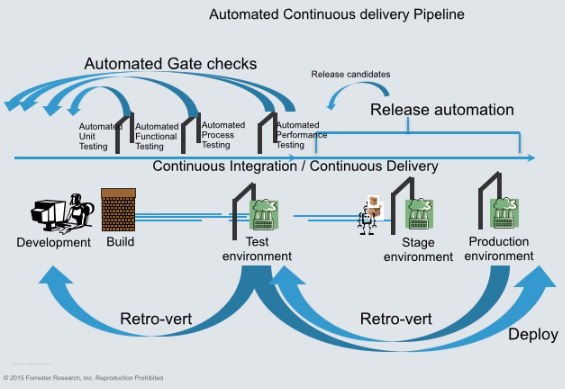 I believe that the line between development and maintenance is blurring, and organizations won't have separate development and maintenance in the future. It will be one product development stream, and you'll be in charge of your own bugs.
Moreover, I anticipate that there will be heavy pressure to fix bugs immediately because if you start creating a sizeable backlog of bugs (a.k.a. "technical debt") you just can't achieve the velocity that Agile requires. You'll struggle to keep pace with the accelerated schedules that the business now demands.
More Continuous Delivery Keynote Excerpts
Want to learn more from Diego Lo Guidice's Continuous Delivery Conference keynote? Check out these earlier blogs and videos:
CI/CD
Pipeline (software)
Delivery (commerce)
agile
Published at DZone with permission of Erika Barron-Delgado, DZone MVB. See the original article here.
Opinions expressed by DZone contributors are their own.