Get Ready for the Monetization of IoT Data
Check out what's on the horizon in the ongoing effort to monetize IoT data, including the role of blockchains and the impact on smart city initiatives.
Join the DZone community and get the full member experience.
Join For Free
It's well-established that data is the new oil when its come to the monetization of the Internet of Things. The sheer scale of connected devices spewing forth data is expected by some to give rise to a 'Machine Economy' where devices will trade everything from storage, computation/analytics to electricity and sensor data. Currently, it's suggesting that much of the data generated by connected devices sits in silos without analysis or offering business solutions or insights to anyone. We've seen a few examples where companies have aimed to monetize personal consumer data, but they are in their infancy. However, overall, when it comes to the Internet of Things space, we are seeing an increasing usage of data brokerage and data monetization platforms.
For example, digital security company Gemalto, providers of mobile connectivity, payment technology, and data protection solutions to manage services, are now working on providing mobile providers with the means to monetize user data: "With unique knowledge of every subscriber and real insight into their equipment, browsing habits, application download history, location, and mobility patterns, this represents a valuable new revenue opportunity that requires no additional investment." They stress that their model is strictly opt-in, suggesting that telcos should offer subscribers rewards for sharing their data.
Data analytics company Dawex has created a platform that enables businesses to monetize their data or exchange it free of charge. Each organization is rigorously vetted with a strict process to ensure its identity. Companies can monetize datasets & APIs, raw data, refined data & insights. Examples of traded data include customer and product-related data, financial data, IoT data, licensed as one-off deals or subscriptions.
In July, Samsung ARTIK unveiled their Smart IoT platform: ARTIK Cloud Monetization, a new service they created to monetize the data shared by IoT devices and applications and kick-start new business models, such as Hardware as a Service. They suggest that device manufacturers can offer pricing tailored to different consumption patterns. For example, they can offer some end users a higher up-front fee with a more generous free-use tier, or they can charge a smaller up-front hardware fee with a higher ongoing usage charge.
When IoT Data Meets the Blockchain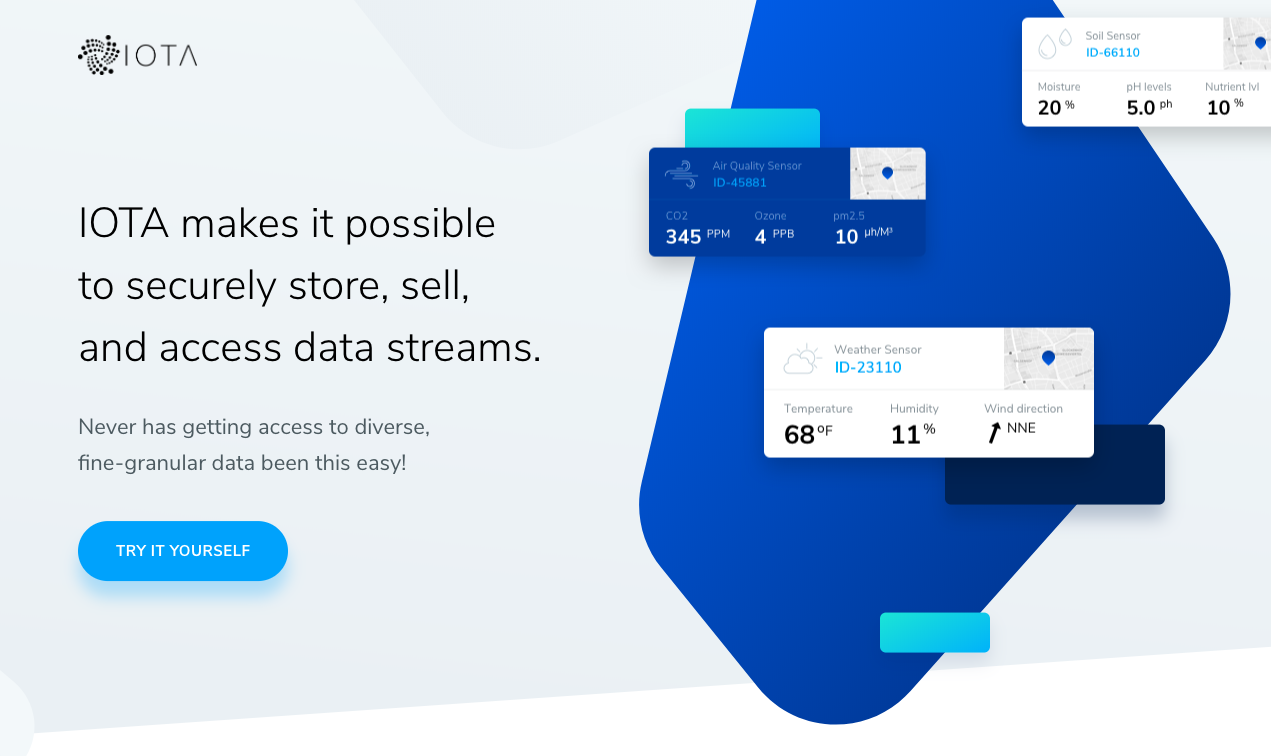 This week, the IOTA Foundation announced the beginning of a pilot project termed The Data Marketplace. Their aim is to create a data marketplace, essentially a platform where firms can buy and sell data from sensors and IoT-connected devices. They contend that their public Distributed Ledger architecture in opposition to the Blockchain (known as Tangle) ensures data authenticity and an audit trail of data as their Ledger enables tamper-proof data.
According to IOTA:
"The sheer magnitude and influence data has and increasingly will have on our society automatically come with huge business opportunities in the tens of billions in the next few years. Trading data will be a mutually beneficial exercise that both boost innovation for companies as well as create entirely new revenue streams of data that would otherwise just go to waste."
Over 20 organizations have signed up including Deutsche Telekom, EWE, Microsoft, Bosch, Tine, PwC, Accenture, Fujitsu, Schneider Electric, Orange and DNV GL. Their use cases are diverse, ranging from utility companies to autonomous vehicles, smart cities, and telcos. According to Georg Rute, Development Manager for Digitalisation at Elering, one of the companies involved in the trial:
"Over two thirds of the people in Europe will have a smart meter in their home by 2020*. This data can be extremely valuable for innovative new services. Elering's Estfeed platform enables access to meter data and it is fully compliant with data protection laws — end-consumers are in charge of their data, controlling which services can access it."
Silje Barekste, Head of Smart City, Oslo Business Region, states:
"Smart cities need to learn to leverage available technologies to their benefit. We're excited for IOTA and their potential for contributing to a green smart city, and to support them further with the ambition to put Oslo in the forefront in this area."
The Data Marketplace is open for everyone to participate in, and over the coming weeks they will be opening up an API for the marketplace so that anyone can contribute with their sensors, and build new data-driven applications.
Topics:
monetization,
connected iot data,
blockchain,
iot,
smart cities
Opinions expressed by DZone contributors are their own.