Getting to the Bottom of the Multi-Cloud Management Hype
Understand multi-cloud management and governance complexities, challenges, benefits, and 2021 outlook for enterprises.
Join the DZone community and get the full member experience.
Join For Free
The IT industry is never sans a buzzword and this time around it is multi-cloud. And like bees to honey, multi-cloud is attracting millions of vendors' interests who are touting its benefits and pitching their multi-cloud management tools and services to enterprises.
Now, one can't deny the potent reasons why enterprises are opting to go multi-cloud.
A 2020 Flexera State of the Cloud report suggests that 93% of enterprises already have a multi-cloud strategy and for good reasons. Choosing to have processes and applications across two or more public cloud environments keeps the risk of vendor lock-in at bay while also unlocking access to best-in-breed solutions from each cloud provider.
In fact, the pandemic has only fortified the demand for cloud computing. Organizations are now actively looking at building resilience and are leveraging cloud environments for the same, to sustain a more flexible and scalable model. And with the whole idea of having all eggs in the same basket losing its appeal, organizations' diversification process largely includes going multi-cloud.
But here's where you need to take your legs off that accelerator if you find yourself speeding hurriedly through the multi-cloud scheme of things.
Under all the elaborate packaging of goodness surrounding multi-cloud, you must not overlook the fact that it is still at its nascent stage.
So, even though, going multi-cloud was a favorable proposition for most enterprises, dealing with the complexities of something that is still evolving and yet to reach its maturity is real - very real.
And to make things worse, the market is brimming with tools and services promising you the smoothest and most convenient multi-cloud experience.
But facts be facts, there is a lot of misinformation surrounding multi-cloud management and a sheer oversimplification of its problems by many of these vendors.
Let's face it: the tools and services being promised are as new as the concept of multi-cloud and enterprises too have very little experience handling these. This is why, even after churning out millions of dollars in a desire to have a more manageable, secure, and cost-effective multi-cloud environment, it is no surprise that many enterprises are finding themselves right where they started, with little to no progress.
While there is no denying that multi-cloud management is a necessity at the moment and there is going to be an inevitable dependency on third-party vendors, it's only fair to hold up a red flag just in case anyone out there needs to slow down and reevaluate their pace and choices. At the same time, all news isn't as grim and foreboding. Data is shining some ray of hope and success in the direction of multi-cloud management.
So, what is the data saying?
…that the global multi-cloud management market is expected to grow at a CAGR of approximately 31% during the forecast period from 2017-2023. Valued at $1,198.4 million in 2016, the market is expected to reach $6,816.5 million by 2023.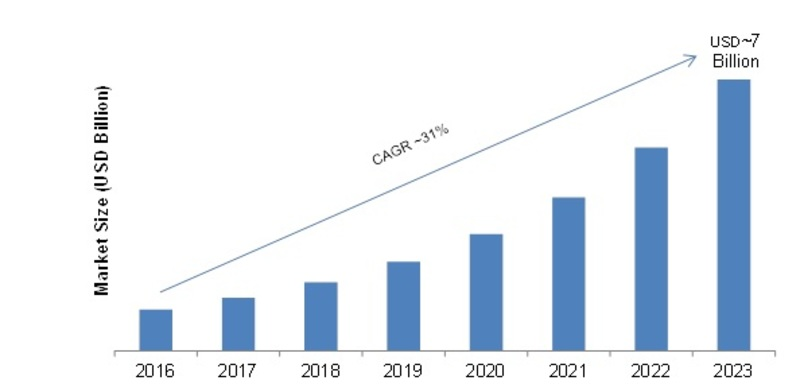 (Courtesy: Market Research Future)
And trends show that the North American region, given its technological advancements and developed infrastructure along with conducive regulatory compliance, generated the highest revenue in 2016. But in the period leading up to 2023, Asia Pacific is expected to see the highest growth rate in the adoption of multi-cloud management tools and services.
And, among the industry verticals, BFSI is expected to take a lead in multi-cloud management adoption followed by healthcare, two industries whose dependency on data is non-negotiable.
So, no doubt that as long as multi-cloud environments are expected to deliver cost, scalability, and agility benefits, the management of the environment is also going to be equally critical.
But it is only fair to conclude that multi-cloud management is going to be a no-playbook playing field, open to trial and error, susceptible to major bottlenecks and pitfalls for enterprises.
For the early birds, while they might catch the worm, they are also going to be playing a major role in what this new landscape is going to evolve into.
In Conclusion…
The complexities of a multi-cloud environment can indeed be a major setback in the journey for enterprises unless the cloud providers, especially, the three big names – AWS, Azure, and Google – push the game in favor of its customers who are adopting multi-cloud environments.
But the truth also remains that a first-mover advantage is beyond grasp if you wait for a playbook on multi-cloud management to be ready.
Containerization is one innovation that must motivate enterprises to keep trudging forward. Containers have emerged as one of the greatest facilitators of going multi-cloud. If not for all, it is solving some of the primary challenges of cruising in a multi-cloud environment.
Flexera's report suggests that 65% of the organizations are using Docker and 58% are using Kubernetes. Container-as-a-service offerings from Google, AWS, and Azure are also seeing positive growth. Of course, on the downside, these enterprises are also facing new challenges birthed by containerization. Similarly, since the last two years, Google, AWS, and Azure are acknowledging the customers' needs for a seamless multi-cloud experience. And in this regard, a lot of recent developments have been announced by the big three with Google currently leading the pack.
Nonetheless, what trajectory do these cloud providers take, how will it affect the enterprises and multi-cloud management scene, only time can tell.
Till then, here's where we stand: the journey is going to be bumpy but you might as well turn the ignition key and get going 'coz who are we kidding? Multi-cloud is going to be around for a while.
Topics:
cloud,
multi cloud architecture,
multi cloud governance,
multi cloud benefits,
amazon aws,
azure,
google cloud compute
Opinions expressed by DZone contributors are their own.