Google's New ML-Powered Voice Recording App
DZone 's Guide to
Google's New ML-Powered Voice Recording App
In this article, learn more about Google's new AI-powered voice recording app.
Join the DZone community and get the full member experience.
Join For Free
Google is heavily investing its resources in AI and machine learning research intending to shell out products and services for the future. So whether it has to do with computational photography or email suggestion features, Google has always been active on this front. Recently, Google also launched the famed "Google Recorder". You might wonder that there are several voice recorder apps in the market so why this? But we all know it, if it is from Google it has to be a contender for the top slot!
Before we explore further, let us see whether Google reads the race or not! And, yes we see right there that Google has done a great job when it comes to AI-based research and launches.
The recently launched Google Recorder app is one of the applications that has been powered by a machine learning algorithm that transcribes audio with an unparalleled precision rate. It is not as if Google had not experienced failures with Google Clips but this app has in it those features that can make it an astounding success. It is currently available on Google's flagship mobile brand Pixel 4 but application developers are also researching further to make it available on Android platforms.
You might also be interested in: Everything You Need to Know About Voice Recognition Technology
Let's Dig Deeper!
But first, what is machine learning?
It is a component of artificial intelligence that thrives on two functionalities namely learning and adapting. So, it is infusing machine learning algorithms into programs that learn from a load of data and adapts in accordance with the data.
Still Not Clear?
Ok, let's make it easier for you.
Machine learning is a theory in which a computer program learns, deciphers, and adapts without the need for any human intervention. Machine learning deals with hordes of data also known as Big Data, which it uses and make sense out of based on the algorithms given.

Let's also see some facts to throw light on machine learning
Global machine learning is expected to reach $20.83B by 2024 from a humble $1.58B in 2017
The CAGR is expected to go up by 44.06% between a 7 year period from 2017 to 2024
AI revenues also will shoot up from $10.1B in 2018 to $126B by 2025 as per Tractica.
More About Google Recorder
Google recorder functions in real-time and is an app that records audios and deciphers it, converts it into text, which has the capability of being edited. The best part, which sets it apart from its competitors, is that it also functions offline. As a matter of fact, the user does not even have to give a separate command to transcribe because it is automatic.
6 Things You Must Know About the Google Recorder
1. Embracing the Edge-First Model Design
Companies came with the mobile-first design concept to develop their apps for a rich mobile experience followed by the desktop version. We are aware that machine learning-based applications run on a cloud that makes the app slower and riskier considering the security issue. But Google recorder has been developed using the RNN-T transducer model, which is the reason behind the sturdiness of the google voice recording app.
It uses a single neural network, which is considered best for decoding errors. If companies are looking to develop apps that have a larger shelf life then it has to move away from the traditional school of thought.
2. Better Technology Stack
The app has been created using Swift in conjunction with TensorFlow. This has proven to be a great collaboration because it has converted into a faster app development time and enhanced performance. Swift and TensorFlow have done the trick for them, and for future ML apps too this seems like a great proposition.
3. Functionality of Transcribing
Now, we all know that the app generates at the moment transcriptions of the audio recording. The interpreted text can be scanned pretty easily. This implies that if you are looking for a particular word, you can simply search the word without facing the difficulty of listening to the entire audio. The interpreter or transcribing functionality of the google voice recording app is what makes it stand out.
The on-device speech recognition model allows the app to transcribe drawn-out audios files up to a few hours. The words so recorded are graphed to the timeline of the recording. When the user taps on a particular word in the transcription piece, the audio will start playing from that point onwards.
4. Apprehend the Sounds
The much considered contorted neural network has been used to connect different sounds to colors. The users can listen to different sounds like a dog barking or a honk and depending on the intensity of the sound, a color will be assigned in the waveform.
Just by looking at it, users will be able to visualize sounds. It also audits the varied sounds and initiates every 50ms in a 960ms time period. This will aid users to pinpoint the start and end time eliminating errors. Google recorder also has a sliding window, which gives sigmoid scores vector as an output.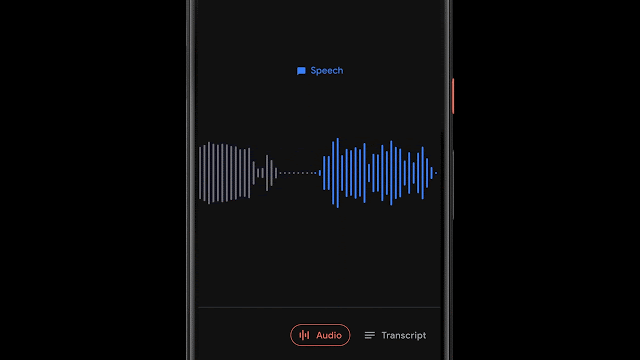 5. Title and Tag Suggestions
Just when the recording completes, the app also provides suggestions on titles and tags based on the nature of the audio. Grammar connotations and term incidences help it do this. These terms are segregated as entities and are capitalized.
With the help of the predetermined algorithm, it buttons down the parts of speech and gives scoring based on the quality of content. The final selection of words would then become the title or tag of the text.
6. User Privacy
As seen earlier, if the ML has been constructed on a cloud platform, the app performance slows down and user data stands unprotected. When machine learning deduces data, it makes available Big Data on a cloud platform, which is accessible to everyone. Your personal details also are at stake but Google understands that your privacy matters.
The data that you record and save can be a family meeting or an important lawyer conversation. By making it available offline there is no chance it is accessible to an open platform to take advantage of. There is no need for you to transfer the data to the cloud.
So Far so Good!
I have covered quite a great deal about the acclaimed Google recorder and we as users have to see why machine learning is a big thing that needs to be done the Google way.
It is high time we humans use AI and ML as tools instead of competing against it. If research is headed in the right direction, the future looks bright.
Further Reading
Voice Recognition, Translation, and Text-to-Speech on Mobile (Video)
Topics:
artificial intelligence ,machine learning ,ai ,google recorder