Growing Community of Mule Devs
DZone's Guide to
Growing Community of Mule Devs
Knowledge sharing is great, and so is getting cool stuff. Earn your way to getting MuleSoft swag by posting to DZone and help grow our dev community!
Join the DZone community and get the full member experience.
Join For Free
Like any other technology, Mule depends on its developer community to take it forward and spread the word of how the technology has helped the company achieve its goals. Mulesoft is no different. The Champions Program that Mulesoft has is perfectly designed to motivate developers to learn more and share more and to get some awesome MuleSoft swag in the process.
As a developer, we get caught in the daily developers' activities and sometimes don't get time to do what we developers do best, learn new things and share those with our fellow dev's.
The Champions Program from Mulesoft is a point based system where you are awarded points for doing various activities: some of them are targeted for your inner blogger, some are targeted towards the tutorial maker in you, and quite a few are just for the learning purposes, like reading "How Tos," and some are for sharing what we see on SNSs.
To name a few of challenges:
Write A Book.
Share Your Knowledge with a Video Tutorial/ How-To.
Become an MCD - Connector Specialist.
Daily Challenge: Be our Twitter hero and share with your friends.
Write a Blog Post about MuleSoft or RAML on DZone, InfoQ, or CodeProject.
Quiz Time! What do you know about MuleSoft's File Connector?
These are just a few of the challenges available in the Champions Program. With each challenge completed, you are given points that you can use to get some awesome MuleSoft swag, or to get free vouchers for certifications, or to attend training provided byMuleSoft.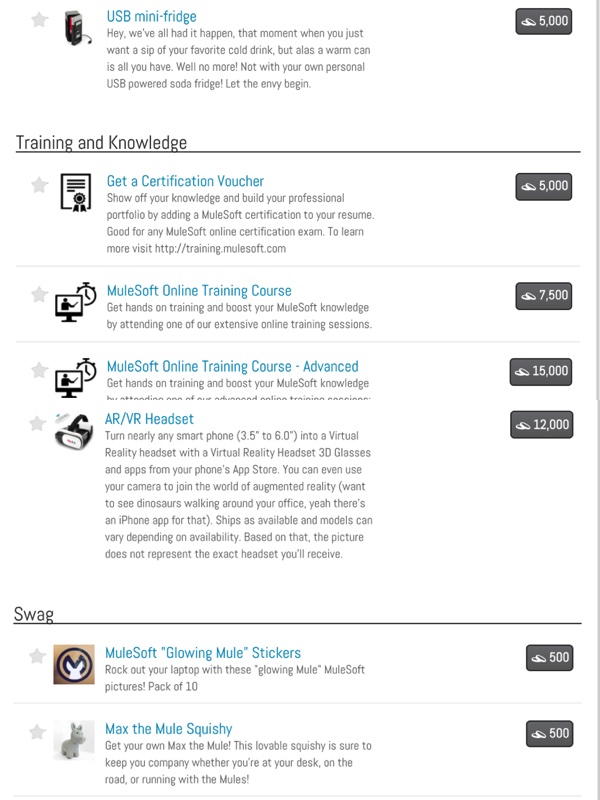 On top of all this comes the satisfaction of seeing yourself climbing the ladder of the community board, and getting some awesome badges from the Champions Program.
With every point you earn and every challenge you complete, you gain a level and move toward becoming the champion of champions. So the key is to write blogs and create tutorial videos and to do as many of the challenges that you can.
Not About Quantity, All About Quality
But if you are really serious about learning and gaining something from this Champions Program, then my suggestion is to create something that gives you the chance to learn and share your knowledge with others.
With that note, I hope to see you all there. Let's keep rocking our dev community and let's all move forward together.
Topics:
mulesoft ,agile ,dev ,communities
Opinions expressed by DZone contributors are their own.