Halloween of Things: Check Out These IoT-Inspired Halloween Hacks
You can have the best halloween decorations this year with these IoT-inspired Halloween projects! Click here to learn more.
Join the DZone community and get the full member experience.
Join For Free
It is that spooky time of year again, which also means it's the perfect time to make a list of the most awesome Hackster-inspired IoT Halloween hacks. Hackster is a community where beginners and pros can share their Internet-connected hardware projects and learn from other makers.
These projects range from practical to the whimsical — and even Halloween holiday fun! The site also includes links for all the materials and procedures to make the projects easier to find, ranging from the hardware to the software needed to run the tasks.
Here, I decided to gather up the best Halloween-hacks and share them. Maybe, they can inspire you to create your own fun, inventive, and Halloween-inspired IoT project.
Fire Breathing Pumpkin by Kevin Sidwar
DISCLAIMER: This project comes with a warning label and for good reason. This is an IoT-controlled, flame-throwing pumpkin to wow trick-or-treaters from a safe distance! This project uses a conventional pumpkin and hairspray, along with hardware, such as Particle Photon and Device Cloud. This showstopper takes an old candle-and-hairspray trick and uses the cloud to automate the fire show remotely using a phone. Be careful if you actually plan to build this project, as someone could get hurt if you are not careful.
Spooky Singing Pumpkin Lamp Made By Luigi Francesco Cerfeda
This IoT Halloween project results in a cute, light-up 3D-printed pumpkin lamp that hums Halloween music and changes colors when the built-in sensors hear noises nearby. The components feature hardware, such as the Zerynth Shield, Particle Photon, and the software is from Zerynth Studio. When finished, you can control the pumpkin lamp through a cellphone.
Halloween Laser Maze By Sam Horne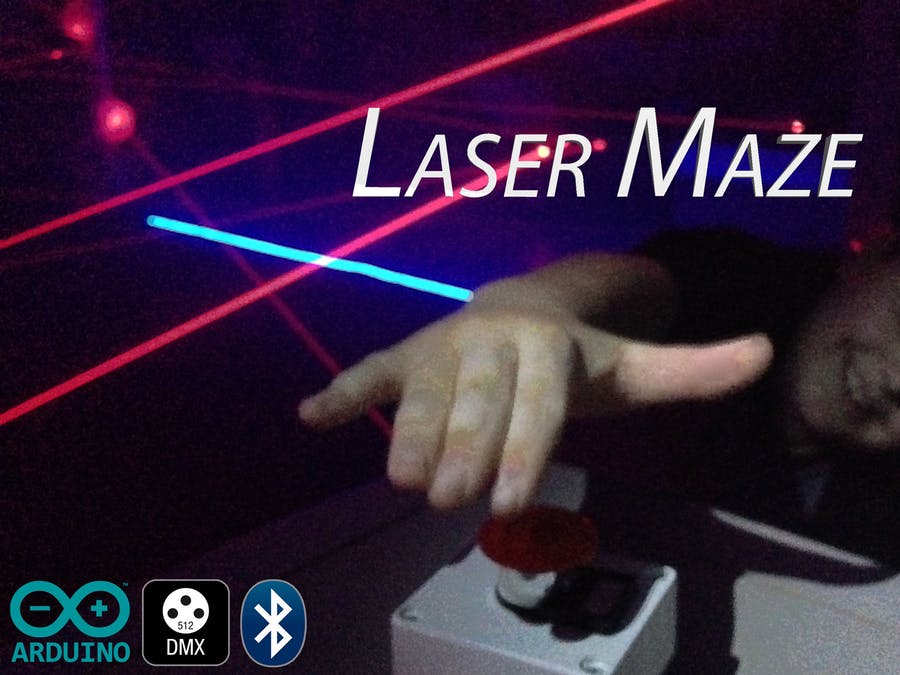 This project is pretty unique — learn how to build a Halloween-Theme Lazer Maze using Arduino, RedBear, photo-resistors, laser modules, and other hardware components. The photo-resistors are used to the read the light intensity. If someone breaks the light beam, the light beam levels will drop and a fail sequence will be triggered.
Turn Amazon Echo Into a Ghost By Bryant Schuck
With this project, you can turn Amazon Alexa Echo tower into an interactive seasonal centerpiece. This Ghostly Echo is made by combining a traditional cheesecloth and starch ghost craft with a Particle Photon, an Amazon Echo, a NeoPixel strip, and the Amazon Alexa Skills Kit. Coupled with an amazing Halloween MP3 mix, this project is a Halloween party necessity.
Stranger Blinks: Send Messages From the Upside Down - Made By Luigi Francesco Cerfeda
This Stranger Thing-inspired project allows you to recreate the infamous wall lights scene with a Particle Photon, Arduino Duo, NeoPixel Strip, and other hardware components. By using Zerynth Studio, apps, and tools, you can control these holiday lights remotely and create your own blinking effects.
Ideas Abound
There are many other amazing Halloween-inspired IoT projects on Hackster.io. Here are other great projects that are original and unique. If one of the projects above didn't inspire you, maybe one of these can:
Halloween Blinky Eyes — Use an LED strip animation to make a pair of spooky Halloween eyes

Particle-Driven LED Pumpkin Patch — Carve your own pumpkin and then give each one a Particle-powered LED to change the pumpkin's color.

IoT-Laser Tag, With Candy! — Create an IoT-inspired ray gun to shoot targets and dispense candy. This is a great project if you plan on having a Halloween party and want to have an interactive experience/element.
Topics:
halloween,
iot,
amazon echo,
flame thrower,
diy,
lazer
Opinions expressed by DZone contributors are their own.