High-Level Architecture for HDFS Slurper V2
DZone's Guide to
High-Level Architecture for HDFS Slurper V2
Join the DZone community and get the full member experience.
Join For Free
The open source HPCC Systems platform is a proven, easy to use solution for managing data at scale. Visit our Easy Guide to learn more about this completely free platform, test drive some code in the online Playground, and get started today.
The current HDFS Slurper was created as part of writing "Hadoop in Practice," and it just so happened that it also happened to fulfill a need that we had at work. The one-sentence description of the Slurper is that it's a utility that copies files between Hadoop file systems. It's particularly useful in situations where you want to automate moving files from local disk to HDFS, and vice-versa.
While it has worked well for us, with the addition of a few choice features it could be even more useful:
Filter and projection, to remove or reduce data from input files
Write to multiple output files from a single input file
Keep source files intact
As such I have come up with a high-level architecture for what v2 may look like (subject to change of course).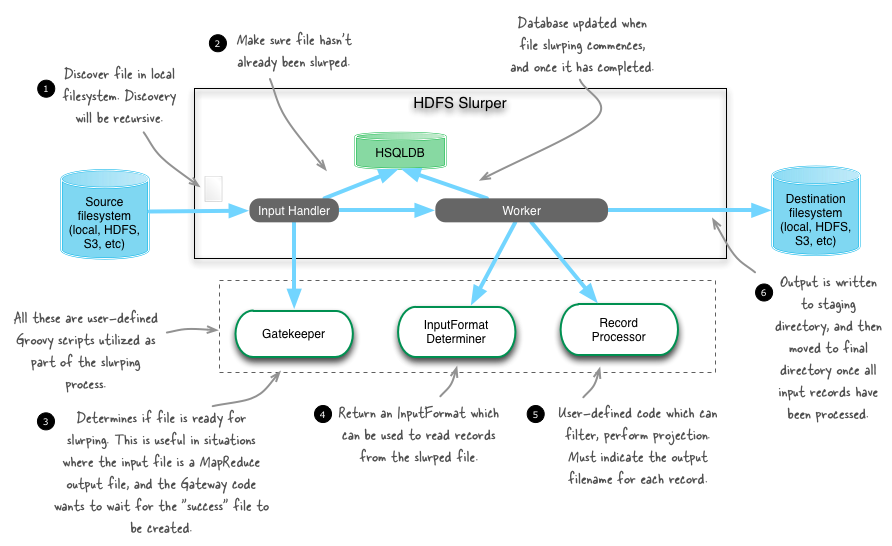 Managing data at scale doesn't have to be hard. Find out how the completely free, open source HPCC Systems platform makes it easier to update, easier to program, easier to integrate data, and easier to manage clusters. Download and get started today.
Big Data Partner Resources
Big Data Partner Resources