How Big Data Analytics Is Helping Businesses Grow
This article explains how big data analytics is guiding businesses to grow.
Join the DZone community and get the full member experience.
Join For Free
Did you know 95% of businesses say that managing unstructured data is a problem for their business?
Unfortunately, all the data we generate today is unstructured. Therefore, it is difficult and expensive to analyze data, which explains why it is a major problem for most companies.
Big data analytics comes into play here. It is a term that describes large amounts of data that connect business on a day-to-day basis. Big data can be analyzed for insights that results in better decisions and strategic business moves.
Nowadays, companies have widely embraced the use of analytics to streamline operations and improve processes. According to a survey conducted by Bloomberg Businessweek Research Services, it is found that nearly 97% of respondents reported their companies had adopted big data analytics.
The big data analytics market is all set to reach $103 billion by 2023. It has changed the course of market strategies and paved utterly new avenues for the growth and profit of companies. With this, you can adequately represent and break down several issues and serve the objectives of your brand.
Pondering how businesses are leveraging the perks of Big Data? Follow this piece of the article until the end to know how big data analytics is guiding businesses to grow. So, let's start!
Effective Ways Data Analytics Is Driving Business Growth
Data analytics for business tells you about the wellness of your business so that you get a fair idea of where you stand, what is happening in your business, and what you must do to achieve your business goals.
Thus, it helps in making companies more efficient, productive and can also help predict future market trends. Let's highlight the various ways that data analytics can help your business grow.
#1 Big Data Helps You Set Realistic Goals
Setting goals for your business will involve guessing without the right information. You do not want your business goals to change from time to time. This is where analytics comes into play.
With analytics, you will be able to gather data from historical trends and past activities. You will have a clear idea of what your goals should be and can be right from the beginning.
It ensures that you do not misuse opportunities to help your business grow. This becomes very clear when some goals are not possible. This kind of data analysis will show you both weaknesses and strengths, which can help you to grow your business.
#2 Big Data Analytics Boost Customer Retention
The customer is the most important asset on which any business depends. No company can claim success without first establishing a strong customer base. However, even with a great customer base, a business cannot afford to neglect high competition.
The use of big data allows businesses to observe various customer-related patterns and trends. Observing customer behavior is essential to trigger loyalty. Theoretically, the more data a company collects, the more ways and trends a business can be able to identify.
It is necessary to have a big data analytics strategy to maximize the data at your disposal. With a proper customer data analytics mechanism, a business will have the ability to gain critical behavioral insights that need to be acted upon to maintain a customer base.
Understanding customer insights will help your business know what customers want from you. This is an essential step to achieve high customer retention.
A real-life example of a company that uses big data analytics to drive customer retention is Coca-Cola. In the year 2015, Coca-Cola succeeded in strengthening its data strategy by creating a digital-led loyalty program.
From the above example, it is clear that big data analytics is firmly behind customer retention at Coca-Cola.
#3. Improved Service Level Performance
Data analytics lets businesses predict their ability to meet customer demands. Often the users ask for same-day delivery, big data analysis this by understanding the traffic patterns and average delivery time for every supplier in significant cities.
Analyzing the supplier's performance helps identify which of their suppliers will have the highest probability of success for orders placed by location.
Furthermore, it allows them to make and fulfill commitments, or pass on business where they know delivery is not possible, or to propose delivery the next day.
If a company wants to enhance its effectiveness and efficiency, it is crucial to managing the performance of employees or processes. It is necessary to measure performance. This is a tough task, given that the data will be scattered and uncontrolled.
#4 Big Data Analytics helps in Decision-Making
A decision maker's intuition and experience are valuable, but a business must rely on decision data that is influencing them. You cannot make sound decisions about pricing strategies, inventory management, and other business factors without data analytics.
Even when it comes to hiring people, actionable data can help you assess how many people to hire and how to deploy them.
Businesses using data analytics are three times as likely to report that their decision-making has improved. By incorporating data analytics into your decisions, you will reduce the risks. You will also feel that you are improving your efficiency and business profits.
#5 Boast Revenue Growth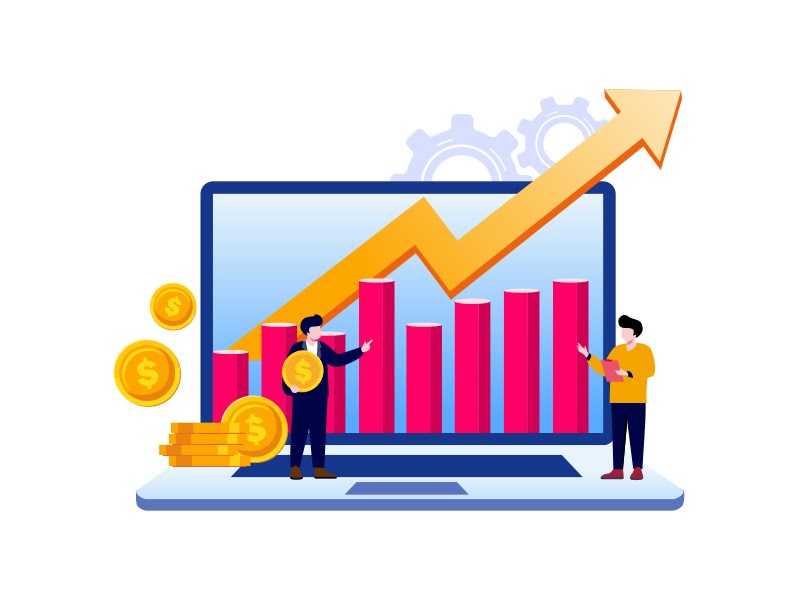 Analytics play a vital role in increasing revenue for your business. It is crucial to make sure that you are using essential resources as effectively as possible.
One study suggests that companies adopting data-driven marketing strategies can increase revenue by 20% and reduce costs by 30%.
Analytics is useful for monitoring e-commerce activities, advertising campaigns and multi funnel channels. This allows you to measure their performance and effectiveness, making it easier to see what works and what doesn't.
You can stop campaigns that are not bringing in results, find out which keywords are bringing traffic, and put resources into better campaigns.
#6 Cutting Down Costs
Cost is one of the vital factors in any business venture regardless of size. Every business is different and requires the right investment in resources at the right time. For example, a gift shop may see an increase in sales during the festive season.
On the other hand, jewelry and flower shops get extra business during the wedding season. This means, every business requires a flexible labor force during a specific time and also extra effort and investment at a particular time of the year.
Big data analytics can help you determine the right strategy so that you can invest in resources such as workforce and staffing forecasts during the right time. This minimizes the risk of cost overheads and better utilization of resources to maximize ROI with the help of data analysis.
#7 Helps in Identifying Ideal Demographics
There are plenty of ways to identify your ideal demographic with analytics. Your existing customer base and social media data are valuable sources of information.
You can also study the audience of your competitors. There is also publicly available data that can be helpful. By using analytics to analyze your audience, you will get rich and practical information.
Many tools make it easy to collect data regarding your users. You can also add Google Analytics to your website.
Also, you can add analytics plugins to your site to understand user behavior. You will find out how people interact with your products and the type of content that generates the most engagement.
Once you determine your ideal demographic, you can provide tailored content and solutions. In this way, leveraging analysis can lead to more conversions.
#8 Big Data Helps to Create Mass Personalization
When you have segmented your audience with the help of analytics tools, you can create large-scale personalization. You can set tools to personalize email marketing content automatically and effectively.
You can personalize content to target a larger audience and create personalization at the same time. It can boost your business's reach and can lead to higher conversions.
74% of marketers agree that targeted personalization increases customer engagement. By using data to accelerate your marketing efforts, you can set a relevant experience during your customer's purchase journey.
#9 Improved Advertising
Knowing what consumers need beforehand makes advertising efforts much more customer-oriented. It empowers companies to customize their ads to focus on one part of your entire customer base.
The positioning of products on the website is measured to identify the best location to help drive engagement and sales. Advertising can be expensive, and it's essential to know how to get the best return on investment.
Also, big data analytics encourages companies to find out which piece of the customer base will respond best to the campaign. Besides, it is a good deal at the expense of persuading the customer to purchase and to increase the overall productivity of marketing and advertising efforts.
Bottom Line
The use of Big Data helps in many ways which makes it the right tool to invest. Embracing data in your organization has apparent benefits. The data gathered creates actionable insights by adding analytics tools to your website and business processes.
And it can help you make faster decisions that attract your customers for better ROI. Therefore, to get the perks of data analytics, you can hire developers from India to make analytics a vital part of your business. Data analytics for businesses will surely pave the way to business growth.
Topics:
big data,
big data analytics,
data analytics
Opinions expressed by DZone contributors are their own.
Big Data
Partner Resources