How Bike-Share Can Prepare Us for Autonomous Vehicles
DZone 's Guide to
How Bike-Share Can Prepare Us for Autonomous Vehicles
Connected technology continues to move ahead in fits and starts. Let's see how bike-sharing programs are paving the way for driverless cars.
Join the DZone community and get the full member experience.
Join For Free
As we prepare for the gradual evolution from car ownership to rental and the eventual mainstreaming of autonomous vehicles, there's a relatively new problem that is a blight on cities all over the world — bike-hire dockless bikes sprawled on pavements, carparks, up trees and floating in rivers. Where I live in Berlin, there are at least three or four companies that seem to have almost airlifted the bikes into the city overnight and whilst bike riding is popular amongst residents, it's rare to see the bikes being actually used.
What place should bike hires have in connected cities and how are they preparing us for the decline of car ownership? I spoke to Sean Flood, CEO of Gotcha Group to find out more. He explained:
"LimeBike, Ofo, and Spin have gotten a lot of attention lately due to major VC investments that have allowed them all to simply dump their free-roaming dockless bikes in cities across the country. One mistake with this approach is that commoditizing a bike sharing program isn't sustainable nor is it truly part of what's being called the shared economy."
Sean and his company have been involved in the bike share and other mobility services transport community amongst college campuses for over 10 years. But they offer a twist. He detailed:
"Gotcha Group is a mobility service company that we started back in 2009. We're the only fully customizable, turnkey bike share system that is tech-enabled to create dockless or hub-based bike systems, giving our partners the freedom to create a mobility solution designed to suit the needs of their community. We also provide a micro-transit service with a fleet of 100% electric vehicles for on-demand, fixed route, and special event transportation." The company has launched 34 bike share systems at major universities and cities and are also the largest operator of premium outdoor advertising on college campuses nationwide, enabling many campuses to fund their transport services at reduced cost or free to students - a unique sustainability selling point to prospective students. This is significantly different from the dockless business model as according to Sean:
"Dropping 700 free-roaming dockless bikes in a city means that company has to get 2800 rides per day to break even, which doesn't make sense financially and isn't a shared experience if people aren't utilizing all of the bikes available. Aside from the math not adding up in the cities' favor, these locations will suffer similar experiences that Dallas and D.C. have, which is clutter and chaos with people discarding the free-roaming dockless bikes into trees, lakes, strewn all over sidewalks, and pretty much anywhere else you can imagine. Bike racks exist for a reason and we already see how the latest craze to rush and implement free-roaming dockless bike shares has become a total nightmare."
Preparing for Autonomous Vehicles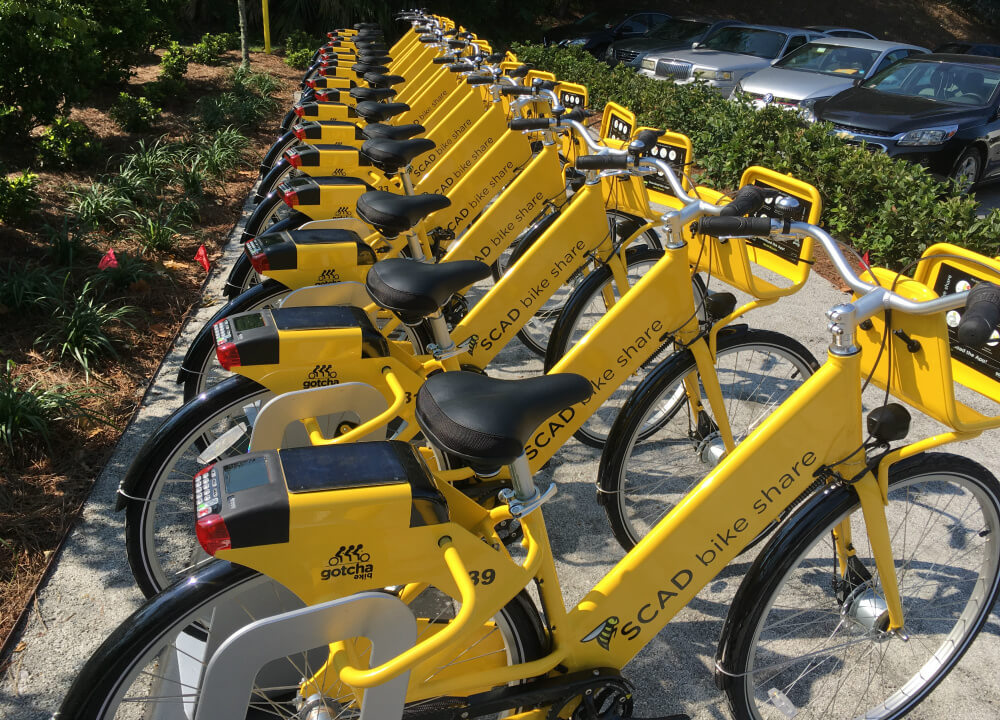 According to Flood, many students traditionally have owned cars which they would utilize perhaps an hour day for short trips, the rest of the time taking up parking space in expensive facilities. "People live with too much anxiety around transportation, that's why they rely on their car. What if I might need to go somewhere unexpectedly?" Yet parking spaces are expensive to build and take up precious campus space that could be better used to provide educational facilities or student services. Further, the majority of campuses need first mile, last mile options to coincide with local public transport, for example:
"Auburn University already has a successful bus system but don't want to build parking lots, as they want to eliminate cars on campus. So we launched our bike share and car share system and we've given over 125,000 rides on either electric vehicles or smart bikes. There's been a drastic difference in the number of people driving a single occupancy vehicle to campus. If you're still building structured parking garages, you're building something for vehicles that we won't have in the coming decades."
The company also works with a number of universities that have been used as autonomous bus testing ground for a number of years such as Georgia Tech, and the hope is that they've intersected in the future.
It's a strategic approach that is about building relationships with both cities and universities and is particularly viable due to its scalability. New buildings are already reducing or eliminating car parks — a decision that's not without controversy. In my hometown of Melbourne, Australia, a proposal for a 'green' apartment building without designated car parks was knocked back by town planners, despite its location next to a train station, it the planned provision smart bikes and car hire, and the saving of $30,000 per dwelling by not having parking. It's a mindset that can be hard to shift and Flood is in a unique position to start the change as he explained: "We can reach a young demographic before they go into the workplace. If you get an 18-year-old student used to riding a bike share system, its an opportunity to change the mindset around car ownership through providing other smart mobility options."
Topics:
bike share ,autonomous vehicles ,smart cities ,iot
Opinions expressed by DZone contributors are their own.