How Brands Implement IoT Enabled Digital Product Warranty
DZone 's Guide to
How Brands Implement IoT Enabled Digital Product Warranty
Click here to learn more about how members of the retail industry are enabling digital product warranties on their products via IoT.
Join the DZone community and get the full member experience.
Join For Free
Traditional warranty management techniques are progressively moving over the Internet. With smart products emerging in all industry sectors, digital product warranty activation is the way to move forward for brands.
From smart cities, smart homes, smart watches to smart clothes, we are witnessing a shift towards products moving over the internet. These 'digital instances' of a physical product can be further accessed over the web through mobile or web-based applications, devices, scanners, browsers, or other devices with sensors directly connected to the Internet themselves.
Smart products provide brands with the opportunity to eliminate fake or counterfeit products as well. By allowing end customers to digitally activate their product warranty through web or mobile based applications, brands can leverage other product-related business opportunities like ownership authentication, repairs, warranty management, and offering other post-sales product services.
With a digital warranty system in place, businesses can collect relevant customer and product data pertaining to warranty management in real-time. This serves as a great opportunity to further upsell product warranties and proactively promote other services.
Proactive and pre-emptive warranty management becomes easier with an operational digital warranty management system.
Digital warranty registration, activation, and management make processes more transparent and seamless. From production to distribution to the end of the products' lifecycle, digital warranties connect consumers and companies. Such seamless connected operations and innovations in the warranty management sector are increasingly relying on the concepts of IoT to drive processes.
How Brands Are Offering IoT Based Digital Warranty Solutions
UK based warranty service providers, MotorEasy, launched fitC Warranty. The company designed a fitC device compatible with OBD ports in cars. Once combined with the fitC smartphone or website app or, it provides customers with real-time, actionable data, such as booking and monitoring warranty management, improving fuel consumption through car data, and checking the car's overall health.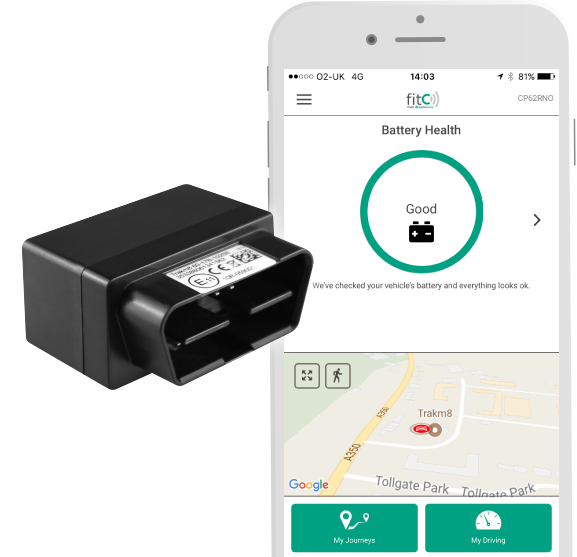 The app allows customers to manage and prevent car breakdowns and oversee the car's general health. Alongside fault notifications, the fitC technology measures the battery status of a car and tracks its location via GPS, delivering 'Driver Behaviour Scoring' to improve safety and fuel consumption.
The device also reminds drivers when their car is in need of a service. This is a great example of how companies are building IoT based applications to drive 'smart product data' into actionable operations.
Although, it is important to understand that warranty activation can be performed without building devices. For instance, Bulgari's Digital Warranty extends product data to the Internet through its digital warranty card, which is scannable with the Bulgari Vault App. Bulgari's digital warranty ensures the activation, authentication, and management of its timepieces throughout their lifecycles.
By using a robust IoT platform, companies can extend their smart products to the Internet by defining certain attributes that are associated with them. These data models can then be utilized for a myriad of use cases.
In the case of digital warranty, a product data model, including warranty-related attributes such as the name of the owner, address, contact details, the location of purchase, date of purchase, seller details, product details etc., can be extended to the internet. These data models can then be exported to develop other applications and devices related to warranty management.
Since the warranty data is attached to the 'smart-product' or digital-instance of the physical product on the Internet, it can be accessed from anywhere, by both product users and manufacturers. As a result, warranty records can be accessed, transferred, altered, and managed from anywhere by more than one stakeholder.
The Internet of Things can change the way companies invest and execute in warranty management. To combat, track, and reduce the limit of DOA products and manage post sales warranty operations, companies need seamless digital warranty management.
Topics:
iot app ,iot based solutions ,digital ,digitization ,iot ,digital product warranty
Opinions expressed by DZone contributors are their own.