Coding Standards for Magento Framework
DZone's Guide to
Coding Standards for Magento Framework
When it comes to coding standards, there isn't much deviation between languages and platforms. We look at some for Magento which can be applied more widely.
Join the DZone community and get the full member experience.
Join For Free
Coding standards for Magento have been around for ages. Sure, they have undergone modifications and minor changes. Overall, they have helped hundreds of programmers maintain a certain standard of code quality. Right now, if you want to design your own Magento module, you need to adhere to a few coding standards yourself. An easier way to understand the concept of Magento coding standards is to view them as coding practices that Magento has adopted over the years.
Here are a few principles that you should follow to stay on the right track while coding –
Follow the Zend code standards.
Leverage the existing coding libraries.
Comment on your own code.
Use minimum supported versions of PHP.
If you are working on the core code of any Magento theme or builder, you need to follow the code demarcation principles for Magento. It is ideal for all developers using third-party extensions. For example, if you are going to use Magento's search extension to implement site search functionality, you need to stick to the standards of coding.
Why Did the Code Demarcation Rule Come Into Existence?
Programmers were hoping to achieve at least a few of the four goals during coding:
The decoupling of the CSS visual layer from the JavaScript functional layer.
Decoupling of the functional layer from the HTML markup layer.
An emphasis on the use of jQuery templates.
Focus on the segregation of CSS, JavaScript, and HTML from the PHP code classes.
What Does This Mean?
Code Demarcation on Magento
All visual representation must only use HTML class attributes, CSS pseudo-classes, HTML tags, and pseudo-elements, and form elements to state attributes.
In your entire code, you should not hard-code CSS into your JavaScript files. You can check out the JS Widget files right here.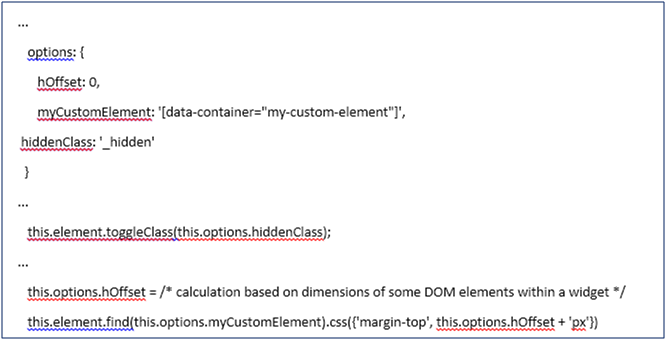 The programmer cannot use inline CSS codes and styles inside their HTML tags.
The Semantics of the Demarcation Process
All attribute names and values have to use meaningful and unabbreviated Latin words and lowercase words, joined by a simple hyphen. The semantics representation relies on ID attribute at times. It will reduce the long-term maintenance efforts, business logic, and your JavaScript.
Business logic relies on the form, data attributes, and form element name attributes. It enforces a stringent distinction between business and visual logic layers. You can change your business logic without changing the style, and your frontend team can work independently of the actions of the backend team.
The business logic demarcation states that you can assign HTML helper classes in your JavaScript for modification of the presentation layer.
Your HTML structure must not influence your DOM element.
Instead, you must use jQuery templates to insert markup into the DOM structure.
Never hard-code inline JS in the PHP classes. It will reduce your long-term maintenance process. You need to store your frontend business logic in one accessible place.
Going Back to the Basics of Best Practices for Coding on Magento
Zend Coding Standards
Going back to the initial, simpler standards of coding on Magento brings us to the Zend framework. Magento has adopted the Zend 1.x coding standards, and this applies to file naming, coding styles, and file formatting. Zend uses 80 chars or abstract class naming conditions.
Leveraging Existing Libraries
It is a rather unusual step. You do not need to reinvent the wheel; you just need to design the rest of the automobile! Now, if you have a file that connects to an external service you might also have a chance to find an already existing library that can solve your problem. You can access the entire Zend framework inside Magento. That is quite exciting, as you can access an entire library known as the Varien library during the coding and analysis process.
Check the lib/directory, and you will find all the libraries for Magento users nicely listed and available to you.
Here are a few "magic tricks" Magento can pull out of its sleeves:
Magento can help you analyze JSON.
It can help you connect via PEAR.
Magento will also help you manipulate files on the file system.
Magento can also validate your form data for you and fast!
Let us say that you have a more elaborate site with more complicated tasks at hand, Magento can still help.
Do you need to convert the units of pressure, weight, temperature, height, and power? The new framework can do that for you within a blink of an eye.
Do you need to use reflection or auto-generated code? You can use Magento for that.
From queuing functionality to the generation of barcode, the platform can do everything for you at the drop of a hat.
Commenting on Your Own Code
You need to leave comments on your classes and methods while coding. This standard practice has kept coding simple and neat over the ages. Make sure that your code is easy to read. Always use appropriate doc-blocks to demarcate your code. Do not leave it to someone's imagination. Always clearly state what your code does and what it will return.
You should only use inline comments if you think they are indispensable. Do not leave obscure instructions for the next developer. Always make things simple, like a deep method recursion or a highly abstracted call for a quick comment to clarify the intention.
Selecting the Correct PHP Version
The key is to check with Magento every time you develop extensions. Depending on which version you are using, your PHP version support will also change. For example – EE 1.14 and CE 1.9 support PHP 5.4 and 5.5. If you are on an earlier version, you need to update to PHP5.4 with a mandatory patch.
Is Your Team Adhering to All Coding Standards?
Adhering to all Magento coding standards for an entire development team can be a bit of a challenge. There are quite a few dimensions to the problem. Now, the points we have discussed here are only the tip of the iceberg. Since different entrepreneurs and their dev teams use Magento for various purposes, the code standards need to bend and adjust to the particular needs. Check for a team, which has 2-3 certified Magento developers. Look for a team with coding experience on Magento. Always ask about their previous projects and their experience with Magento before you assign your website development project to a team.
Topics:
magento ,web dev ,web application development ,ecommerce development
Opinions expressed by DZone contributors are their own.
Web Dev Partner Resources
Web Dev Partner Resources