How HoloLens Is Changing Construction
DZone 's Guide to
How HoloLens Is Changing Construction
See how drones, wearables, and augmented reality are combining to change the construction business as we know it.
Join the DZone community and get the full member experience.
Join For Free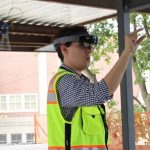 Recent years have seen a number of interesting innovations designed to make the lot of the construction manager easier. For instance, SAM is an automated bricklayer that is capable of laying around three times as many bricks as a human. Or you've got the drones that are helping building managers check the progress of a project.
The drones fly above the site and collect video footage of the construction. This is then fed into software that compares the footage with both the architectural plans and the work plan for the project. It is capable of showing the status of the project, and therefore whether it's on schedule.
Augmented Reality
Now, employees from Gilbane Building Company in Rhode Island are applying Microsoft's HoloLens augmented reality tool to perform a similar job.
The device allows managers to view a mock-up of the project, with the aim being that they can spot problems ahead of time and hopefully save considerable time and money in the process.
The technology has also been adopted recently by the global engineering company Aecom. They describe their use of HoloLens as a mixed reality venture whereby the technology supplements what workers already do.
One of their first implementations of the technology will be on their work with the Serpentine Galleries' annual architecture program in London. The summer program featured complex and unconventional structures, with the technology helping to ensure things went smoothly.
"Exploring complex structures in a mixed reality environment has huge potential to accelerate the engineering design process," the company says. "With this technology we can gain greater clarity earlier in the design review process than with 2D drawings or 3D models on screen, and team members in different locations, each wearing a headset, can simultaneously explore the same holographic projections. We're very excited to be working with Trimble at the cutting edge of mixed reality."
It's certainly an interesting development, and one of a number of innovations being deployed to make construction smarter and more efficient. Check out the video below to see how HoloLens can benefit the construction industry.
Topics:
engineering ,automated ,augmented reality ,iot