How the Entertainment Industry Utilizes Mobile App UX to Hook Users
How the Entertainment Industry Utilizes Mobile App UX to Hook Users
See the UI tricks the most popular mobile entertainment apps use to grab users and keep them hooked- and make major profits.
Join the DZone community and get the full member experience.
Join For Free
Entertainment apps make big bucks. Spotify and Apple Music generate over $7B in revenue. Netflix is close to breaking the $9B mark. And no one knows for certain how much YouTube makes, but estimates put it higher than all of the above.
It may seem like the entertainment vertical is great for app developers, but a deeper look also reveals the intense competition in the field. Thousands of apps vie for users' attention with just a handful of them coming up on top. The secret for those that do make it isn't simply providing interesting content, but also providing an engaging experience that hooks users to the app.
Sean Ellis, founder of GrowthHackers.com, argues that the importance of UX comes from the fact that it matters to all stages of the customer lifecycle. UX is inextricably linked to growth because it defines how users interact with the product and the growth levers within it.
Therefore, if you want to grow your media or entertainment app (or any mobile app, for that matter), you need to think of ways you can improve your app's overall user experience. This post looks at three of the leading media and entertainment apps and how they use great UX to hook users.
Netflix: Get Users to Spend More Time In-App by Default
When subscribing to Netflix, users put their trust in the company to select and produce the most compelling shows for them. Every hour Netflix gets a user to spend in the app watching those shows is another assurance that the user won't cancel the subscription in the next month.
That's why Netflix releases full seasons all at once. Getting users to binge-watch through a whole season of their favorite show makes perfect business sense for Netflix.
That logic also motivates one of Netflix's signature UX features—autoplaying the next episode of the show you're watching. Netflix lets subscribers know the next episode is about to start when they reach the end of an episode. Users don't need to do anything.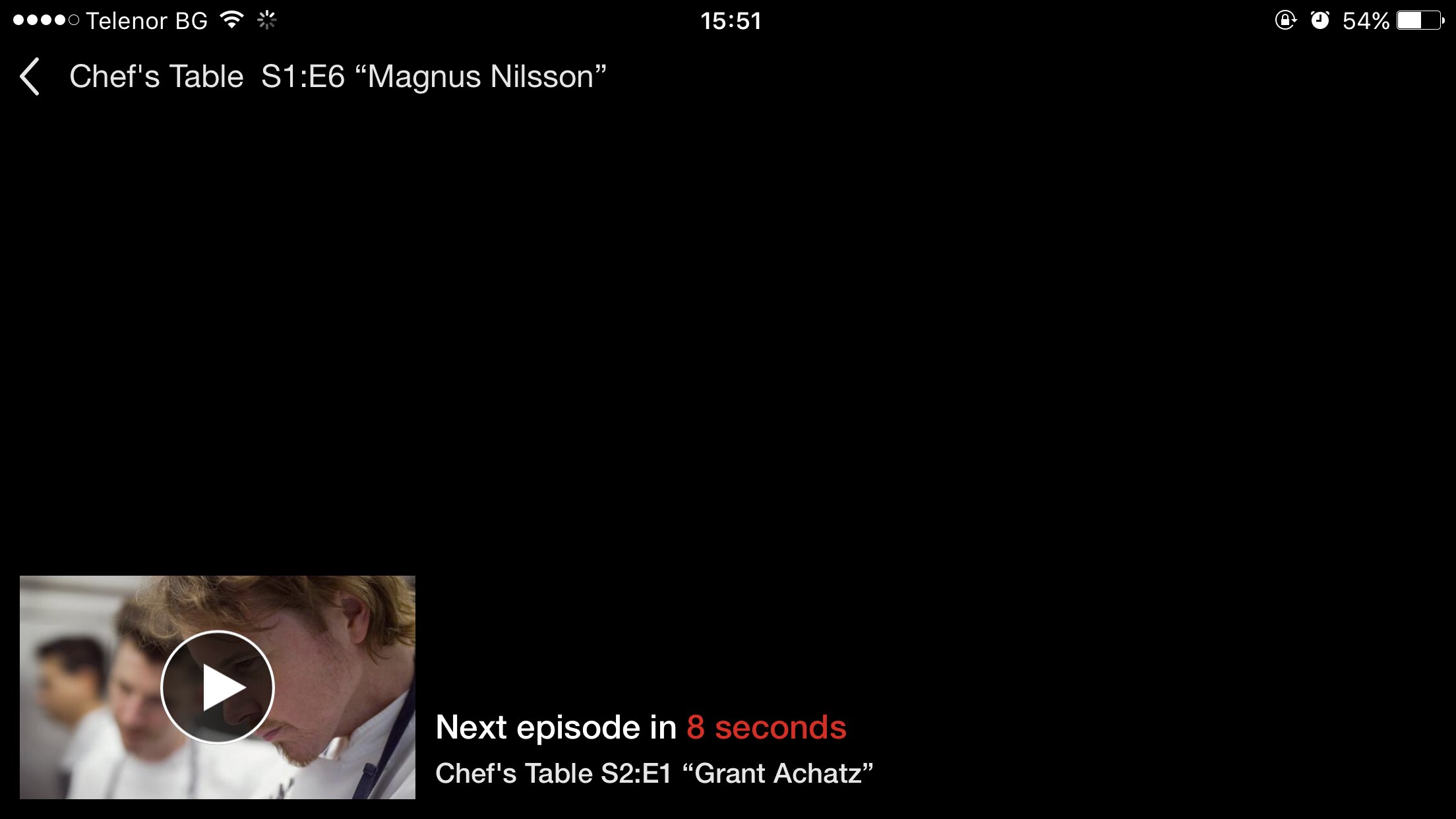 To make sure users stick around, Netflix even skips the annoying end credits in favor of jumping right into the next episode. Thus, the content runs with minimal interruption. For some shows, Netflix also allows users to skip over the opening credits or title sequence through a "skip intro" button.
In a way, watching more episodes is the default "setting" for users of Netflix. Even something as small as having to tap the play button for the next episode can give users enough pause to choose another activity (like an extra hour of sleep) over watching one more episode. Autoplaying flips the tables. Instead of users having to come up with a reason to spend another half-hour watching a show, they now need to find a reason not to continue.
Hulu: Use Profiles to Build a Personalized Experience
There are so many good movies and shows available these days that it's almost impossible to keep up with all of them. That's why personalized recommendations are becoming increasingly important in entertainment apps.
Hulu, for example, admits that their ultimate ambition is to make their recommendations so good that you always have something you want to watch the minute you open the app. In the words of Hulu's Senior Vice President and Head of Experience, Ben Smith: "Our job at Hulu is to get you into the most interesting and compelling thing to watch, at that time, where you are, whatever device you're on."
Hulu's foray into hyper-personalization depends on knowing as much as possible about the preferences of each customer, and mobile devices present the best opportunity to generate that level of knowledge.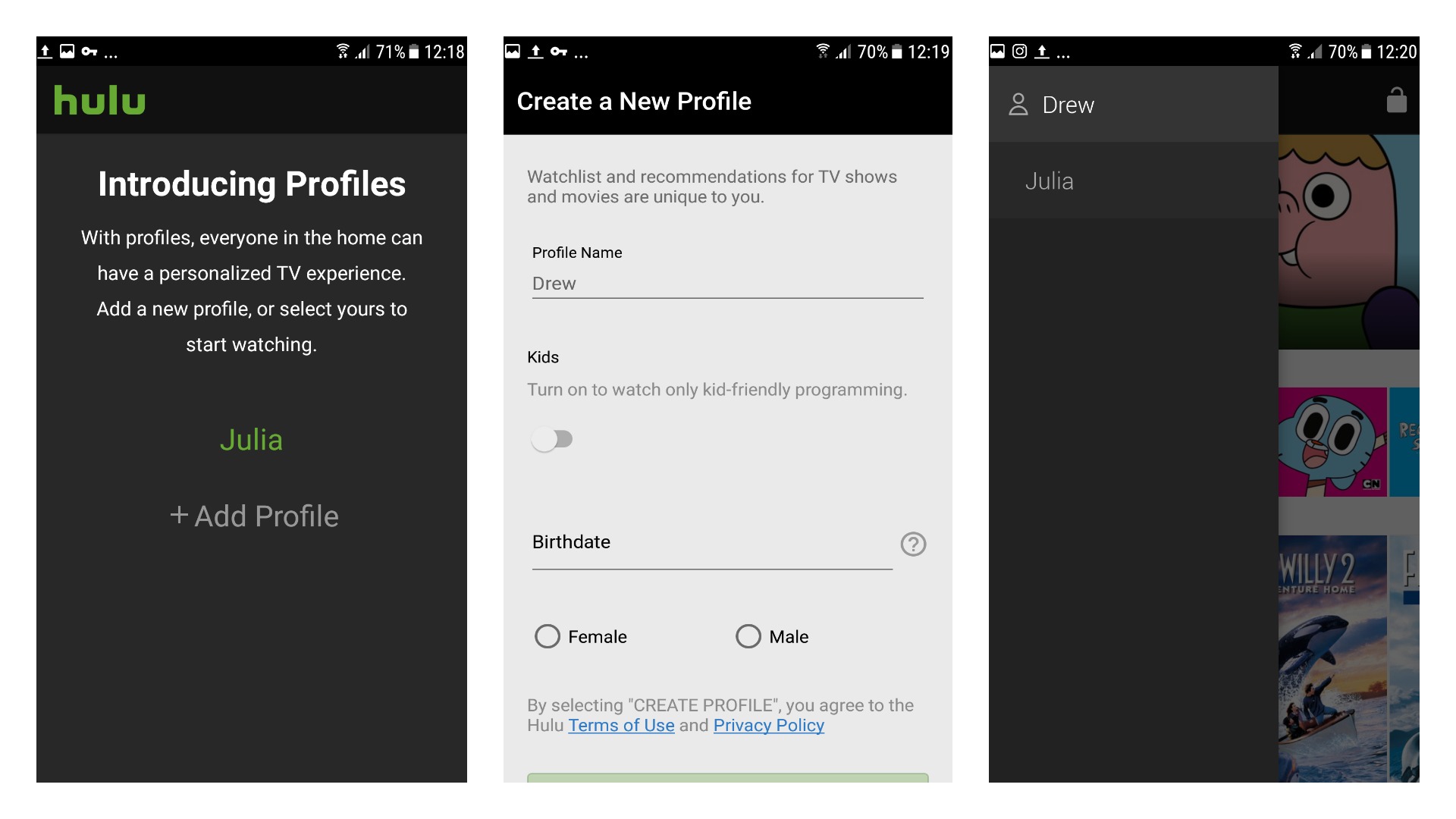 Hulu allows users to create personal profiles under the same account. After a short explanation of how personal profiles benefit the user, the app collects only the minimum amount of information needed to avoid overwhelming them. Once the profile becomes active, the app keeps gathering information about users' individual preferences, so it can recommend shows that best fit their interests.
Tubi TV: Emphasize Your Unique Content
Tubi TV works with over 200 of the biggest content providers to bring some of the most popular movies to the world of free on-demand streaming.
Tubi TV doesn't position itself only as a free alternative to services like Netflix and HBO GO, but also as a better alternative. The app's access to the catalogs of production behemoths like Paramount, Lionsgate, and MGM gives it a significant advantage when it comes to showcasing an extensive collection.
The "Not on Netflix" section in the app's main menu underlines this advantage for users. Tubi TV knows that many new users are likely to be looking for something they couldn't find elsewhere, and aims to give it to them right on the first screen they see.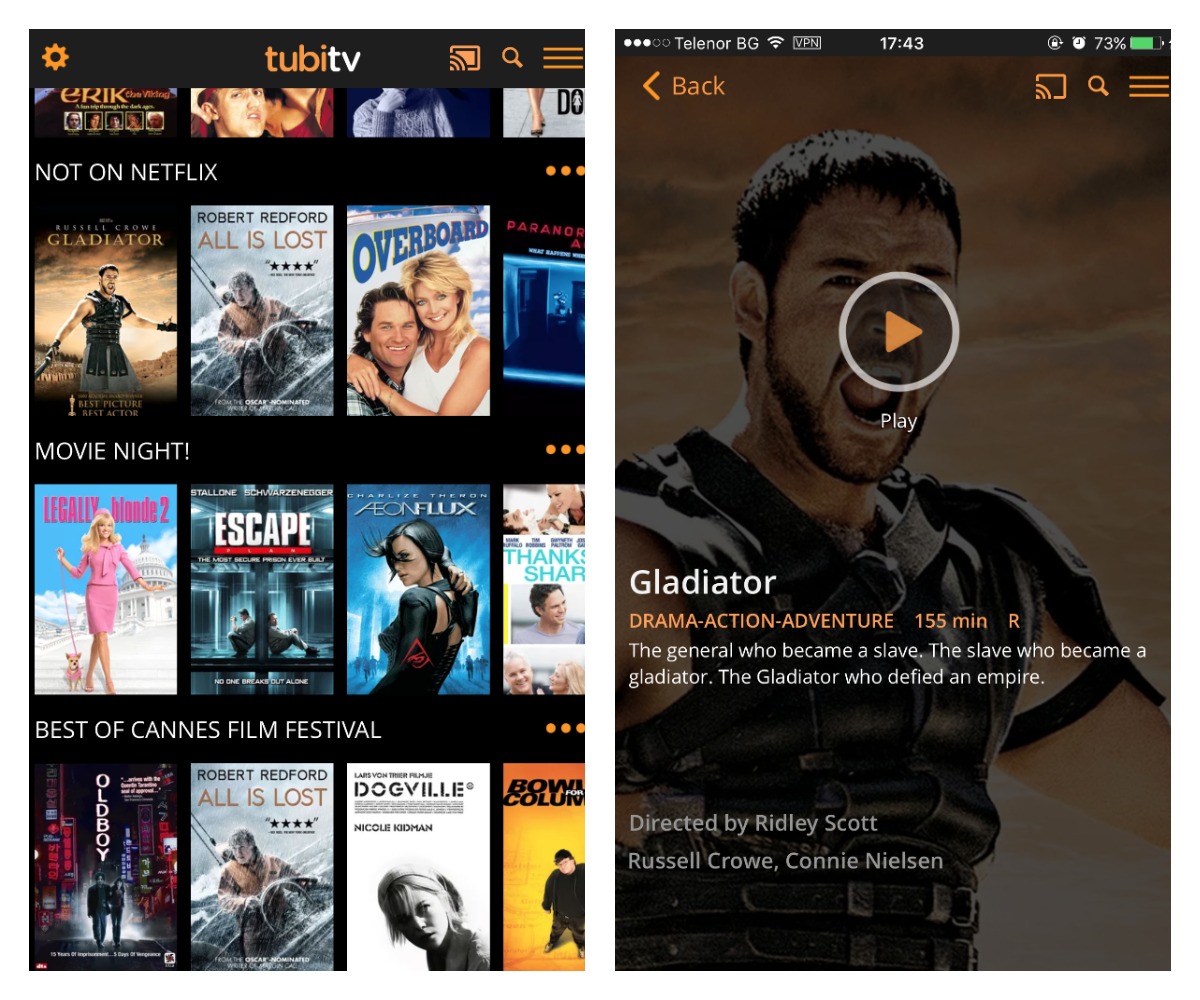 Using this tactic, Tubi TV can implant itself in their users' minds as an alternative to better-known competitors. Even if users aren't looking to find something that's not available elsewhere the first time they use the app, they're likely to remember Tubi TV next time Netflix fails to provide what they want.
Great UX Helps Mobile Apps Grow
While quality content is still king when it comes to entertainment apps, the ubiquity of good shows means that users can switch between brands in an instant.
That is why the leading entertainment apps are looking to user experience as a way to boost customer loyalty. Whether it's through automatically playing the next episode in a series, hyper-personalized recommendations, or differentiating themselves from the competition, all the mobile apps we've reviewed aim at a common goal: to allow users to extract the maximum value with the least effort.
mobile app
Entertainment industry
Hook
Published at DZone with permission of Kendrick Wang, DZone MVB. See the original article here.
Opinions expressed by DZone contributors are their own.