AR: Shaping the Next Decade of Fintech
Let's take a look at emerging use cases for the technology as well as the potential that augmented applications hold in the realm of financial technology.
Join the DZone community and get the full member experience.
Join For Free
Introduction
Augmented reality is already becoming more commonplace by the day. Via smartphones, AR is already widely accessible throughout the world of gaming, entertainment, and even finance-based consumer applications. In terms of business, cloud access means that AR users can operate seemingly free from hardware while applications enable businesses to link the data-driven power of the computer with human judgment and expertise.
It's this collaboration between rich data and human intervention that makes AR an ideal asset in the world of fintech. The sector is growing while augmented reality represents the next logical step in making finance run on brand new tech.
(Image: The Economist)
According to data collected by The Economist prior to the arrival of the COVID-19 pandemic, augmented reality has been forecast to become so significant within global economies over the course of the next decade that AR and VR technologies will account for between 2% and 3% of the GDP of the US, UK, Germany, China, Japan, and Finland. Global GDP will also increase exponentially to just shy of 2% over the same time period.
Over the coming years, AR will transfigure both business and consumer fintech in various ways. With this in mind, let's take a look at emerging use cases for the technology as well as the potential that augmented applications hold in the realm of financial technology:
Adapting to The Era of Remote Work
The arrival of the COVID-19 pandemic has caused mass disruption to just about every industry. Today, we've become accustomed to utilizing Zoom calls or other forms of teleconferencing systems to connect with employees, coworkers, or peers. Augmented reality offers an additional dimension to these digital platforms that can make them much more sustainable even in the era of the new normal.
Remote work has expanded significantly globally in response to combating the spread of the pandemic, while AR offers an insight into how working from home could transform the future of financial services.
Enhancing remote work with AR raises plenty of opportunities to collaborate virtually. With the help of AR, team members can collaborate to complete a project by annotating, chatting, and leveraging the ability to work with immersive visual data. Recently compiled data by Avantica suggests that remote conferences and training that utilizes AR has seen a 30% increase in learning retention when compared to traditional approaches.
With the assistance of AR, the financial services workforce has the chance to maintain day-to-day operations as well as broaden capabilities when operating remotely in a post-COVID society.
Immersive Financial Visualisations
Whilst many AR solutions in the world of fintech are focused on the end customers who use financial management apps on their smartphones, CitiBank has utilized the technology for something altogether more innovative. The Holographic Workstation, a Proof of Concept that's focused on financial traders as end-users has offered individuals the chance to convert their home offices into immersive visually rich trading stations.
By using Microsoft's HoloLens technology, CitiBank created a two-dimensional and three-dimensional system that enables traders to visualize real-time financial information through the use of holograms and to monitor emerging trends of stock indices in order to make accurate decisions with smaller margins for error. It's also possible to share interactive AR data visualizations in real-time with peers, colleagues, or clients to help them analyze the same information with similar levels of engagement.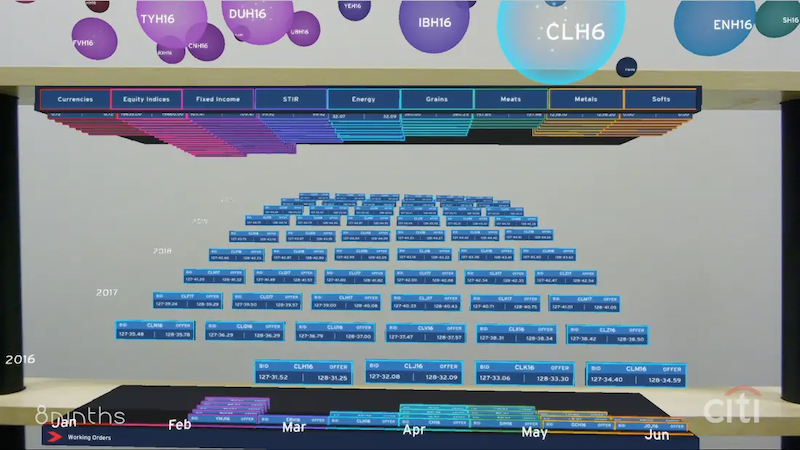 (Image: 8ninths)
In terms of real-world usage, swift communications and visual data sharing are also facilitated by the AR system—operating on the voice commands of the users. Ultimately, users are able to complete trades and secure investments within the system itself, with far greater access to information than would be possible through traditional monitors.
The purpose of the Holographic Workstation is to increase the efficiency of financial trades for users regardless of where they are. This software can help to visualize what the future of fintech could look like and how banks can engage segments of users that are not direct customers—but rather those who use financial services in a more immersive way.
Utilizing augmented reality data to better inform traders will be one of the biggest developments in the future of fintech, and these changes are already taking shape today. Salesforce has already adopted Oculus Rift to create immersive three-dimensional environments for analyzing data, while Fidelity labs—part of Fidelity Investments—has also developed software to create a virtual world called 'StockCity,' where stock portfolios are adapted into a virtual city of dynamic data.
With the next generation of AR glasses in development from major tech players such as Apple, Facebook, and Niantic, we're likely to see augmented visualizations becoming much more accessible in the world of finance, where traders can use eyewear that resembles traditional glasses with less obstructive frames to help them see better data that's more richly detailed than possible on the screens of smartphones and laptops. With the eyewear market set to surpass $210 billion dollars by 2025, it's very likely that adoption rates over the coming decade will enable more AR companies to incorporate their technology into regular frames.
Accurate Augmented Insurance
Insurance companies can also potentially utilize augmented reality technology when it comes to matters of investigation. The environment that an insurance professional is a part of can be analyzed in a straightforward manner with data collected and recorded instantaneously. This can help to make insurance tasks more comfortable for users, with greater levels of efficiency and more accurate results to boot.
With the use of augmented devices and more complex machines and hardware being insured in industrial settings, and the need to make quick decisions of weather-related damage, the insurance industry can be greatly helped by the immersive qualities of augmented reality renderings and insights to drive insurer decisions.
The Next Generation of Customer Service For Fintechs
As we emerge from the restrictions left by the COVID-19 pandemic, we may see more fintechs gain custom as fewer users see the necessity of brick-and-mortar banks. This may result in more competitors for financial institutions, but it will also present more opportunities to deliver greater levels of customer service and demonstrate far better value to customers.
To combat the possibility of losing out to various other resourceful digital channels, bank branches may find value in creating a look and feel that corresponds with public perceptions of banking in the age of the new normal. Banks are looking more for advisory roles rather than of sales reps in a bid to create more trustworthy and more personable relationships with customers.
Augmented reality in the fintech sector has the potential to offer advanced personalized levels of customer service. It enables banks and other fintechs to create dedicated finance apps that appeal directly to their respective customers. The technology saves time in offering enhanced data that real-world branches can't compete with by showing elements of different surroundings. The interface will offer simple-to-understand information that's immediately capable of becoming more or less complex depending on how the user interacts with it.
Furthermore, many financial institutions—particularly banks—have sought out AR apps for improving their customer experience models as a whole. They can help clients in finding their nearest branch, cash machines, and various information surrounding relevant locations in regards to the bank itself.
Already, clients can utilize the technology to monitor their homes in an immersive manner via their smartphones or tablets via the use of real estate mobile applications. It can also help to deliver more information surrounding properties in real-time in a single location. The more advanced apps on the market also have the ability to show mortgage calculators and three-dimensional interior details within augmented reality environments.
Delivering The Future of Finance
As technologies are continually evolving—and with the digital transformation taking place at a faster rate than ever before in the wake of the COVID-19 pandemic—we can expect to see a significant switch towards a new form of digital reality powered by both augmented reality and virtual reality experiences.
The future of the banking sector has been heralded with the help of emerging technologies that have made the entire digital financial experience more straightforward for users. The age of the new normal means that the days of brick and mortar banks full of customers queuing up are well and truly over—with more and more institutions ramping up their leveraging of online and digital channels to appeal to and engage with the next generation of account holders.
Augmented reality is leading the way towards the not-so-distant future of fintech. This form of reality technology adapts seamlessly to the needs of financial services and is an excellent tool for combining research and analysis of consumer data with advanced technology for greater accuracy and efficiency. AR can be an essential bridge in keeping traditional banks thriving in an age of accelerated digital transformation and resourceful new fintechs intent of luring customers away from their brick and mortar confines—and likewise, reality technology can be an effective tool in generating greater opportunities for fintechs to provide greater value for their customers that wouldn't have otherwise been possible for a digital institution.
For all the disruption that the COVID-19 pandemic has caused, it's set to offer the world of finance a new lease of life for the decade ahead.
Topics:
fintech,
tech,
augmented reality,
ar,
big data,
virtual reality,
finance,
ar applications
Opinions expressed by DZone contributors are their own.