How to Hire an IT Dream Team: An Interview Guide for IT Specialists
DZone 's Guide to
How to Hire an IT Dream Team: An Interview Guide for IT Specialists
Follow this guide to hire a dream development team.
Join the DZone community and get the full member experience.
Join For Free

Skilled Team Player
Obviously, each employee can have many qualities. But their most important qualities should be: professional skills and ability to work with others.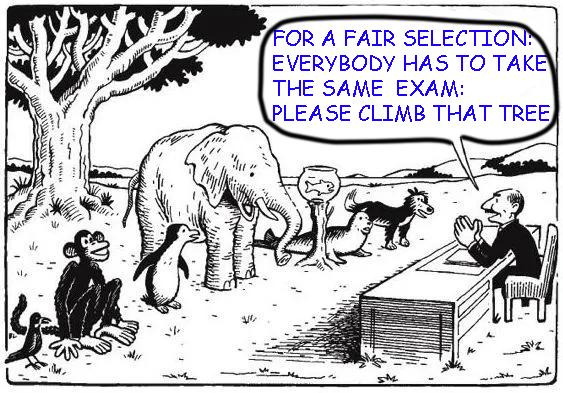 Evaluating Skills
It's very known misconception to give to all interviewees the same specific task and then make a conclusion about all their other skills. One individual could be strong in algorithms and OOP, and another candidate could be more well versed in industrial development or databases. The purpose of the interview is to create a clear picture of potential employee's experience.
Experience Map
The following is a good way to create full picture of interviewees experience:
Prepare the list of potentially used technologies.
Create corresponding questions for each technology (easy/medium/complex).
Ask complex questions first. If they cannot answer the question, proceed to less complex questions.
Switch to another category if a correct answer has been given.
For example a backend developer that has to:
Implement backend features (Java as an example)
Write database queries (SQL as example).
Make a continuous integration pipeline and support a prod issue (Linux bash, Docker as example)
would look like this:


Green color means that the interviewee answered the question correctly, but all question on the right side had been failed (more complex questions).
What the Map Says
With a sufficient number of question, you can easily evaluate an interviewee's experience. In the provided example we can find that:
Interviewee has deep database technologies but has average practical experience.
They can do good backend development, but they seem to be weaker with their algorithmic background.
They clearly have been doing a lot of scripting but have not created pipelines with Jenkins.
Cooperation Always Wins
Teams composed of relatively specialists with established cooperation is much stronger than a group of arrogant, highly skilled specialists. Friendly atmosphere and freedom of speech is a high marker of productivity. If you ignore an individual's toxic behavior, then sooner or later, the team will face many consequences like: low productivity, offended participants (it's just a form of revenge)/voluntary layoffs, and/or frequent conflicts.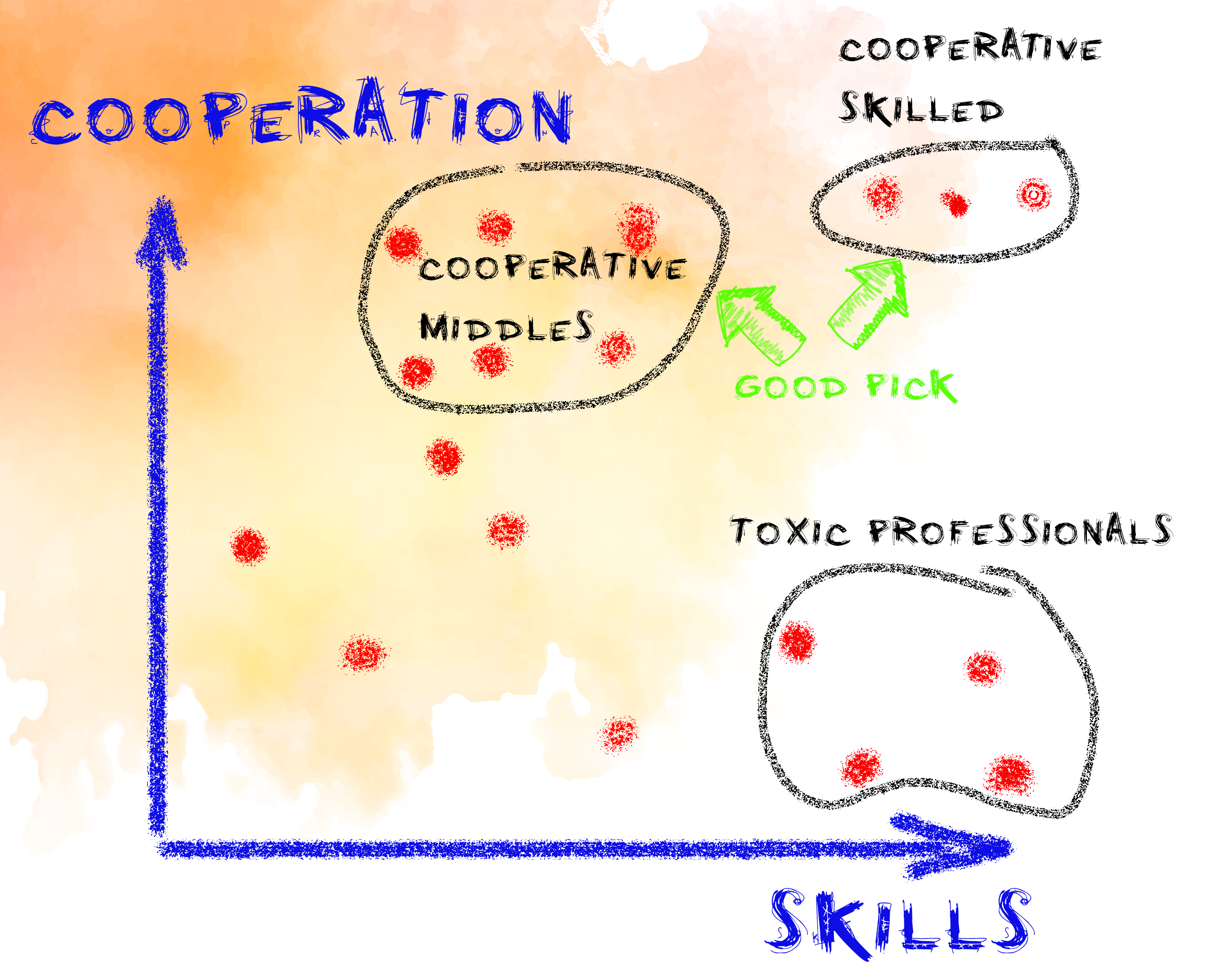 Filtering Narcissus
It's often difficult to recognize toxic personalities during the first interview. But with time, such a person will show their real face (especially after promotions). Signs of a toxic personality include:
Is too picky during code review and will excessively comment on the smallest of defects.
Always insist on their opinion being the correct one (and overreacting if his decision is being disputed).
Passive aggressive behavior.
Telling others how they have to do things.
This list can be continued, but the only important thing to note here is that these individuals can be a real detriment to the health of a team and those within it. In a worse case, in which all other steps have been exhausted, it's better to distance them from the team.
Look for Specialist With Skills You Need. Forget About Artificial Assessments or Questions.
Many companies think that if you can remember and reproduce some academic algorithm, then you can be recognized as senior developer. But, practically, most of seniors who do enterprise development on a daily basis often don't don't remember their university studies: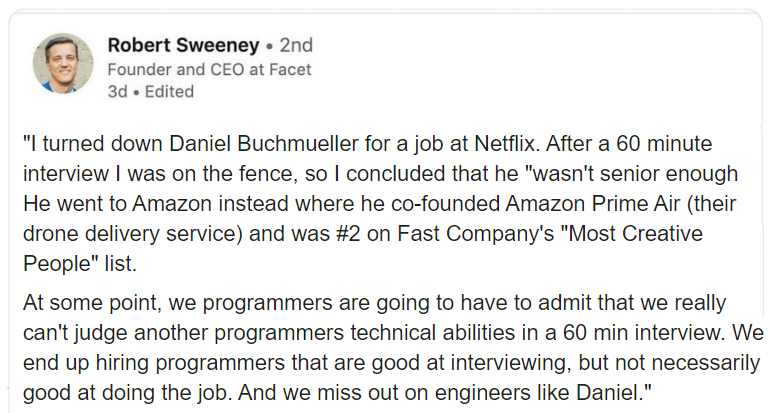 Topics:
hire, interview, it, management
Opinions expressed by DZone contributors are their own.