How to Handle Transaction Scope in Mule
DZone's Guide to
How to Handle Transaction Scope in Mule
In this article, we'll learn how to roll back the clock (so to speak) using transaction scope to fix any files giving our application trouble.
Join the DZone community and get the full member experience.
Join For Free
Hi Mulies! In this tutorial, we are going to handle Transaction Scope (Roll Back Mechanism).
Here is a small piece of a Transaction Scope application which I am going to demonstrate below.
Here Is the Flow: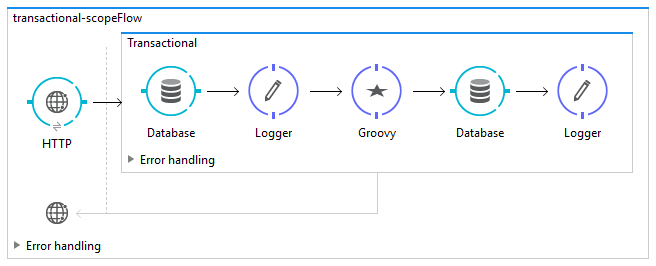 Here, my use case is to insert a new employee record in two database tables. In Table 1, the employee Education Details are inserted and in Table 2 employee personal data is inserted. So while I am inserting the data of new employees, if I get any errors I need to roll back the information that I had previously inserted in Table 1.
Database 1:
In Database 1, I am inserting employee education details like Name, Graduation Date, Previous Experience, etc.
Logger:
I'm using a logger to print the number of records inserted in the Database Table.
Groovy:
Here I am using Groovy's sleep function to cause my flow to wait for 20 seconds to check whether the first database is executed correctly or not.

Database 2:
In Database2, I am inserting employee personal details like Name, Contact Details, etc.
But, while inserting the details, I missed a value, which causes the applicaiton to throw an error like ORA-00947: not enough values. Now I need to roll back the data which had previously been inserted in Database 1.
Application Testing:
Right click on the application and run the project so that if there are no errors in the application it will be deployed successfully.

You can see above that when the employee's education details are inserted in Table 1 the logger printed that one record had been successfully inserted.
So now the flow is made to sleep for 20 seconds. Later it throws an error due to the reasons I explained above. So now, due to transaction scope in Mule, you can go and check Table 1 for the record that is causing the application to not function and remove it. This is how you can use and work with transaction scope in Mule!
Hope this helps!
Suggest your Feedback
Thank You!
IAM is now more than a security project. It's an enabler for an integration agile enterprise. If you're currently evaluating an identity solution or exploring IAM, join this webinar.
Topics:
mulesoft ,mule 3.8 ,mule flow ,integration ,transaction scope
Opinions expressed by DZone contributors are their own.
Integration Partner Resources
Integration Partner Resources