How to Resolve Schema Conflicts in Mule Flow
DZone's Guide to
How to Resolve Schema Conflicts in Mule Flow
Learn how to resolve schema conflicts occurring when you import a project built in an older version of the ESB into Mule Flow.
Join the DZone community and get the full member experience.
Join For Free
When you import a project built in an older version of ESB runtime into a newer version, you will face schema conflicts of some connectors when you try to compile that project. You can resolve those conflicts by updating the schema version of that specific connector to the new, or "current," version.
When you open an XML file in MuleSoft there you can find the XML Configuration tab. In the XML Configuration tab, you can see the XML generated against the shapes in the message flow. In XML, you can find the Mule tag, which is the root tag of XML documents. You can find the schema references of all connectors and processors in the "Schema Location" attribute of the Mule tag.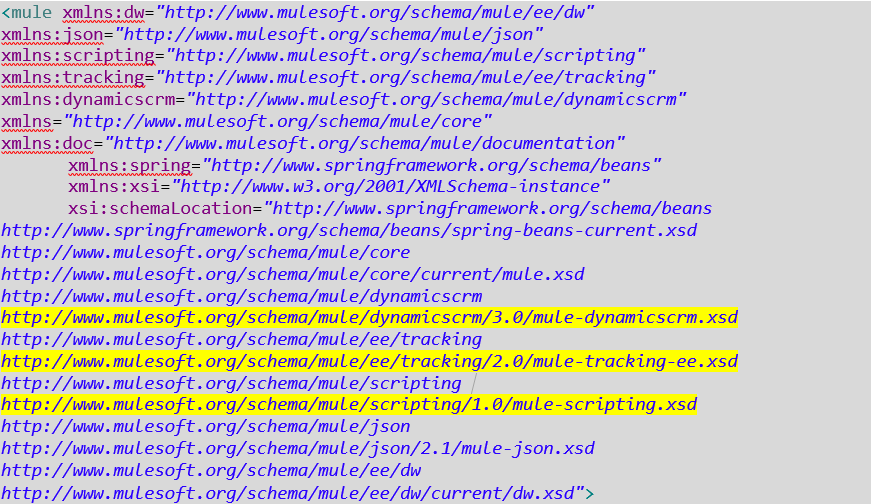 In the above XML, you can see that the highlighted schema references a specific version; you have to replace that specific version with "current."
Now the updated Mule tag will look like this: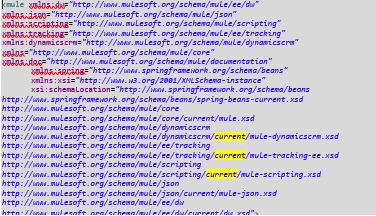 Build and deploy API integrations 7x faster. Try the Cloud Elements 100% RESTful platform for 30 days free. Access your trial here.
Topics:
mule 3.7 ,schema ,conflict
Opinions expressed by DZone contributors are their own.
Integration Partner Resources
Integration Partner Resources