How VR Can Help You Find Better Candidates
DZone 's Guide to
How VR Can Help You Find Better Candidates
Use VR to enhance your recruiting process, stand-out from the crowd, and let candidates try out the job first.
Join the DZone community and get the full member experience.
Join For Free
Virtual reality (VR) is gaining popularity in the human resources space as companies use it to elevate their recruiting processes. When used well, VR can help companies recruit amazing talent by standing out from their competitors, promote a company's brand and mission, and give candidates a way to experience a day-in-the-life at the company.
VR presents an interesting opportunity for recruiters to change the candidate experience, move beyond the online resume, and improve the quality of candidates they see. Here's how VR is changing the recruiting process and finding better candidates.
It Gives Candidates Real-Time Experience in the Role
VR can be used in several different formats during talent acquisition to give candidates a taste of what working at the company is really like. For example, during career fairs, candidates can use VR headsets to experience a day-in-the-life of various roles at the company.
The British Army used VR during a recruitment drive several years ago to give people the experience of riding a tank during a live-fire exercise. They saw a 66% increase in applications while using it. The U.S. Navy brought in VR experience to their recruiting events and saw double-digit increases in recruitment leads. In the first two months of using it, the Navy has more than doubled its recruiting numbers compared to the previous two years combined.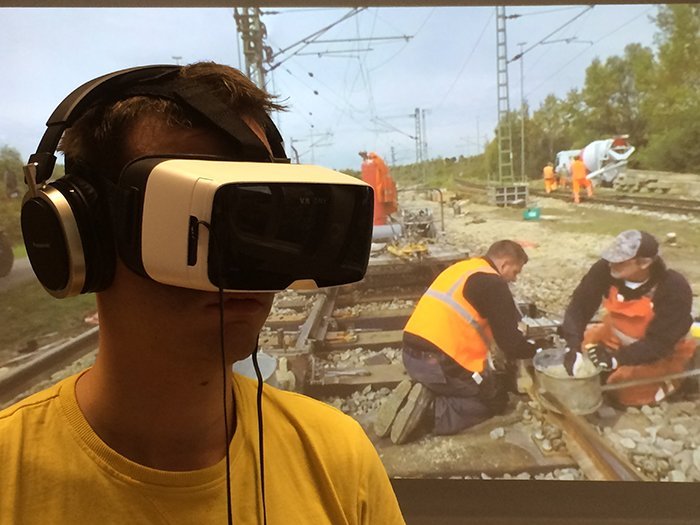 But it's not just the military that is using VR to give candidates a real-time experience of their work. Logistics firm Deutsche Bahn uses VR to demonstrate what it would be like to work as a train conductor, electrician, or other construction roles. Kerstin Wagner, the company's head of talent acquisition, explained to Talent Economy that these are "critical, difficult-to-fill roles at the firm." Through VR, she went on to say, they've increased applications to the company by five times and have also increased the quality of the applications they receive.
Let Candidates Try the Role Before Landing the Job
VR helps candidates feel more confident about accepting a role because they know more about the job and how an employer operates. Experiencing the job before applying is helpful to a candidate's decision-making process because they'll have a better idea of what to expect and if they could handle the job.
Opting out of applying after a VR experience isn't bad, since it saves both the company and candidate time, money, and energy. Candidates that know what they're getting into are less likely to quit once they face similar challenges they saw in VR. A VR experience during the recruiting process helps create an emotional connection for candidates, making them more invested in contributing to the company's success.
It Lets You Move Beyond the Interview
Merging the recruitment process with VR helps companies identify those who are connected to the brand, company mission, or role, reducing the overall timeline and increasing the chances new hires will stay. Jaguar used this idea of finding people already interested in the company that have particular skills with their skills-based mixed-reality (MR) game.
Partnering with musical group Gorillaz, Jaguar created a code-breaking recruitment puzzle that was featured in the band's MR app. Engineers and developers interested in Jaguar and who exhibited a high technical aptitude were fast-tracked through the recruitment process. They've had tens of thousands of people play the game, and while few have successfully cracked the code yet, they recently announced their first hire through the program.
Companies can also use VR to move beyond the regular in-person interview by giving candidates a sneak peek into what it would look like to work there without having to travel to the location. VR lets recruiters enjoy the key benefits of the traditional in-person interview, but also go beyond it into seeing how candidates would fit into the company's mission and culture. Have candidates go for virtual coffee with their prospective teammates or give them a virtual tour of the company before they start to work there.
It Helps You Provide an Amazing Candidate Experience
Competition for talent can be steep, depending on the industry you're in or the role you're recruiting for. Companies must step up their hiring for and onboarding experience to ensure they secure the perfect candidate.
According to research, nearly 70% of job seekers have had a negative experience with a company and would never apply to it again. Over half said a negative experience would impact their decision to accept a position with a company or even purchase products from that company. Creating a positive and memorable candidate experience is becoming more critical for companies today.
One caveat to using VR in your recruiting process is that it could discourage older candidates or those who cannot use it due to a disability or other reason. Use VR as a supplemental recruitment tool and ensure to include additional tools that are accessible to everyone. You never know where your perfect candidate will come from, and you don't want to exclude them before you get a chance to speak to them.
Recruiters are always looking for new ways to attract and retain talent. VR is an exciting way to modernize the recruiting process and improve the candidate experience across industries. It's being used at career fairs, during interviews, and offers a cutting-edge approach for recruiters to source and process candidates.
Topics:
human resources, iot, recruiting strategy, virtual reality, vr
Opinions expressed by DZone contributors are their own.