HTML5 Charting Library, CanvasJS Released
DZone's Guide to
HTML5 Charting Library, CanvasJS Released
Join the DZone community and get the full member experience.
Join For Free
Beta version of HTML5 Charting Library, CanvasJS has been released. With CanvasJS you can create rich dashboards that work on all the modern devices like iPhone, Android, Windows Phone 8, Desktops & Tablets.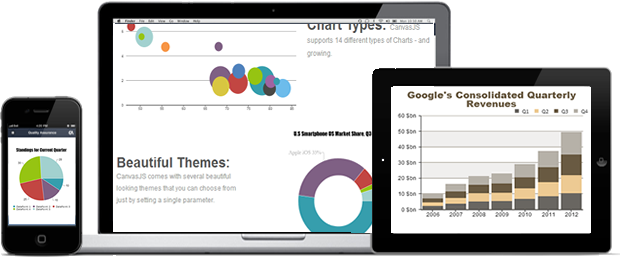 In this first version CanvasJS supports 14 types of Charts including Line Chart, Area Chart, Column Chart, Bar Chart. In the upcoming versions we are going add more of them. Below is a complete list charts that are currently supported
Line Chart
Area Chart
Column Chart
Bar Chart
Bubble Chart
Doughnut Chart
Pie Chart
Scatter Chart (Point Chart)
Stacked Area
Stacked Area 100%
Stacked Bar
Stacked Bar 100%
Stacked Column
Stacked Column 100%
CanvasJS Charts are beautiful and also have High Performance. Below are some important links:
Opinions expressed by DZone contributors are their own.