Hybrid Cloud: Evolving Chapter of 2018
DZone 's Guide to
Hybrid Cloud: Evolving Chapter of 2018
The cloud deployment that's the best of both worlds is getting more popular among businesses.
Join the DZone community and get the full member experience.
Join For Free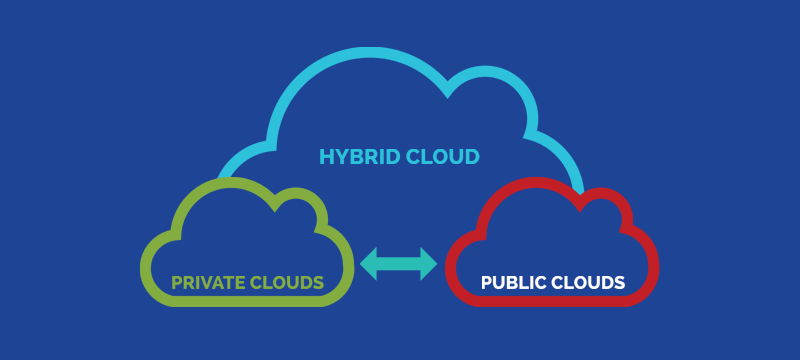 Since recent years, IT decision makers and strategists are focusing on cloud computing. But organizations that are security conscious are still hesitant to move workloads and data to the cloud. However, with the fundamental technology behind cloud computing, a new model of cloud is gaining limelight in business: the hybrid cloud.
We all know hybrid cloud is a combination of public and private cloud deployment. With this, the organizations can store protected and sensitive data on a private cloud while leveraging computational resources from the public cloud to run applications which bank on this data.
However, since 2010 there have been more barriers to hybrid cloud than anticipated. Still, hybrid cloud is widely adopted irrespective of the barriers that can be encountered. Let's see where hybrid cloud is today.
Organizations Are Shifting to Hybrid Cloud Solutions
Importance and ingestion are increasingly rising quickly. Day by day, enterprises are realizing that there is a big difference between different cloud hosting solutions. It is nothing but mass virtualization. It is because of this that many private cloud providers have failed to meet their objectives and goals. Organizations want the ability to leverage the computational resources of the public cloud, and therefore are shifting to hybrid cloud. IT professionals with the help of hybrid cloud now have the tools and techniques which will help organizations to innovate at a much faster pace at a lower cost.
Satisfaction of Organizations with Hybrid Cloud
Some enterprises feel that they are very much comfortable and satisfied with hybrid cloud solutions. Using private and public cloud separately is good, but having a combination to deliver services seems to be quite challenging for some enterprises. Applications and data architectures are to be reconsidered. Sometimes tweaking is also to be done. Deployment, monitoring, and management are not a one-time process. Organizations need tools for monitoring and management. Moreover, IT professionals should also have new skills along with old skills to operate in a hybrid environment. Organizations that have strong DevOps teams have almost vanquished these hurdles, thereby having a smooth path to hybrid cloud. This is just an exception and not a concrete rule. With this, much learning is to be undergone with regards to financial management, operational support and compliance.
Benefits of Hybrid Cloud
Hybrid cloud is known for lower costs and higher speed. However, provisioning and proper management is very much essential; otherwise, within no time, the benefits can prove to be disastrous. One important benefit of hybrid cloud is having it on-premise which is easily accessible. It is not strapped through the public internet. If compared to a public cloud, hybrid cloud to a great extent reduces latency and access time. Hybrid cloud has the capability of computational infrastructure on premise which supports the ordinary amount of work of your business. Along with that, it has the ability to retain the leveraging capability of public cloud in case of circumstances that can failover in which the workload surpasses the computational control of private cloud element. With this organizations get an added benefit of paying for the extra compute resources only when they are needed and consumed. Businesses that have breakthrough throughout the year where a much higher amount of compute time is required, opting public cloud is a cheaper solution than constructing a private infrastructure that is unproductive most of the time.
Flexibility can be ensured by extending the private element of a hybrid cloud in server designs. organizations can achieve provision of rapid and archival storage at a likely lower cost.
Why Hybrid Cloud?
Along with greatly facilitating connectivity in the workplace, hybrid cloud helps in managing files. It is important that companies must assimilate with various business processes. With hybrid cloud, IT professionals have more control over both private as well as public components than opting for a structured public cloud. Such structured and packaged solutions encounter frequent revamps and changes without informing beforehand. Adopting hybrid cloud is an effective strategy for a wide range of organizations that consider security very crucial or distinctive physical presence demands.
What's Next?
IT has transformed to solution provider from technology manager. In this whole transition, hybrid cloud has played a very important role. With the benefits explained above, hybrid cloud will enable companies to become comfortable and at ease with public cloud operations, security and financial management. While getting comfortable, they will for sure encounter challenges and hurdles. Nothing can be gained easily. Over the next five years, companies will discharge most of their technology stack to the public cloud. This decision will not be triggered by shared resources and economic benefits, but also having the freedom to choose the best cloud provider on their own terms and conditions. Technologies which are dependent on cloud such as real-time analytics, Internet of Things (IoT) and collaboration will help in evolving customer relationships, for which you will again require public cloud solutions to match up with the changing demands and environments. With an increasing shift from private data centers to public cloud, public cloud will transform to a local focus from regional focus.
Deploying hybrid cloud will be the next big phase in the evolution of cloud computing. The stakes are quite high. Organizations that will deploy hybrid cloud solutions will gain benefits in terms of efficiency, swiftness, elasticity and competitive advantage than market opponents. Now is the best time to start planning for the future and climb the ladder of cloud computing that is hybrid cloud.
Topics:
benefits, cloud, enterprise cloud, hybrid cloud
Opinions expressed by DZone contributors are their own.