Hybrid Microservices — An Insight
DZone 's Guide to
Hybrid Microservices — An Insight
An overview of what hybrid microservices are and what they are used for.
Join the DZone community and get the full member experience.
Join For Free
Introduction
Hybrid Microservices is an architectural style to get the flavor of Microservices pattern without compromising with existing Enterprise Architecture landscape and yet benefitted greatly with features provided by this style.
Enterprises with great dependencies on centralized databases, on-premise set up and reluctance towards exposing data over the cloud can truly get benefitted with business components, greater scalability, containerized and independent API driven architecture.
The content talks about how typical Microservices patterns can be disintegrated for custom needs within a given enterprise model and how a platform can be established.
While reading and working around buzz word Microservices, IT enterprises and businesses associated with it are leveraging this next level of SOA at their best.
Microservices is a trend-setter in today's IT landscape and if we thoroughly analyze the variety of components in a given style then we realize that enterprise does use respective components and technical stack around it but not within aggregated fashion.
Once respective components of Microservices being analyzed and segregated in the existing IT landscape then a Hybrid Model can be derived out of it and which creates its own definition i.e. "Use what you want and leave the rest".
With that said, given model will address the following set of much-needed parameters to get ahead in technology and business collaboration:
Derive isolated and scalable business components without negotiating around the existing typical architectural landscape.
Achieving ~100% cloud-native and containerized applications with Platform agnostic design and development of business components, which makes enterprises equipped for cloud readiness of applications well in advance.
Variable traffic management between components and systems.
The business's first approach for Hybrid Mircorservices components with a high degree of re-usable components.
Leaning towards well supported opensource technologies and resources.
The Problem
If categorically identified at the broader level, there are two sets of stakeholders in an enterprise, one the core business for which respective IT stakeholders collaborate and use tools, technologies, resources, etc. to derive a business solution out of it and another is enterprise IT itself.
We will elaborate and will see how these two stakeholders' problems are proportional to or compliments each other.
Reusable Resource Availability
This is one of the key problems with both types of businesses but with different meanings in the respective contexts.
For core business, reusable resources or assets will be a business component that can be served, consumed or integrated with a variety of business cases without or with bare minimal changes to an existing component.
In absence of this reusable asset, the core business has to invest in both time and material, and which will lead to a redundant monolith effort to create identical asset across a variety of business platforms/applications.
Now the same problem context will have a domino effect on enterprise IT as well in terms of IT resource management such as storage, drivers, servers, administration, etc., which will eventually add-up in maintenance, time and cost for both short and long term.
Challenge Towards Modernization With Agility and Quick Turnaround
Industries and businesses are thriving towards the next generation of application development which includes responsive and intuitive user experience.
Enterprise and Businesses want to scale up and modernize the model without compromising with agility and turnaround time.
The way traditional architecture works and the way systems and businesses are evolving, there is a pressing need to get that early adoption towards modernization (IT modernization — a place holder for futuristic architecture). Systems and architectural scape should be highly agile and not fragile with quick turnaround time.
Context
This section highlights contextual information around micro-services not only around business-focused but how as technology this can be of great use.
One of the great benefits of this concept is agnosticism. Agnosticism here defines having liberty around technological and platform-agnostic systems. It opens up the door for a variety of solutions dependent on a variety of technologies. This technology/platform agnosticism allows the respective team to leverage a variety of available technologies
The benefit of this agnosticism for IT is multifold. It allows for choosing the right tool for business & technology use cases. Some of these use cases can be designed better with a specific set of technologies. For instance, Python/MatLab tends to be the preferred set of programs for AI/Business Intelligence related use cases.
In a traditional environment, there might be great use cases to implement a variety of solutions around AI/ML/BI, etc. but to even reach a starting point there is a huge overhead of underlying dependency across the systems and platform limitations. This can lead to a potential failure of an idea before even its inception state.
That is detrimental to the businesses. Not only because of losing what could be a great opportunity, but it hampers a variety of such potential ideas which could have a great impact on a variety of business cases.
Solution Details
So far we have covered top view around what hybrid microservices are and how they can be fitted in an enterprise landscape.
This section will cover the following pointers to derive a detailed approach around the concept:
Ideal Monolith Candidate Selection as a Starter
A better approach toward a solution is an approach where a concept can be proved on real-time systems/scenarios/applications etc. in the existing or new business application stack.
This is a very initial and crucial step that needs to be analyzed and choose wisely as a solution based on this 'candidate' will create a domino effect on overall strategy.
Split — Monolith
The splitting monolith in logical and business components is one of the important and crucial factors, to lay down a foundational structure for system designing.
These components will be treated as a blueprint for service component creation.
As part of the split and to make use of a hybrid nature data source can be treated as a common component across the respective split components.
Following diagram can help us understand how a typical monolith split will look like: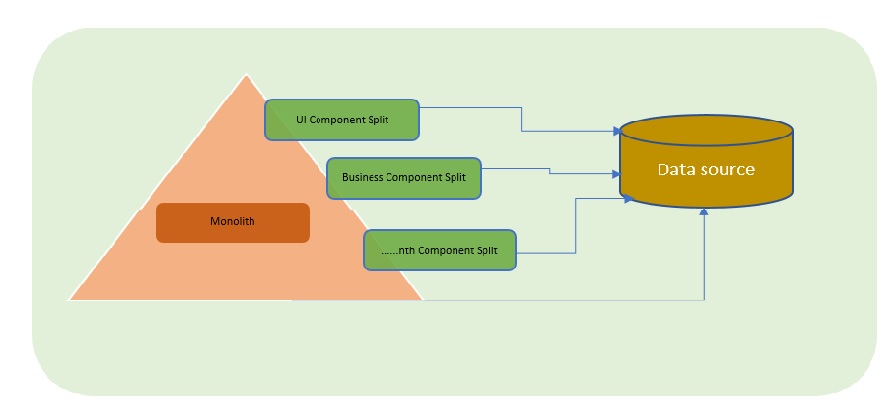 Below diagram will further indicate how a typical hybrid microservices can be represented: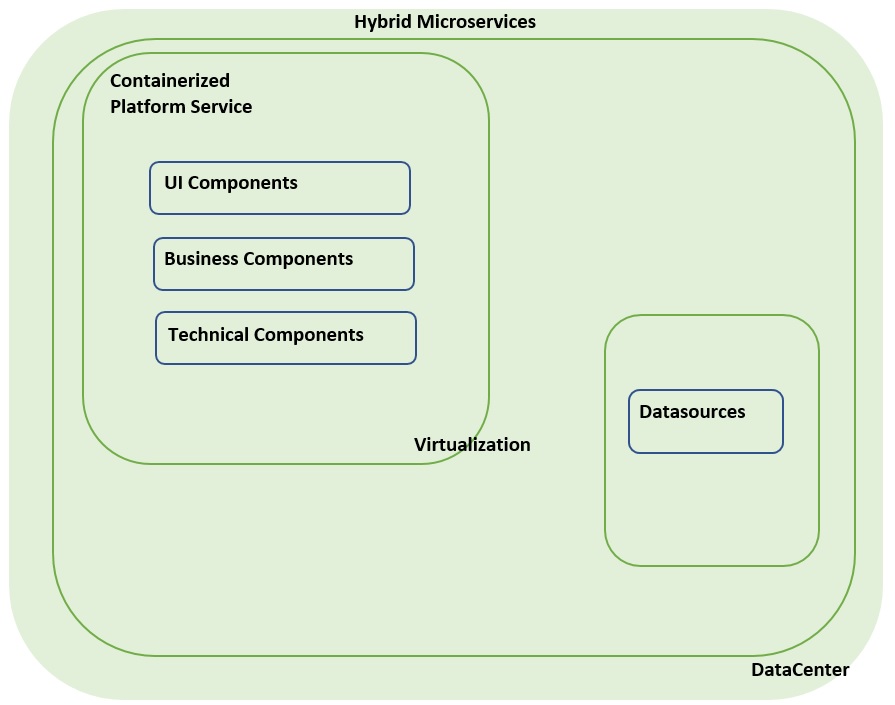 Business Benefits
As mentioned in the problem segment that there are two business stakeholders' Core Business and IT, and the context of their problems is directly proportional or compliments each other.
Solution approach described as part of this paper will target benefits derived for respective business stakeholders'
Core Businesses Benefits
API Driven architecture in the form of individual components:
With API Driven architecture the greatest benefits ever come is smooth integration among a variety of business applications and it facilitates well enough for B2B needs.
The catalyst in API Economy
API Economy is one of the keys and critical aspects for any business moving towards modernization and it is one of the top-notch items in CIO/CTOs bucket list is to establish well-connected business data systems.
Having well-established API strategies variety of in-house API development can be leveraged for a variety of business revenue model.
The best example, in this case, is one of the biggest logistics service provider exposed there APIs to a variety of vendors/businesses/developers, etc. to establish smooth integration across.
With that model, they are enhancing their and other businesses and adding a profit margin towards their extended revenue models.
Summary
To brief out short summary out from the entire document, the idea is really simple.
We are making out a way to get maximum benefits around microservices architectural patterns and designs, and how those can be beneficial for a variety of enterprises and respective businesses.
The goal is to create a cloud-native ready, business and API oriented environment with the help of such design styles and technologies, which can be utilized to empower or a back variety of business solutions and proposals within an organization.
With such technologies and design styles enterprises can get themselves ahead in such a competitive and technology-driven business era, and will create a solid platform for futuristic growths.
The idea around the paper is strongly focused on one core concept, i.e. there is always something with a variety of technologies that can be inherited and can be customized for respective IT landscape, and can be of great use.
The solution can be handled or tackled in a variety of ways based on an organization's capacity to cater to such an environment.
Technologies always offer something, and it's on us 'what we can use for the best and what can be left'!
Topics:
cloud native applications, containerization, microservice architecture, microservices, service oriented architecture
Opinions expressed by DZone contributors are their own.
Microservices Partner Resources