I Have An Idea for an App! Now What?!
DZone's Guide to
I Have An Idea for an App! Now What?!
Join the DZone community and get the full member experience.
Join For Free
It's 10:00 AM, you're in your office (or better yet, at home on your couch) dreaming up million-dollar app ideas when — BAM! — like a bolt of lightning it hits you. EUREKA! You have conceived of The Next Big Thing™: an app that will change the world, or at the very least provide your company a hefty income boost (and for you a big, fat bonus). You call up your boss and tell her your brilliant idea and she concurs, "Make it happen, fast!"
And now. All you need to do. Is find someone who can build. Your app…………..huh.
Well, how the heck do you go about doing that? The Internet is a horrifying place after all. You start with a quick google "i want to create an app" and find App Cooker. Hey, an app to make an app! This'll be easy, maybe you can do it yourself, too! You read through it a little bit and then, meh, your excitement dwindles. It's just another development environment. You'll still need to hire someone to do it for you.
(It's also worth noting that you not only still have to write the app, but you'll be doing it with App Cooker instead of the Apple SDK, thereby giving you only a small fraction of the talent pool to draw upon when hiring.)
Stiff upper lip! Undeterred, you google "iphone app developer". Better! Hmmm, Apple link, Apple link…ah! Here's iPhoneAppQuotes.com. Let's see, you give your contact info and…yadda yadda yadda…a company will contact you. What company? Where are they located? Where can you find some all-important examples of their work? I mean, are you willing to spend an hour or more of your precious time talking to some company you'd never want to work with anyway?
Take a closer look at the site. The top quote from the site (as I read it right now) is for Count Trackula. Sounds like the developer they were paired up with did a good job. Let's take a look at the app: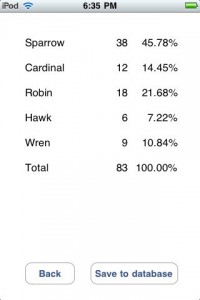 Wait, it's spelled Count Tracula? They didn't even spell it right? And whoa! Look at that app, it's horrible looking! Apparently some iPhone novice signed up to get quotes and won the bid! Do you want to be showing an app like that to your boss?
That product isn't going to change the world. It may not even get downloaded much at all.
Alright, alright, don't be depressed. Cheer up! You won't get an app that looks like that unless you make a seriously bad choice in who you entrust your app to. But what choice should you make? Well, you can't decide on who should create your app until you have an idea of the types of options you have.
So, let's talk about the three kinds of app makers you'll find out there: The Big Firm, The Lone Consultant, and the Streamlined Mobile Shop.
The Big Firm
The Big Firm is a very common first destination for most people who're looking to build an app. Why? Because these companies have huge budgets for marketing and PR and you'll find a seeminglyendlesssupplyofuninterestingpress releases flooding the search engines.
You can't help but find them, but does that make them the best choice?
These big firms mask a dirty little secret. Behind their polished façade, you'll often find a technical company with a high turnover rate, low-balled proposals that stress their development teams, and a large number of sub-contractors who are the ones working on your app. In other words, they're publicized middle men.
As a member of one of these Big Firms, I once saw an entire 8-man team filled almost entirely by consultants hired in a matter of 2 days. None of them knew each other or were associated with the Big Firm in any way. In other words, the client could have had the same development team at half the cost if they'd just interviewed and found the team itself!
This probably isn't what you want. These Big Firms work out better for much larger clients who aren't always looking for the best team for the job but rather tangible accountability. Someone that they can sue if things don't go exactly how they want. If your company restricts the use of open source applications because it requires support agreements with its software vendors, then this is the choice for you.
Cost can also be quite prohibitive. Hourly rates for the Big Firms range from $125 to $175. And you're paying for everybody who works on the app: developers, designers, project managers, testers, and sub-contractors. Just one meeting alone with them can reasonably cost you $5,000. Wow.
It's not all bad, though. The Big Firms often carry some sway in the industry. It can be beneficial to have your app linked to one of these companies. They'll help promote your app, too, and since they have so many resources at their disposal you'll never be abandoned. There'll always be someone available to work on your app.
It's a big cost for a big team and a quality result, but if a six-figure iPhone app isn't your cup of tea, is there a cheaper option to go with?
The Lone Consultant
Affordable, available, and offering the most direct communication possible, the Lone Consultant is the best choice for the truly small budget.
Here's the truth about the Lone Consultant that the Big Firms don't want you to know: the Lone Consultant used to work for the Big Firms. Me included. In general, your typical Big Firm will pay an employee approximately 25-35% of the hourly rate they are billing to you, the client. And so one day that employee, realizing that they're the ones who are creating the apps for the Big Firms' clients, decides to go independent and leave.
Yes, they'll have to go out and find their own clients now, but they'll be paid more handsomely for the same work they were doing before. Remember when I said middle man? The Lone Consultant will charge an hourly rate between $50 and $100. Why can they charge a lot less? Because you're paying them directly. They're making more; you're paying less. Everyone wins!
Additionally, you can talk to the Lone Consultant directly. This saves you time not having to negotiate project details through a Project Manager, whom you'll be talking to with the Big Firm.
The Lone Consultant is a fine choice, but there are some pitfalls to be mindful of. First, they're going to be a developer, so you need to make sure you have an understanding of where the design talent will come from — if any. You might be responsible for finding that talent on your own, too, which leads to the biggest problem: you get to play Project Manager!
In some cases, this may be what you want, but most likely you're looking for someone to create your app because you have no idea how to do it yourself. Managing a technical project isn't easy, especially if you have hard deadlines. What will you do if the developer quits the contract? Can you find someone willing to take over an abandoned codebase? Is the designer overcharging on their hours? How would you even tell if they were?
If you're willing to take on the responsibility, the Lone Consultant is the most cost-effective option. But, if the Big Firm is too bloated and the Lone Consultant requires too much micro-management on your part, what is the reasonable alternative?
The Streamlined Mobile Shop
The Streamlined Mobile Shop combines the team effort of the Big Firm with the more efficient communication of the Lone Consultant. Hourly rates range between $75 and $125 and fixed bids are common as well. The Streamlined Mobile Shop is employed by a handful of people, likely all designers and developers, so there's no expensive overhead you'll have to pay for. They'll manage your project for you and give you better quality work per dollar than the Big Firm can.
My favorite aspect of the Streamlined Mobile Shop is that it's made up of some of the most dedicated people. These groups are already stocked with great talent, but since the group is kept small, there's great camaraderie. And the good mood will make for a better working relationship for you, too.
Let's Break It Down, Then
Now that you have a good idea of who to choose, who's it gonna be? My recommendation, if your budget allows, is to go with the Streamlined Mobile Shop because you'll get the best service at the most reasonable cost. It's why I'm a part of one. Yet, if you're organization is too big or too small, it may not be possible to in this direction.
What about cost? The best comparison I've heard is that the price to have an app developed is almost exactly the price of a car. Which car? Well, for a small app that does one or two things, it's a cheap car, around $10,000. It includes a lot of the overhead of a project: architectural development, screen work, and design. From there, price scales up slowly depending on how much you need the app to do. A common component, networking, always requires a lot of edge testing. Fancy UI flourishes take time to design and create flawlessly. A big app, with nice UI, is like a fancy car running you about $60,000. A banking app that has to take security into consideration, along with mission-critical execution, can easily run 6 figures.
So, there you go. You still need to make a choice! What will it be? Let's summarize everything we've talked about now.
The Lone Consultant
The Streamlined Mobile Shop
The Big Firm
# of Employees
1
2-25
26-200+
# of Concurrent Projects
1-2
2-3
4-8+
Who You'll Talk To
Developer
CTO or Lead Developer
Project Manager
Hourly Rate
(per person)
$70 – $125
$85 – $150
$125 – $175
Minimum Budget to Do Business
$1,000
$5,000
$25,000
So there we go. Well, good luck with that app. I hope to see it in the App Store soon! :-)