IFA Berlin 2017: Full of Smarts
DZone 's Guide to
IFA Berlin 2017: Full of Smarts
IFA Berlin was an assortment of connected products, robots, and personal assistants. See what the future looks like for development.
Join the DZone community and get the full member experience.
Join For Free
Another year, another IFA, and as always, nestled among the room upon room of ovens, food processors, and fitness trackers are a handful of outliers and gems. This year IFA had a different feeling from previous years, with a more international flair, and the startup aisles from previous years expanded into an entire hall, which is where I spent most of my time. In this post, I will highlight some of my favorites and the trends I identified.
Alexa Everywhere
Voice assistants are now everywhere, and at IFA they found their way into a multitude of devices including those you never thought Alexa would find its way into, some of which I wasn't sure if were appropriate or worked. It makes sense, why create yet another voice assistant platform (I'm looking at you Samsung) when there are already well developed and accepted platforms. Alexa is leading the pack, but Google Assistant is snapping at its heels, albeit separated by a fair few miles. Companies are now incorporating Alexa into devices either via an Amazon branded device or via direct incorporation. Later in the same week of IFA I saw a talk by a developer evangelist at Amazon who stated that this is still early days for developing skills (or actions if you're developing for Google), and now with a widening array of devices, there has never been a better time to start developing for voice interfaces. I also saw Alexa on a handful of robots and I'm not sure if or how Alexa handles physical interactions on devices and if this was more of a gimmick than anything useful.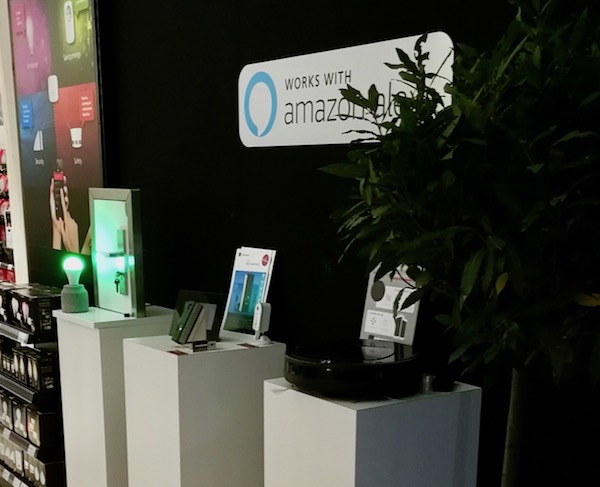 Get started with Alexa and with the Google assistant.
Mainstream VR
There are a handful of VR headset manufacturers at the high end of town, but judging by this year's IFA, also a burgeoning amount of devices proliferating the lower end of the market. I saw VR headsets of varying shapes and colors, with mid range devices on a path to wider acceptance, shrinking to a less obstructive form factor like the Royole moon.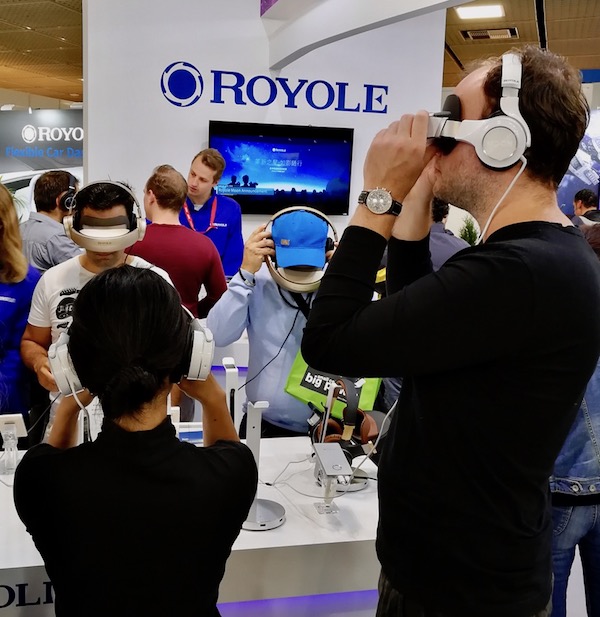 My highlight of the category would be products from merge, with its goggles that (I think intentionally) resembles the Viewmaster 3D and the cube that looks like something from Hellraiser, but is still kind of cool.
Robots, for Fun and Education
As far as I can tell from most exhibitors with robots at IFA, what they want to mostly do is dance, and as cute as that looks, I still can't help imagining them armed and running amok. It's hard to separate one product from another as mostly it's down to what other smart devices it connects to and how it looks. There's the cute Asus Zenbo, but it's not clear what it exactly does and how, apart from 'everything', but it has a Java-based developer platform for any of you interested in finding out more. In a similar vein (plus more industrial applications) is the Sanbot Elf, and if you're willing to navigate their 'interestingly' translated website, it also has a developer platform. There's the slightly disturbing looking Roboelf aimed more at children, and then firmly in the educational robot camp (now a massive market) are Abilix and Jimu.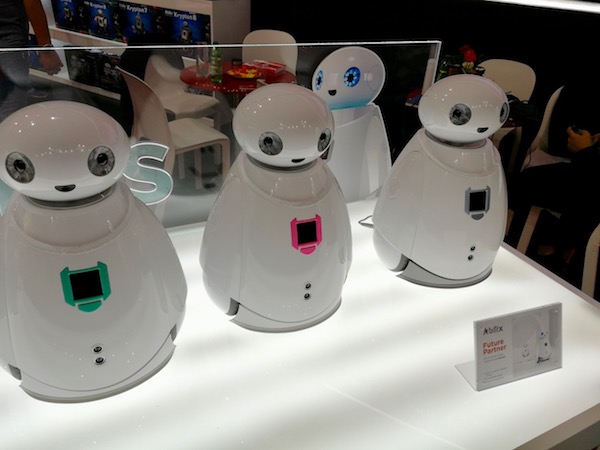 Smart Play
As mentioned above, many of the robots at IFA were actually complex toys, and the field of smart toys was also out in force, with more traditional forms that learn and adapt to a child's behavior like those from Vai Kai, or more complex ones that allow a child to build their own toys from predefined components.
My highlight in this area was Bare Conductive, who make an amazing conductive paint that via a small touch board connects to a RaspberryPi, allowing for a variety of creations from musical instruments to alarms and intercoms.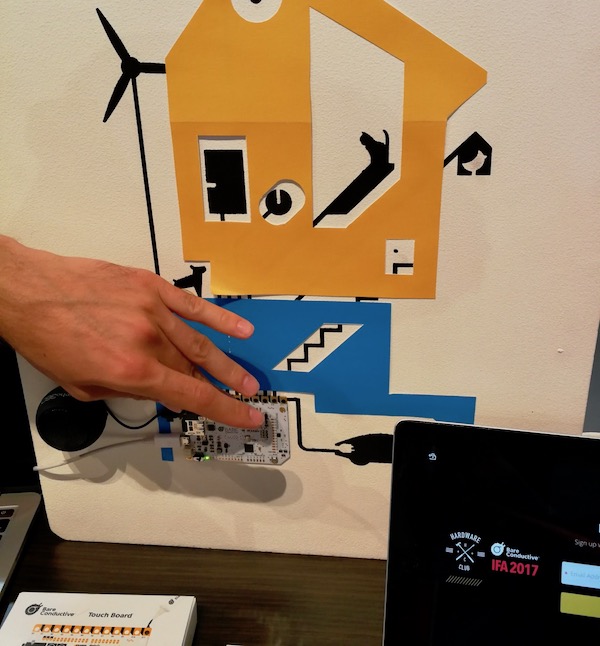 An honorable mention goes to the jooki jukebox, a cool wireless speaker that lets kids assign playlists (from different sources) to small RFID-enabled characters that play when they place the character on the speaker. With an app that allows parents to override playback and volume settings, there's a little something for everyone.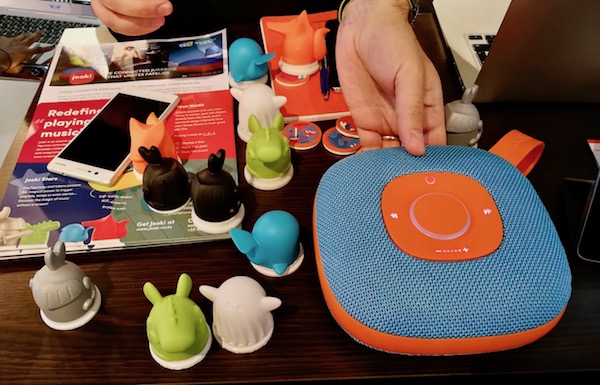 Programmable Buttons
According to many exhibitors, I spoke to at IFA, pulling a phone out of your pocket to interact with other smart devices around your house is too much effort and we need a simpler way. I'm unconvinced by the argument but enjoyed seeing how different companies tackled the 'problem'. These included the Aico 'smart egg', but my highlight was bixi, as it takes the concept further into hand gestures, meaning you don't have to touch the device, but interact with it via custom gestures that trigger a wide variety of external services. More usefully this also opens the bixi up to other use cases such as in-car or for those with limited mobility.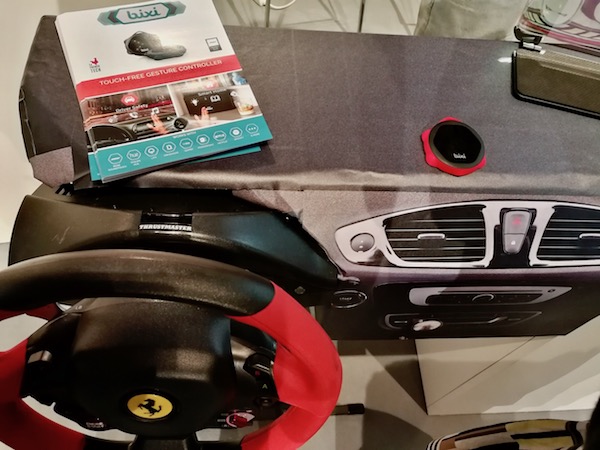 Smart Earbuds
In typical fashion, Apple blew apart a pre-existing product line last year with their AirPods and this year saw a plethora of 'smart earbuds' that are cross platform. A lot focused on fitness use cases, but there are often enough features to make the device still worthwhile.
It's hard to fully evaluate headphones without using them, but they are now available (or in active production) from companies large and small, including the Jabra elite sport, Bragi, and Swiss Audio. An interesting feature I had never considered they all add is the ability to hear your surroundings more clearly at the press of a button, useful for sports and office environments.
Topics:
connected devices, iot, robots, virtual reality, voice assistants
Opinions expressed by DZone contributors are their own.