The Importance of Measuring CES
Professional CES Software enables you to conduct CES Surveys at various customer touchpoints and gauge the level of effort of your customers.
Join the DZone community and get the full member experience.
Join For Free
If you get an immediate call from a customer support agent and he quickly sorts out your issues, how do you feel? I'm betting you will feel good and share this effortless experience with your friends and family. And, further, you will become a loyal customer of that brand.
Similarly, your customers want their queries to be solved quickly. Thus, the overall customer experience or satisfaction level is influenced by the efforts your customers are deploying to get their work done. Thus, overall customer satisfaction can be achieved by measuring the Customer Effort Score (CES).
CES and Customer Loyalty
Customer loyalty cannot be achieved only with product or service quality. The ease of experience also matters when it comes to delivering an exceptional customer experience. If your customers are doing business effortlessly with you, they are likely to become more loyal.
Corporate Executive Board (CEB), now Gartner, has established a clear correlation between customer effort and loyalty. Keeping this in mind, they introduced CES in 2008 to measure the effort level of the customers. The metric gained popularity when Harvard Business Review published an article titled, "Stop Trying to Delight Your Customers" in which they stated that measuring effort score is much more important than delighting your customers.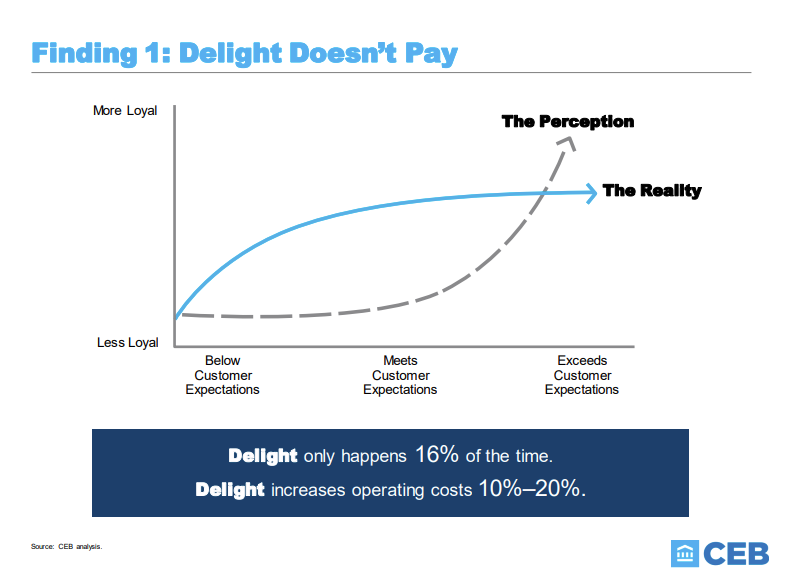 CES Delight
CES Question and Calculation
CES data can be collected by asking the simple CES question: to what extent do you agree with the following statement?
The company made it easy for me to handle my issue. Based on their effort experience, respondents answer on a standard scale ranging from 1– 7 scale.
1 = Strongly Disagree
2 = Disagree
3 = Somewhat Disagree
4 = Neither Agree nor Disagree
5 = Somewhat Agree
6 = Agree
7 = Strongly Agree
Based on the score given by the customers, you can easily calculate the CES through a simple formula.
Customer Effort Score = Sum of all Customer Effort Score ÷ Total Number of Responses
The Importance of measuring CES
CES gives you a quantitative measurement of what and how customers feel when doing business with you. Besides this, CES has other side benefits that enhance the overall business growth along with customer loyalty.
1. It Helps in Reducing Negative Word of Mouth
A bad customer service experience costs a lot to the business. When your customers jump through multiple departments to get an answer or solutions to the queries, this frustrates them and they may churn out of your business. They will not end here. They will spread negative word of mouth for your business and brand among other consumers. With this, you will not only lose your existing customers but, also, lose the brand reputation in the market.
To avoid such pitfalls, you can measure and improve the effort experience of your customers. An improved level of effort experience can increase customer lifetime value and bring a positive word of mouth to the business.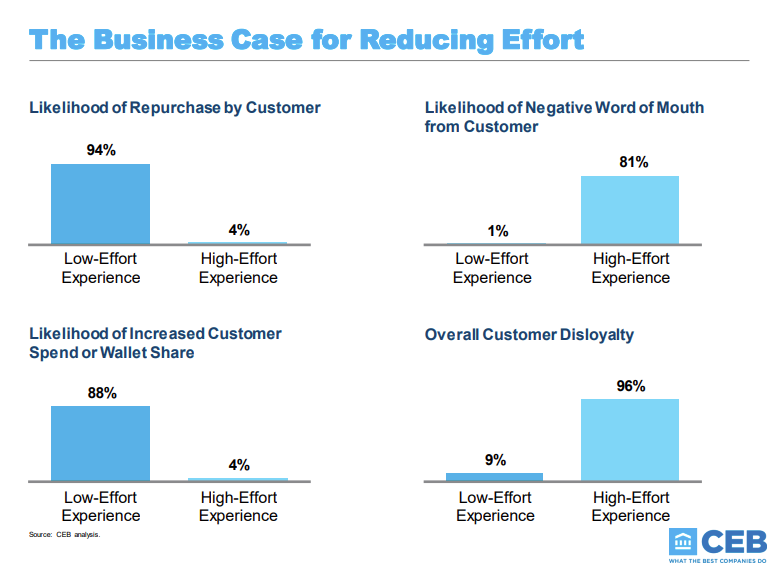 Reducing Effort
2. It Helps in Improving the Customer Support Experience
What do you do when you are not able to complete your online purchase due to an inconvenience in the payment option? You will raise the ticket for it. And, if the business takes too much time to solve your queries, you will start a new web search and buy from a competitor instead.
Similarly, your customers do the same when they fall through the cracks in your customer support experience. By conducting a CES Survey, you can identify those cracks that spoil the experience of your customers. For example, say your customers raised the ticket for the inconvenience in the payment process. Immediately after the call concluded, send a CES Survey to know all the nooks and crannies in your customer support service. This also shows your customers that you care for them and their experience.
3. It Helps in Predicting the Loyal Customers
We have two other customer experience metrics that are CSAT and NPS besides CES. It is always a big question as to which one is more predictive of customer loyalty. To understand which one is better, we need to know the inception journey of all three metrics.
Initially, the CSAT metric was first developed in the market to measure the customer experience. Until 2003, CSAT was considered to be the most predictive customer loyalty metric. Then, in 2003, Fred Reichheld introduced the NPS, a customer loyalty metric at Bain and Company. This metric has established a correlation between customer satisfaction and loyalty. Then, In 2008, the Corporate Executive Board (CEB), now Gartner, emphasized that customer's effort experience also affects customer loyalty. So, they introduced the CES metric for measuring customer's effort experience. According to the CEB analysis, CES is 1.8x more predictive of customer loyalty than CSAT and 2x more predictive than NPS.
4. It Helps in Predicting the Future Purchase Behavior of Customers
According to HBR, 94% of customers who reported low effort said they would likely purchase a product again. So, a CES Survey provides a great platform where you can predict the future purchase behavior of your customers.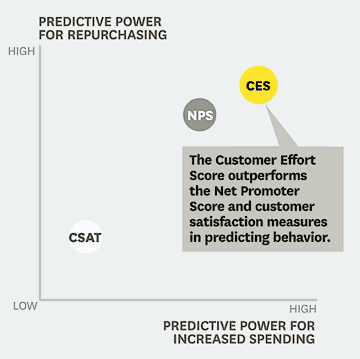 5. It Helps in Increasing the Customer Referral
As we discussed in the first point, your customers always speak about your brand to their friends or relatives based on their experience. 92% of consumers believe in recommendations or feedback/reviews from friends and family more than advertising. 74% of consumers identify word of mouth as a key influencer in their purchasing decisions.
If your customers give you a high CES Score, it means they strongly agree that your business made it easy for them to handle their issues. It also boosts your customers to refer your brand or business to other consumers. According to NeuStar, a 10% increase in word-of-mouth (off and online) translated into sales lifts between 0.2 – 1.5%.
6. It Helps in Reducing Customer Service Cost
It is an inconvenience in the customer experience that leads to a support ticket. Solving these customer issues will unnecessarily increase the customer service cost and take a toll on your business budget. So, to avoid this unnecessary cost, you need to send CES surveys to your customers. CES helps you cover all the inappropriate things and bad customer support experiences that could lead to a support ticket. This also cuts down the manual intervention of your customer service team and speeds up their productivity and interactions.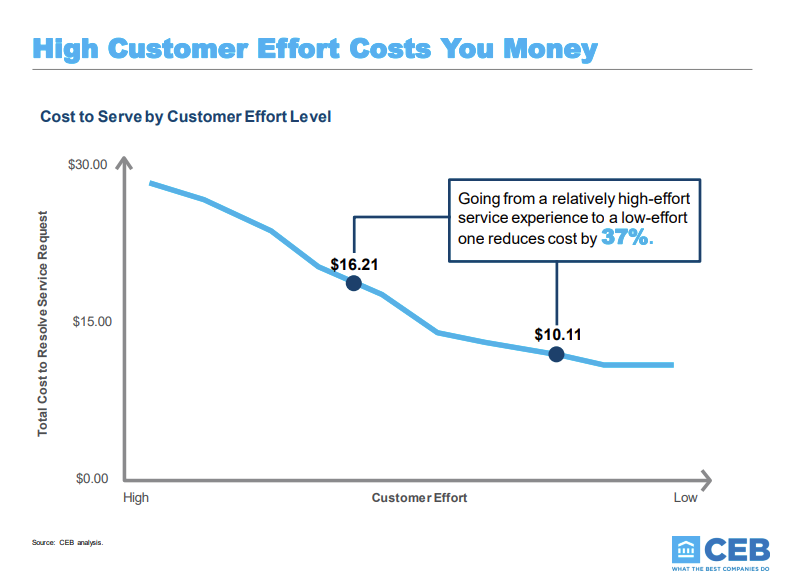 Customer Effort Cost
What are the ROIs in CES?
Some statistics published by CEB speak for themselves on how CES is a powerful Customer Experience Metric. Here are some ROIs that businesses have achieved after making CES Metric a part of their customer feedback strategies:
They are able to ensure an effortless experience; 88% of the customers going through an effortless experience are likely to spend more.
They are able to improve the repurchase rate; 94% of customers who experienced low-effort service interaction are intended to repurchase.
They are able to reduce customer service costs; CES has phenomenally declined 40% of repeat calls, 50% of escalations, and 54% of channel switching. This has lowered the effort experiences and has reduced costs by 37%.
Topics:
saas adoption,
saas,
customer feedback & nps,
customer loyality,
opinion
Opinions expressed by DZone contributors are their own.