How to Install Power BI
In this article, see how to install Power BI and see some basic features.
Join the DZone community and get the full member experience.
Join For Free
Power BI is a collection of software services, apps, and connectors that work together to turn your unrelated sources of data into coherent, visually immersive, and interactive insights. Your data may be an Excel spreadsheet or a collection of cloud-based and on-premises hybrid data warehouses. Power BI lets you easily connect to your data sources, visualize and discover what's important, and share that with anyone or everyone you want.
Components of Power BI
Power BI consists of several elements that all work together, starting with these three basics
A Windows desktop application called Power BI Desktop
An online SaaS(Software as a Service) service called the Power BI service
Power BI mobile apps for Windows, iOS, and Android devices
Beyond those three, Power BI also features two other elements
Power BI Report Builder for creating paginated reports to share in the Power BI service
Power BI Report Server an on-premises report server where users can publish your Power BI reports, after creating them in Power BI Desktop
Power BI Desktop
Power BI Desktop is a complete data analysis and reports creation tool that you install for free on your local computer. It includes the Query Editor, in which you can connect to many different sources of data, and combine them (often called modeling) into a data model. Then you design a report based on that data model. The Power BI Desktop getting started guide walks through the process. Because to learn power Bi one must have an application installed on the machine.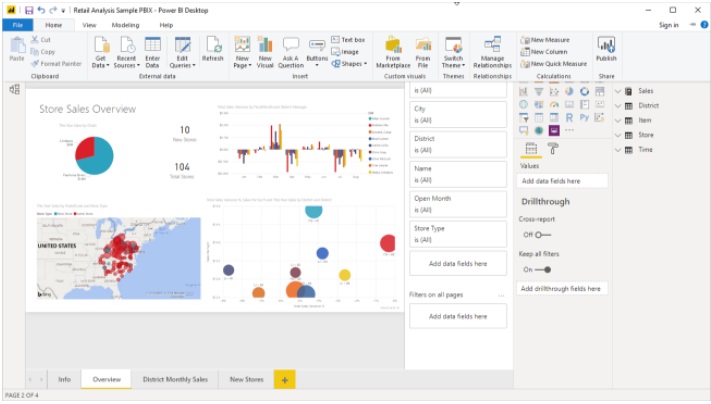 The Power BI service is a cloud-based service. It supports light report editing and collaboration for teams and organizations. You can connect to data sources in the Power BI service, too, but modeling is limited.
Most Power BI report designers who work on business intelligence projects use Power BI Desktop to create Power BI reports and then use the Power BI service to collaborate and distribute their reports.
Let's try to understand more about Power BI desktop installation requirements and its features.
The minimum requirements for installing Power BI are listed below
Windows 7 / Windows Server 2008 R2, or later(After 31 Jan-21, Power BI to be supported only on Windows 8 or higher versions
.NET 4.5
Internet Explorer 10 or later
Memory (RAM): At least 1 GB available, 1.5 GB or more recommended
Display: At least 1440x900 or 1600x900 (16:9) required. Lower resolutions such as 1024x768 or 1280x800 aren't supported
Windows display settings: Set display settings for the size of text, apps, and other items to 100% in order to get proper notification dialogs during installation
CPU: 1 gigahertz (GHz) 64-bit (x64) processor recommended
Steps to Download Power BI Desktop
Click on to this URL to move to the below page and start the download

Click on to Power BI desktop in the above page to get the download option

Users get an option to choose the language of choice during installation

Users would get an option to choose the installation file depending on whether the working system is 64 bit or not.

The download starts and the progress can be monitored in the download bar or as per browser settings

Once the download finishes, click on the installation file to start the installation process

Accept the license agreement and follow the instructions to install Power BI

When Power BI installation finishes, it launches a welcome screen as shown below.

This screen is used to launch different options related to getting data, enrich the existing data models, create reports as well as publish and share reports.
Features of Power BI Explained
Range of Attractive Visualizations:

Visualizations or visual representation of data plays a central role in Power BI. It offers a wide range of detailed and attractive visualizations. Users can create reports and dashboards using as simple or as complex visualizations as you want to represent your data set with. There is also a library available for custom visualizations.
In Power BI you can create visualizations such as
1. Stacked bar/column chartClustered bar/column chart
2. Line chart
3. Area chart/Stacked area chart
4. Ribbon chart
5. Waterfall chart
6. Donut chart
7. Treemap chart
8. Map
9. Filled map
10. Funnel chart
11. Gauge chart etc

Data Source

Get Data feature/option lets Power BI users to select from a range of data sources. The data sources are anywhere in the spectrum from on-premise to cloud-based, unstructured to structured. New data sources are added every month.
Some of the latest available data sources are as follows:
1. Excel
2. Power BI data sets
3. Power BI dataflows
4. SQL Server
5. MySQL database
6. Analysis Services
7. Azure
8. Text/CSV
9. Oracle
10. PDF
11. Access
12. XML
13. JSON

Data Sets Filtration

Dataset is a single set of data created as a result of taking data from multiple data sources. Users can use the data sets to create visualizations of different kinds. A dataset can be made of data taken from a single source like an Excel workbook or from more than a data source.

Users can filter the data sets and have smaller subsets containing only the important data and contextual relevance. Power BI provides the users with a wide range of in-built data connectors such as Excel, SQL database, Oracle, Azure, Facebook, Salesforce, etc. Users can easily connect to such data sources and create data sets by importing data from one or more sources.

Customizable Dashboards

Dashboards are a collection of visualizations offering meaningful information or insights into data. Typical dashboards in Power BI are composed of multiple visualizations as tiles. They are single pages from the reports. The dashboards are shareable as well as printable.

Informative Reports

Reports in Power BI are a combination of dashboards having different kinds of visualizations relevant to a particular business topic. A report shows a complete and structured presentation of data represented in different ways and revealing important insights from the data. Users can easily share reports created on Power BI with other users.

Natural Language Q & A Question Box

The Natural Language Q&A i.e. question and answer box is a unique feature of Power BI. Using the Q&A box, a user can ask questions in natural language to search for data and information available in the Power BI system. The cognitive engines of Power BI will search for the data or visualization or a part of the report that is been searched for and return it to the user. The cognitive technology uses rephrasing, autofill, suggestions, and other such techniques to fulfill the search requirements of users.

DAX Data Analysis Function

The DAX functions are the Data Analysis Expressions found in Power BI. These analysis functions are predefined codes to perform analytics specific functionalities on data. There are about 200 functions in the Power BI function library as of now. The creators keep on adding new ones.
Summarizing Key Features
Free initial setup with no required training
Connectivity with Excel spreadsheets, cloud services, streaming data, on-premise databases
Dashboards that update in real-time
Support for 5 languages: DAX, Power Query, SQL, R, and Python
Natural language processing for data visualization tools
Shareable reports and data sets
Collaborative framework and remote accessibility
Integrates with most applications and services using REST API
Publish data directly from service with publish-to-web feature
Interactive Reports Authoring
Complete Reporting and Data Visualization Tools
Online Analytical Processing (OLAP)
Q&A Question Box
Help and Feedback Buttons
Conclusion
With having the huge market scope for data analysts, Power BI has the varied features that make it much demand for data analysts and data scientists. become the buzz. Having the core knowledge of Power BI, there will be better career opportunities. To learn Power BI, you can have a look into my existing blog.
Topics:
power bi desktop,
power bi,
bi,
ai artificial intelligence,
tutorial,
big data
Opinions expressed by DZone contributors are their own.
Big Data Partner Resources