(I)IoT: Getting the Protocols Right
As there are roughly 10 million IoT protocols out there, it can be helpful to know when to use which ones as well as how to integrate them in your IIoT initiatives.
Join the DZone community and get the full member experience.
Join For Free
Industrial IoT or IIoT is no longer a just a buzzword; industries across the world have embraced the concept in order to improve their business process efficiency and achieve the unachievable. IIoT today is a business reality, enabling businesses to extend cutting edge communication and integration capabilities of devices for factory automation, energy optimization, smart grids, and intelligent transportation systems. Yet selecting the right protocols can often be challenging, as the wrong ones limit seamless communication, limiting data access, and eventually limit businesses from capitalizing on the true potential of IoT.
So What's the Challenge?
Consider the case of a manufacturing unit that uses IoT to run its shop floor processes. Intelligent devices continuously collect critical real-time data in order to gain insights and improve the efficiency of equipment. But imagine if these devices use protocols that are incompatible? The whole purpose of IoT would be lost, restricting businesses from achieving their goals. So how does one manage a heterogeneous network like this? By first selecting a suitable protocol, integrating the different protocols, and effectively handling a diverse environment.
The Problem of Too Many
Since IoT applications provide value to enterprises by improving the business decision process through event triggering, report generation, and dashboard creation, each stage in an IoT application might leverage different protocols.
IoT device manufacturers and software developers often face a wide range of protocol choices while creating IoT applications.
These applications need to be able to collect information from a large number of devices and communicate with other devices in the network to carry out intelligent operations.
And for efficient communication, what's required is the right choice of protocols that enable businesses to capitalize on their IoT dream.
But the trouble is that IoT devices use different protocols, and each protocol has unique qualities and features.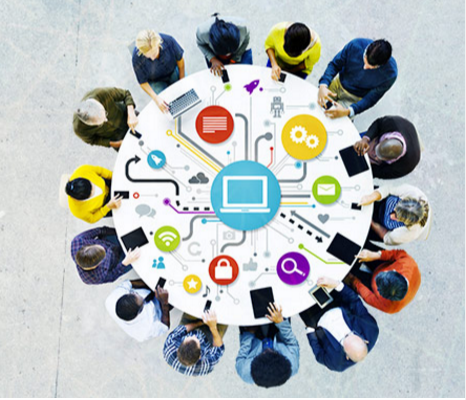 The Protocol Landscape
While several communication technologies such as Ethernet, Wi-Fi, and IP are well known, there are a host of new emerging networking options being implemented. Depending on the application, and factors such as data requirements, security prerequisites, and power demands, you need to choose the right protocols.
Want to set up your IoT infrastructure? You can choose from a variety of protocols like IPv6 and RPL
For device discovery, there's Web and mDNS.
If you want to enable quick identification of devices in the network? Choose from EPC or uCode.
And for communication, there's Wi-Fi, Bluetooth, Zigbee and a host of others.
For messaging purposes, there are protocols like CoAP.
And for efficient data transfer, pick among ModBus, Ethernet, AMQP.
For efficient device management, you can opt for TR-069 or OMA.
Integrating Protocols
Since a variety of different protocols are deployed to meet the requirements of different businesses, there is a pressing need to develop seamless communication between them. It is critical for you to use the right transmission and communication media in order to build the most reliable IIoT system. By deploying a protocol gateway, you can enable effective and efficient information collection at each level, even if the protocols in the network are different. For instance, a protocol gateway can convert a field-layer protocol (used in Modbus) to a control-layer protocol (Ethernet).
Getting it Right
The requirements for IIoT are far more complex than consumer IoT. Since industries comprise of legacy devices that have older protocols, they require diverse means to communicate with a vast spectrum of other connected devices in the network: from sensors and 3D printers to automation devices and robots. Understanding how to overcome protocol challenges can help you build a more efficient, profitable manufacturing ecosystem. Ethernet-based protocols find major application in the IoT world today, as most of them are open-standard protocols (like Modbus, TCP, Ethernet, or ONVIF). So choose the appropriate protocols and make device discovery, communication and security between your intelligent devices seamless, quick and effective.
Topics:
iot devices,
iot protocols
Opinions expressed by DZone contributors are their own.