Is Open Data Worsening The Digital Divide?
Looking at the impact of usable Open Data and the Matthew Effect on the industry.
Join the DZone community and get the full member experience.
Join For Free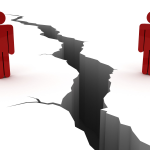 The open data movement has made great strides in recent years, with platforms such as DataPress emerging to provide organizations with easier access to open data.
The London based company aims to make it easy to work with local government data. They work with civil servants to develop data visualizations that will make it easier for lay people to make use of it.
They have already worked with teams throughout the UK and allows users to follow particular publishers of data and receive updates whenever the data is changed. The team liken the approach to WordPress for data.
Overcoming the Matthew Effect
This kind of opening up of public data is certainly to be welcomed, but research suggests that the primary beneficiaries tend to be the more privileged members of society.
Indeed, the World Bank recently went as far as to suggest that these kind of projects can further the digital divide and make inequality more pronounced.
It's an example of what's known as the Matthew Effect, which suggests that when spaces are opened up, it's generally the privileged that benefit most from them, with the poor therefore becoming poorer.
We've seen evidence of this with areas such as MOOCs, where the majority of students are the already educated, whilst the majority of attendees to free museums are the affluent middle classes.
That new, open technologies offer enormous potential benefits is probably not up for debate, but whilst much of the rhetoric around web technologies proclaims their democratizing impact, the reality is often not quite so clear cut.
Making Open Data Usable
It has been estimated that roughly 4/5 of open data is not actually usable, so hopefully platforms such as DataPress will go some way towards rectifying that.
Nevertheless, there remain challenges involved in ensuring that what is produced with this data doesn't perpetuate civic divides based upon platform adoption.
This will become even trickier if this open data, or access to it, becomes commercialized as organizations seek to gain a return on the investment they make into sense making of the data.
There is a risk that open data becomes available only at the whim of private ventures such as GitHub, who currently host a large proportion of not only open source projects but also the American government's open data infrastructure.
It therefore requires a degree of care to ensure that when we prescribe open data that it does actually improve the digital divide rather than exacerbating it.
Open data
Data (computing)
Digital divide
Big Data Partner Resources