The Journey of an App – From Native to Progressive
DZone's Guide to
The Journey of an App – From Native to Progressive
Check out this article for an overview of Progressive Web App development strategies and PWA's advantages over native or hybrid applications.
Join the DZone community and get the full member experience.
Join For Free
We have moved into a digital era where the market of the smartphone and its related technology is evolving quickly. Smartphones are in very high demand due to their versatile mechanism. The Android mobile phone industry has been creating and developing applications quickly during the last couple of years.
The popularity and uses of mobile applications are increasing day by day. There are many apps available on the market for various purposes. Sizing up from small-scale ventures to an enormous business, every individual is using these applications habitually.
Nowadays, mobile app dev teams are following a number of different development and distribution strategies, ranging from native apps to hybrid apps and the recently emerging progressive web apps.
This talk offers an advanced overview of the development strategies for developing mobile apps, each of them with its own advantages and drawbacks.
Now let's take a look at the difference between these apps' development processes:
Native Apps
What is a native app? A native mobile app is an application that can be installed on a smartphone through an application store (such as Google Play) or they may be stored on the device out of the box. Native apps can be accessed through icons on the device's screen.
The native app has its own pros and cons:
Pros
Easy to access device functionality, such as camera, microphone, and accelerometer.
Quickest and responsive experience for the user.
A native app can use push notifications to alert the user whenever there is attention required to the app.
Cons
Native apps require more than one codebase to manage the work, as the developers need to work with different codebases for different platforms.
The cost for creating, updating, and maintaining is higher.
Some popular native apps out there are: Twitter, PokemonGo, and CamScanner.
Hybrid Apps
If a native application and a web application got hitched and had a child, it would be known as a hybrid application.
It is installed on the device like a native app, but actually, it's a web app on the inside. They are built using HTML5 and JavaScript and then wrapped in a native container. Hybrid apps run in webview and actually are a simplified browser within an app. Unlike a native app, a hybrid app loads the information from the web as the user navigates through the application (a native app downloads the information/content when the user installs the app).
Some hybrid apps are Untappd and Khan Academy.
Hybrid apps come with their own pros and cons:
Pros
Hybrid apps can access the hardware competencies of the mobile device.

There is only one codebase to manage. You just need to tweak a little and you are ready to go to different platforms.

With one codebase, time - and most importantly, money - is saved.

Performance is a tough task to achieve, as hybrid apps are loaded in webview, which mostly gives a browser-like experience.
Cross-platform is also an issue because running your hybrid app appropriately on each platform takes quite an effort.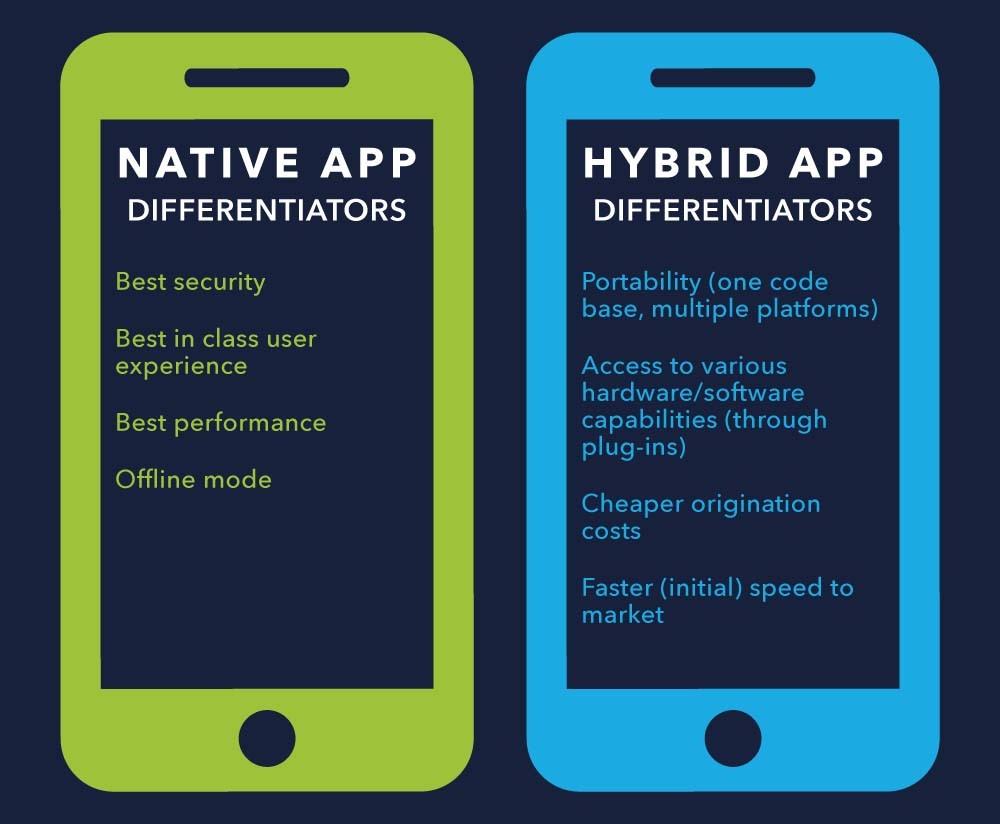 Figure 1: Native vs Hybrid.
Now let's take look at latest advancement in mobile app development.
Progressive Web Apps
A progressive web app (PWA) is a combination of a website and the best features of its native app. Unlike a native app, a progressive web app does not require installation on a device, but still works like an app and does not use the storage space on a mobile device. These apps run on a web browser. Since PWAs entered the app development game, developers will not need to develop multiple apps for multiple platforms. PWAs can send push notifications and act as a bookmark for instant loading.
Progressive apps have their own advantages, as well as limitations:
Pros
PWAs are responsive, as they can fit in any form factor, whether it is desktop, mobile, or tablet.
Progressive web apps are always up-to-date. They don't need to be updated through an app store.
Gives an app-like experience with features like push notifications and engagement with the hardware functionality of a device.
PWAs can be shared with just a URL.
Cons
Still, PWAs cannot use the latest hardware features, such as the fingerprint scanner and NFC.
Not all browsers have full support for PWAs.
Some of the best progressive web apps are Flipkart, Financial Times, Paytm Lite, and Soundslice.
Conclusion
It is quite early to count native apps out of the game, but PWAs offer a significant number of advantages over native and hybrid apps. They still have a long way to go and offers the same user experience as native apps. Still, native apps use 87% of all mobile traffic. PWAs are gearing themselves up to take the user experience to the next level.
Topics:
mobile ,mobile app development ,native apps ,pwa ,progressive web apps ,hybrid apps
Opinions expressed by DZone contributors are their own.