Learn C#: Tutorials for Beginners, Intermediate, and Advanced Programmers - Part 3
Whether you're just getting started, or are a seasoned developer, taking an online course can always help you learn something new. Check out this list.
Join the DZone community and get the full member experience.
Join For Free
30 of the Best C# Tutorials - Part 3
21. Java T Point – C# Tutorial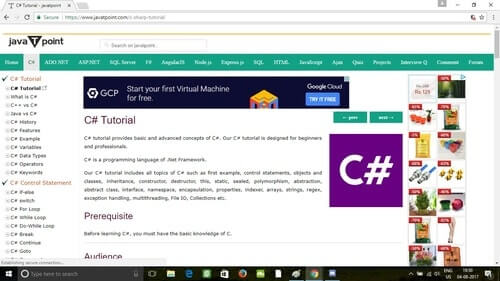 This C# tutorial from javatpoint.com is quite extensive and comes with a prerequisite that you have a basic working knowledge of C. Like most other courses, it starts off very basic and then goes into detail in the later chapters. What makes this one different, however, is that it's quite student-oriented and features comparisons with Java, interview questions, and an additional ASP.NET tutorial.
Key Topics:
History and introduction.
Control statement, functions, arrays, and object classes.
Properties, inheritance, polymorphism, and abstraction.
Namespaces, strings exception handling, file IO.
22. Microsoft – Getting Started With C#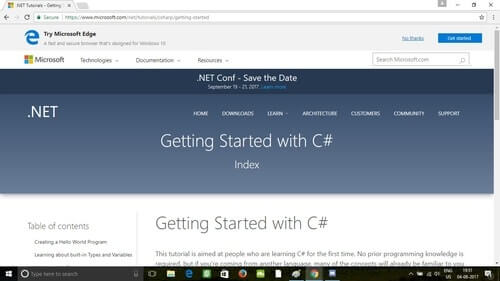 This is a fun little tutorial from Microsoft and is different from all the others as it's customizable. You can choose your degree of difficulty before you start by selecting whether you are a beginner or have previous programming experience. It also lets you choose the languages you already know and then modifies your course accordingly.
Key Topics:
Writing your first hello world program.
Strings, looping, dates, and times.
Arrays, collections, and calling methods.
Namespaces.
Testing your code and troubleshooting.
23. Brackeys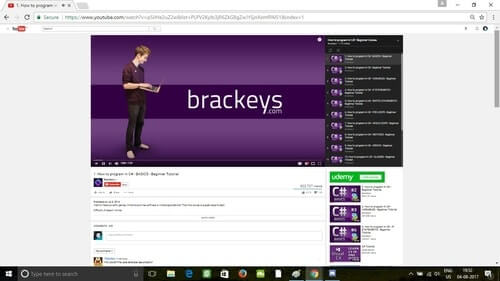 YouTube videos are a great way to learn to program, and Brackeys is a YouTube channel that specializes in game development tutorials. However, he has a pretty decent and in-depth introductory C# series that is quite popular as well.
Key Topics:
Introduction and the basics.
Variables, If and Switch statements.
Classes, Inheritance, and enums.
Properties, interfaces, and Generics.
24. Complete C# Tutorial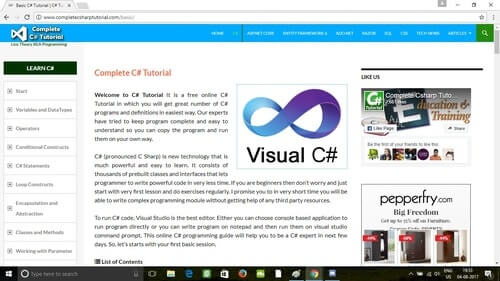 This tutorial is from CompleteCsharpTutorial.com and is essentially is a list of free tutorials ranging from C# to SQL, RAZOR Syntax, ASP.NET, Java, and CSS. The site is really well organized, and each topic opens up into about five sub topics that you can choose from. Each topic is short and sweet and does a good job of explaining things without wasting a lot of time.
Key Topics:
Variables and data types.
Operators and Conditional constructs.
C# Statements, loop constructs, and exception handling.
Inheritance, polymorphism, and generics.
25. Guru99 – C# Tutorial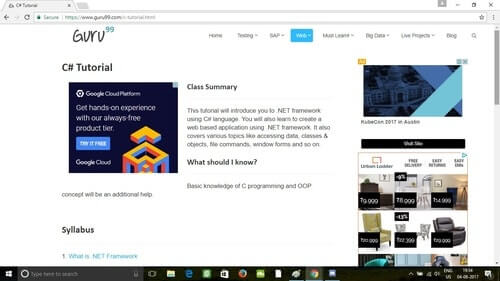 This is an introductory tutorial into the .NET framework using the C# language. It also covers various topics like accessing data, classes and objects, file commands, and Windows forms. This is not a beginner's course, and a basic understanding of C is required.
Key Topics:
The .NET Framework.
Classes, Object, and Collections.
Access Database and File Operations.
26. Certification Guru – C# .NET Programming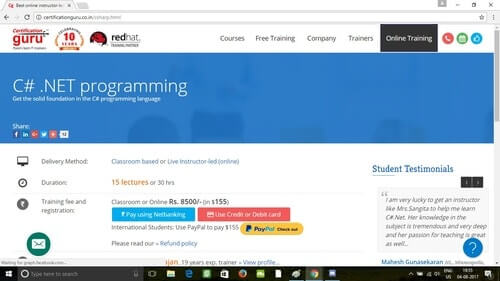 This course from CertificationGuru.in provides a solid foundation and covers the fundamental skills required to design and develop object-oriented applications. This course especially focuses on developing apps for the Web and Microsoft Windows using Microsoft Visual Studio.
Key Topics:
.NET framework architecture.
Event driven programming.
Lambda expressions.
Exception handling.
Deployment.
27. Lynda – C# 6.0 First Look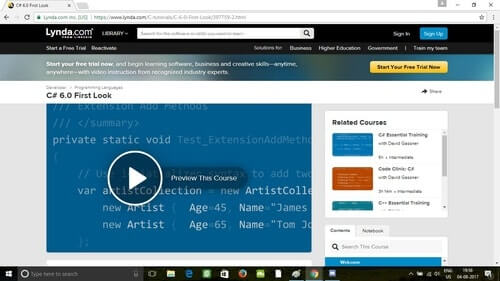 This tutorial at Lynda.com is all about getting a firm grasp of the new features in C# 6.0. The course is conducted by Reynald Adolphe, who takes you through all the new features like new expression-level features, extension add methods, null-conditional operators, and much more. The enhanced IDE (with IntelliSense syntax) and improved debugging features in Visual Studio 2015 is also covered.
Key Topics:
Introducing the new IDE in Visual Studio 2015.
Leveraging nameof expressions.
Using index initializers.
Using await in catch and finally blocks.
Using static and debugging.
28. Alison – Diploma in C# Programming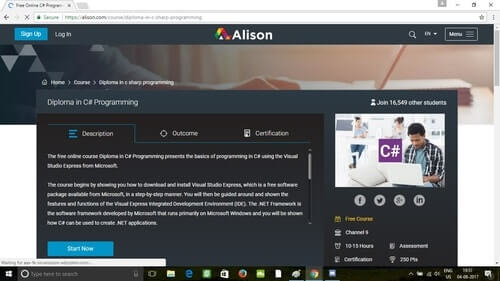 This free online course is published by Channel 9 and begins with showing you how to properly install Visual Studio Express, followed by a tour of the features and functions of the Visual Express Integrated Development Environment (IDE). Next, comes the .NET Framework and how C# can be used to create .NET applications.
Key Topics:
Installing Visual Studio Express.
Write basic code and reviewing for errors.
Creating branches with the if decision statement and the conditional operator.
Correct syntax for operators, expressions, and statements of duration.
29. Coursera – Beginning Game Programming with C#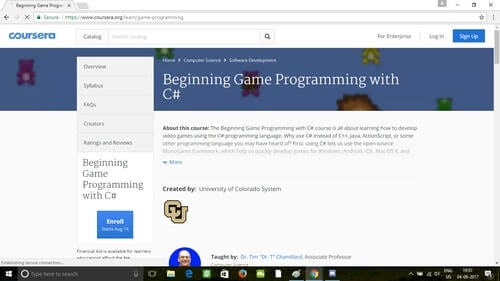 The Beginning Game Programming with C# course from Coursera.org is all about learning how to develop games in C#. This is an advanced course, so while it's not impossible to jump right in, it might be a bit frustrating for beginners. C# is great for games because it lets you use the open-source MonoGame framework used to make games for Windows, Android, iOS, and Mac OS X. C# can also be used with the Unity game engine, which is very popular among indie game developers.
Key Topics:
Course Introduction, First C# Program, and Storing Data.
Classes and Objects, MonoGame/XNA Basics.
MonoGame/XNA Mice and Controllers, Arrays, and Collection Classes.
Class Design and Implementation.
30. Udemy – Learn to Code by Making Games – Complete C# Unity Developer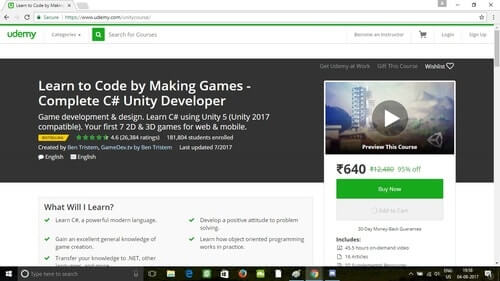 This is another great course from Udemy, and it's different in the sense that it's a gaming course for beginners in which you learn C# while building interesting games on the Unity engine. The plus side here is that it makes learning C# fun and interactive while also teaching you about the Unity engine. The course is 100% project-based, so you will not just be learning theory but actually creating real indie games as you go. The entire course syllabus consists of names of indie games, and for each demo game you build, you are given a set of challenges. The key topics here are especially interesting.
Key Topics:
Number Wizard: Basic Scripting.
Laser Defender.
Glitch Garden: A Plants vs. Zombies Clone.
Block Breaker.
Zombie Runner FPS.
C# is still one of the most widely-used programming languages out there today. With exception to Java, C# is a powerful programming language with the widest array of functions and uses. It is a multifunctional language that allows developers to create almost anything, ranging from server apps to mobile development to 3D games.
Published at DZone with permission of Angela Stringfellow, DZone MVB. See the original article here.
Opinions expressed by DZone contributors are their own.
Web Dev Partner Resources