Legacy Apps Slowing You Down? Try a Composable Enterprise Business Platform
Either live with the profit-killing technical debt that legacy applications deliver, or cut those applications in order to implement all-new technology.
Join the DZone community and get the full member experience.
Join For Free
In today's COVID-savvy, Amazoned world, supply chains depend more than ever upon software – and yet, legacy applications threaten to bog down this essential part of the business. In truth, no company can afford such a ball and chain that limits its ability to remain competitive in today's turbulent business environment.
As a result, IT leaders find themselves in a quandary: either live with the profit-killing technical debt that legacy applications deliver, or, somehow, cut those applications loose in order to implement all-new supply chain management technology.
Neither option is viable, as both lead to untenable supply chain risks. Fortunately, there are modern approaches to resolving this challenge. The starting point, however, is not with the software. It's with the business.
The Power of Business Modeling
For too many years, IT leaders have had to shoehorn their businesses into the capabilities of their legacy software. No longer. Today, they must start with the needs of the business.
This starting point is a model of the end-to-end supply chain – a model that incorporates the supply chain touchpoints that drive all key metrics, including product quality, inventory positioning, labor usage, product margin, sales channels, marketing moves, customer sentiments, and more.
The result is a representation of the organization's supply chain ecosystem that will ultimately enable it to deliver a better customer and employee experience, while simultaneously empowering the business to achieve greater competitiveness, even in times of disruption.
Such a model represents the digitally transformed business, including its supply chain, as a set of discrete business capabilities that work together to support the business. Software solutions, in turn, support these business capabilities.
In other words, this model represents the underlying software solution portfolio – and thus, the business itself – as composable, as it's now possible to recombine and reassemble the core components of the business to rise to any business challenge.
As a result, a composable software ecosystem that adapts continually to changes in the business environment can meet the dynamic needs of the business.
Making Composability a Reality
Thinking of software as Lego blocks – interlocking components ripe for composition – is clearly an oversimplification. The devil, of course, is in the details.
At the core of this composability is an abstraction layer that separates the underlying capabilities of various software assets from the dynamic composable enterprise business platform that interacts with them.
These software assets may be legacy systems of record or other legacy applications, in particular, supply chain management (SCM) apps. Such applications might include commercial off the shelf (COTS) apps from vendors, or bespoke apps put together by internal software development teams over the years.
The composable enterprise business platform, in turn, must offer comprehensive application and data integration capabilities to expose both data and software functionality, as well as support for application creation teams to build new business logic and user interface components.
Such platforms must also deliver the security and governance capabilities that every enterprise requires. The figure below illustrates such a platform in action.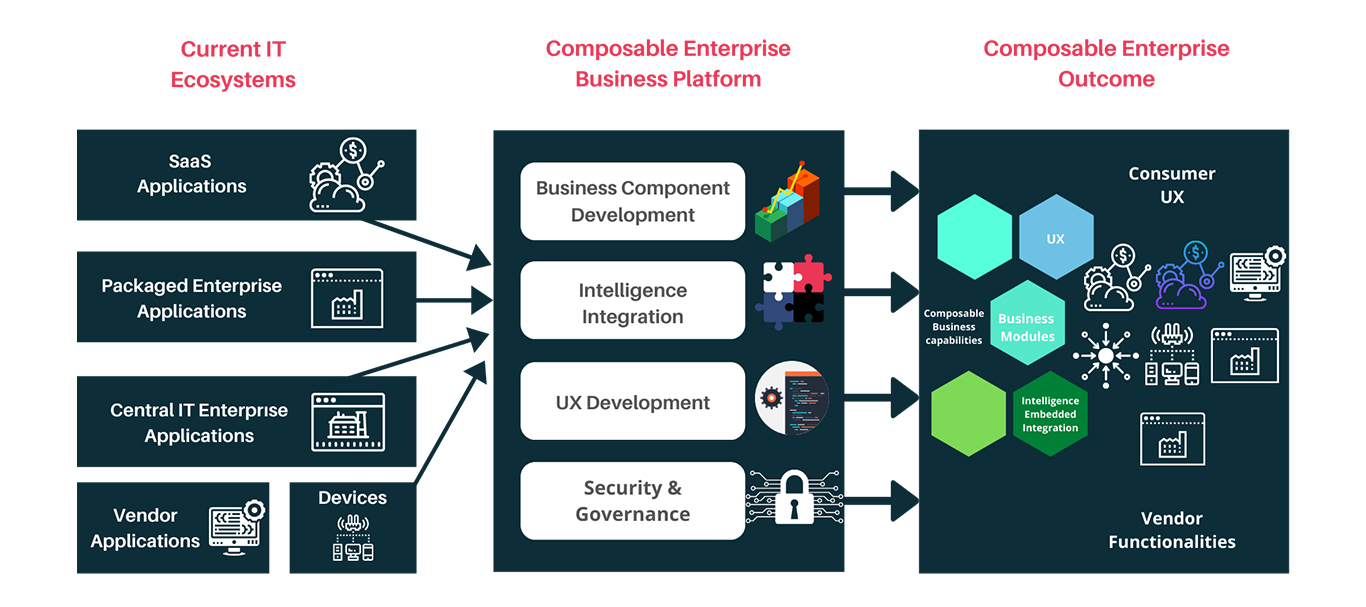 The Composable Enterprise Business Platform (Source: UCBOS).
Central to the operation of such a platform is no-code: a visual application creation environment that supports rapid development of both business logic and user interfaces, while interfacing and synchronizing with underlying software assets.
This no-code environment, in turn, empowers a diverse application team consisting of both professional software developers and line-of-business subject matter experts. This team consumes existing information, constructs and updates business logic, automates decision points, and ultimately orchestrates the business outcome.
In fact, these three elements of the platform (no-code application creation, the intermediate representation of the resulting functionality, and metadata-driven integration with existing software assets) form the secret sauce that empowers the platform to make the composable enterprise a reality.
Make no mistake: such platforms must offer sufficiently sophisticated data and application integration functionality to understand the intricacies of numerous underlying legacy applications and how they represent business data and functionality.
In the supply chain world, such legacy assets form the core of the business. Any composable enterprise outcomes must be savvy enough to leverage the value such assets provide.
The Intellyx Take
The composable enterprise outcomes (which appear on the right of the figure above) represent the business value that this platform approach to legacy supply chain software assets offers the business.
The result is an enterprise that is able to adapt its legacy software to the modern, dynamic needs of its business. The platform isolates such an organization from its legacy technical debt, whether it be from old COTS or bespoke applications, or even from a history of mergers or acquisitions that have led to a mishmash of technologies.
The users (both customers and employees) now have access to modern applications that unify the capabilities of legacy applications with new, no-code apps and component functionality, via whatever modern interface is appropriate for the audience.
Furthermore, because the platform understands the complexities of the underlying data representations, it is able to augment existing legacy applications without requiring the organization to replace them.
The end result is an agile, composable, competitive organization that is able to cost-effectively leverage existing investments in software while delivering modern supply chain capabilities and business value.
UCBOS is an Intellyx customer. Intellyx retains final editorial control of this article.
Topics:
api,
no-code,
technical debt,
bpm,
composable processes,
integration
Opinions expressed by DZone contributors are their own.
Integration Partner Resources