Links You Don't Want To Miss (May 23)
DZone 's Guide to
Links You Don't Want To Miss (May 23)
Join the DZone community and get the full member experience.
Join For Free
Always Be Coding - Put Yourself in the Best Position to Get an Engineering Job
This post is a must-read for just about any developer. Save it somewhere and keep it for a reference when you need ideas to keep improving. And here's a related t-shirt.



Another meaning for A.B.C.

What's the Real Difference Between "Web" and "Enterprise" Developers?
You hear the terms all the time, but you'd be surprised how few people actually know some specific traits of these two perceived camps of developers. This article will make the differences clearer.
Choosy Developers Choose GIF
Creator of GIF says it's pronounced "jif." Panic ensues.
NEWS
Make Java Debugging Suck Less
All Java and Scala developers should have a look at Takipi. It helps you answer questions like: "What was in my variables when the exception was thrown?" "Where was this value assigned?" "How did this variable end up with that value?" and more.
Amazon Wants to Monetize Fan-Fiction
Science fiction writer John Scalzi ponders Amazon's new venture: licensed and for-profit fan fiction.
Now You Can Call into Google Hangouts from a Normal Phone
If you have a Google voice number along with Google+, you can now dial into Google Hangouts.
HUMOR & NEAT STUFF
Need to Sound Knowledgeable About [insert technology here]?
Randall Munroe's got you covered.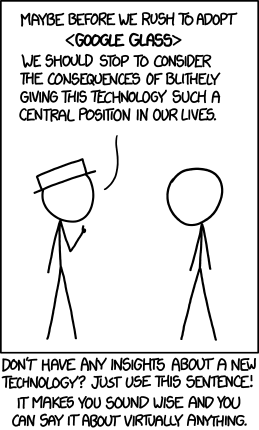 Quantum or Not, D-Wave Computer is Something Else
This story from NPR talks about this new supercomputer that Google and NASA are teaming up to fund. Is it quantum or not? The answer is... nobody really knows.
Opinions expressed by DZone contributors are their own.
Performance Partner Resources