Making Vehicles Smarter and Safer
DZone's Guide to
Making Vehicles Smarter and Safer
Back to the dashboard: machines are capable of taking (and producing) vast information sets; it's important the interface is optimized for readers.
Join the DZone community and get the full member experience.
Join For Free
Digi-Key Electronics' Internet of Things (IoT) Resource Center Inspires the Future: Read More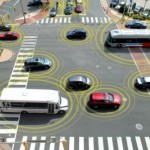 Earlier this year I wrote about a University of Toronto led project that explored augmenting car windscreens with various information to hopefully make driving safer and more effective.
A consortium of German universities and manufacturers are looking to develop this technology further. The consortium, who go by the name of UR:BAN aim to make urban traffic safer and more efficient.
Better Urban Transport
The 31 partners in the consortium have focused attention on three core topics:
Cognitive assistance
Connected traffic systems
Human factors in traffic
The aim is to ensure that the heads-up display, the gas pedal and the dashboard are all mutually aligned, with the aim being to ensure the drivers eyes are on the road at all times.
Meaningful Warnings
Of course, to provide meaningful warnings, there needs to be a predictive element whereby the system can recognize what the driver intends to do, before they do it.
The system will be put through its paces, with the team working with the Institute of Automotive Technology to test it in truck and car simulators. This will allow the researchers to see when drivers are tired and how this impacts their reaction times.
Into the Mind of Road Users
Central to the work of the lab is to explore not just how drivers behave but also the many other road users, and pedestrians too.
Cyclists are traditionally very hard to predict, for instance, as they can move quickly and make spontaneous decisions. They're also a highly vulnerable group that are at high risk of injury in an accident.
The scientists watch bicyclists using cameras installed over busy intersections. "We're interested in their tactical behavior, the decisions they make in certain situations," the team explain.
By better understanding complex behaviors such as this, the team are better able to build models to support the driver.
It's all part of a wider body of work that aims to make our road systems smarter and safer. For instance, they are also working on smarter traffic lights that are more sympathetic to trucks, with the rationale being that trucks are much slower to accelerate and decelerate, so having them stop can have a big impact on traffic flow.
These kind of projects highlight how transportation is changing, and the UR:BAN team are at the forefront of those developments. The team are also cautious about the driverless future that almost inevitably awaits us.
"It's not going to be an abrupt change," they say. "It's more of an evolution than a revolution. In my opinion, it's going to be years if not decades before automated driving will be happening on our roads on a large scale."
Topics:
transportation ,artificial intelligence ,cloud applications