Manufacturing Execution Systems and IIOT Platforms: How They Align Together
The objective of the MES system is to streamline, modularize, and execute work orders into actual production. Let's break down how that aligns with IIoT platforms.
Join the DZone community and get the full member experience.
Join For Free
According to Gartner, By 2024, 50% of MES solutions will include industrial IoT (IIoT) platforms synchronized with microservices-based operations management apps, providing near-real-time transaction management, control, data collection, and analytics.
Manufacturing Execution System, as defined by Gartner, is "a specialist class of production-oriented software that manages, monitors and synchronizes the execution of real-time physical processes involved in transforming raw materials into intermediate and/or finished goods."
This sounds cross-domain, cross-process applicability, and it indeed is. MES systems have been deployed across life sciences, metals/mining, power generation, and many more verticals.
Then, we have the IIOT platforms making waves with their promised capabilities around connectivity across a multitude of devices, sensors, machines, and systems with cross-platform/protocol integration capabilities turning collected data into operational intelligence.
So, what's the difference? How can they be compared? Where is the compatibility?
To understand this better, it is crucial to understand the functional view of the MES system.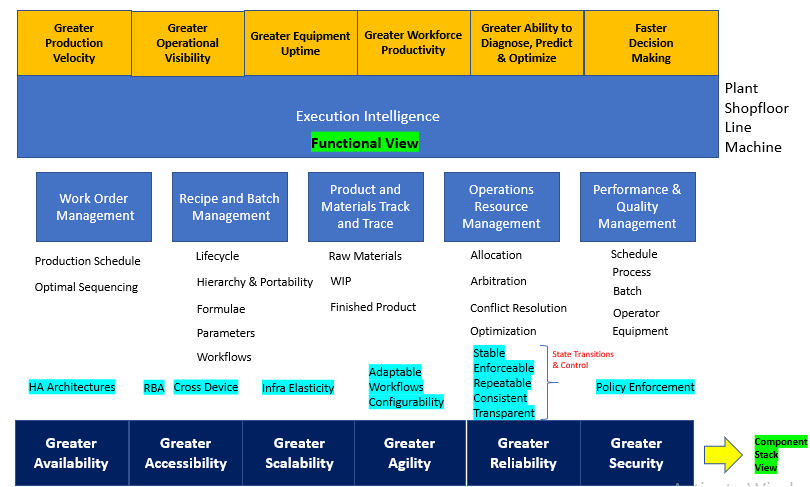 Figure 1: Functional Components of MES
The objective of the MES system is essentially to streamline, modularize, and execute work orders into actual production. Production can be a continuous or a discrete process or a combination of two. (for instance: a batch process.)

Hence an MES system (ISA-95 Level 3) needs to talk to an upstream ERP system (ISA-95 level 4) to receive production schedules, possibly optimize them, such as by discovering the critical path to completion. It also needs to have the recipe and batch management capability.

For instance, it will need to present the capability to author, collaborate, and publish process/product recipes with appropriate approval workflows for procedure adherence and compliance enforcement. It needs to support site-specific and area-specific deployment as necessary. Further, it will need to talk to ERP platforms/apps to track and trace requisite raw materials and inventory levels. Furthermore, it also has to solve the problem of optimal resource allocation and arbitration as necessary. Finally, it will have to track quality metrics to ensure produced quantity also meets the quality standards.

All of the above translates into execution intelligence... How much was expected to be produced? How much has been produced? Of what quality? Which resources were deployed and for how long? Was there a resource conflict, and how was it resolved? How about performance and quality at Plant, Site, Area, Line, and Machine levels, respectively?

Ultimately, the MES system is designed towards ensuring the production velocity despite the variety and consistency needs. You will notice these functional objectives right at the top in Figure 1.

The second, third, fourth, and fifth blocks, namely, Operational Visibility, Equipment Uptime, Workforce Productivity, and Ability to Diagnose/Predict/Optimize, are where MES functional objectives are supported and complemented by IIOT platforms.

Before we consider why new age IIOT platforms are able to complement MES, let's look at why MES Systems aren't able to achieve so completely on their own?

Let's look at the bottom part of Figure 1. It lays out the non-functional expectations from MES, which is true for that matter of any mainstream platform. It must be highly available (SLA backed), Accessible across forms and functions, Scalable apart from the obvious expectations around reliability, security, and agility.

MES systems have traditionally been monolithic, modular at best. They have begun the transformation journey in many respects with the end goal of becoming a truly enterprise-class, hybrid (cloud-native, multi-cloud, and also on-premise as per the need) platform as a service, but they existed decades before infrastructure, platform, components, and apps started becoming envisioned "as a service."

All this, while the expectations about DIY, automation, scalability, distribution, and functional isolation kept growing and introduced a cultural shift in how new functionality is built/prototyped, tested, and deployed, aka "The DevOps mindset."

Why not then seek a "Platform As a Service" view from MES?

Suddenly, the expectations which were stereotyped for popular cloud platform offerings, seem completely reasonable in manufacturing context as well.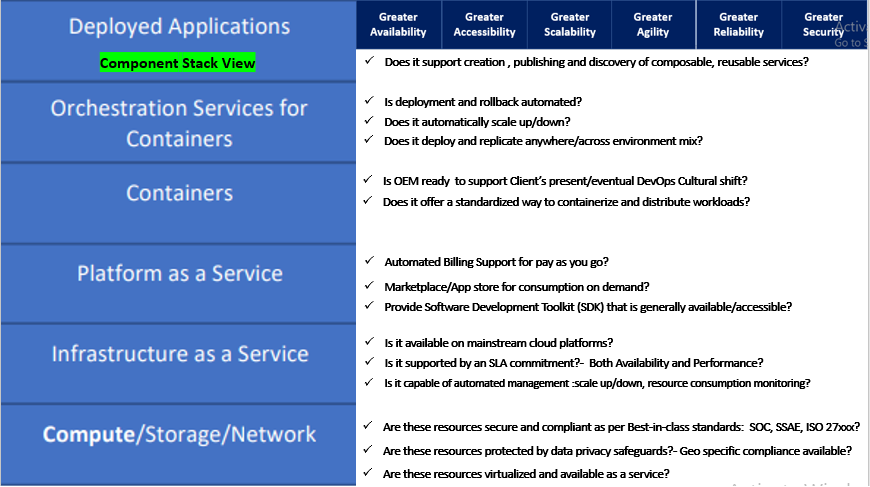 Figure 2: Component Stack View (and Questions Thereof) for MES
This view, along with the questions asked thereof, can expose a given platform's vulnerabilities such as rigidity to change and opaqueness to its functioning.
Rigidity comes from the inherently monolithic nature of the application, which creates hurdles in rapid, isolated (it may be) and parallel experimentation to gain feedback (Waterfall versus Agile). Opaqueness comes from the proprietary nature of interfaces and process workflows apart from a dependency on underlying server hardware and a relative lack of deployment and migration tooling. It can also be rooted in a lack of ability to roll out and roll back features as per the need.
So, irrespective of the legacy, platforms will have to follow the journey of virtualization, automation/DIY, componentization, containerization, and availability as a service with transparent consumption monitoring and billing.
IIOT platforms particularly, pure-play offerings that were built from the ground up and those offered by infrastructure as a service platforms, or those who have the right kind of strategic alliances with such providers, can accelerate on-boarding and proof of concepts/pilot implementation studies, as they are naturally more aligned with open standards-based design, deployment and pay per use consumption models.
Now, let us consider where exactly MES and IIOT platforms meet/complement each other?
For this, let us consider the Information view of the MES system as described in Figure 3.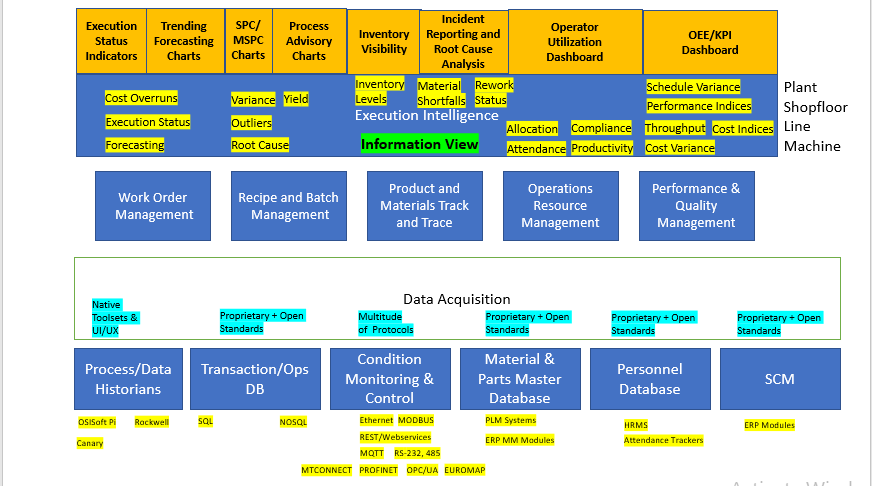 Figure 3: Information View of MES Platform
At the very top, the UI/UX layer typically will comprise of various status indicators/gauges, trending charts, along with statistical control charts.
The first half would depict the "state" of work order execution and adherence to production schedules along with inventory utilization information.
The second half of this layer will concern Incident Reporting, Performance, Utilization, and Quality metrics to be displayed at Plant/Site/Area/Cell/Equipment levels. This is where IIOT again meets the MES systems as an ability to provide open standards, and a cross-device interface such as one based on HTML5 becomes an important consideration.
Proprietary/thick client interfaces will introduce a dependency on a relatively smaller, niche talent community. At the same time, sustenance and resilience of proprietary interfaces may suffer as such interfaces must evolve parallelly with the new waves/paradigms introduced elsewhere.
Next, let's look at the Data Acquisition Layer. This is where IIOT platforms will naturally excel, considering the breadth of protocols and devices/machines/equipment they can interface with and extract operational and conditional data from.
On the other hand, an MES specialist OEM will have to build out this whole cross-platform/protocol integration capability (a separate OEE cloud offering, for instance) and/or partner with third party SIs to offload custom integration efforts and/or limit the homegrown capability to few commonly known standards/protocols such as OPC/UA, MQTT or REST/Webservices, etc.
We return to the discussion on inherent rigidity in MES platforms. Text highlighted in blue, towards the bottom of Figure 3.
Apart from the need to support a multitude of protocols/systems, proprietary UI, the lack of adoption for microservices-based architecture may hinder, delay, and raise costs of custom development for dashboards, data transformation, and orchestration requirements. The ability to quickly discover, access, and roll out/rollback new devices, equipment, machines, and corresponding data streams is important for continued operational visibility.
I hope this is helpful!
Topics:
iiot,
manufacturing,
execution,
systems
Opinions expressed by DZone contributors are their own.