Master Docker: The Complete Toolkit - Courses
DZone's Guide to
Master Docker: The Complete Toolkit - Courses
Docker is the de facto standard for containers. This series presents resources to help you become an expert! Take a look at the courses that will get you on your way.
Join the DZone community and get the full member experience.
Join For Free
Docker has taken the software development world by storm. It provides a convenient way to package and ship applications according to the DevOps methodology.
We recently released a list of 51 must-have Docker tools, but tools aren't the only thing you'll need to fully master containerization. With practically every dev shop embracing containers, there's a need to upgrade your skillset to include Docker. Maybe you want to use it with ASP.NET, or perhaps you want to learn about logging. Maybe you've never used it but want to see what all the buzz is about, or maybe you simply want to stay abreast of all the latest developments.
Thankfully, there are loads of resources available no matter what you want to learn, and that's why we decided to compile a list of helpful learning resources, including courses and tutorials, forums, events, podcasts, experts to follow, and more – so that you can get started mastering Docker no matter your current experience level or learning preferences. We've rounded up 50 helpful tutorials, tools, and resources to help you along your Docker journey, including:
Today, we'll focus on the best Docker courses out there that can help get you going.
Docker Courses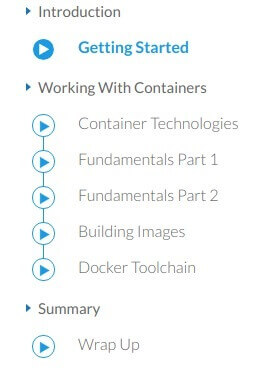 This Docker course is from an education startup, Cloud Academy, which is focused exclusively on cloud computing.
Key Features:
Is an introductory course, and gives you a good background on container technologies in general.
It also lets you dip your toes with your first few Docker commands.
Best of all – it's free of charge (an advanced option is available for a fee).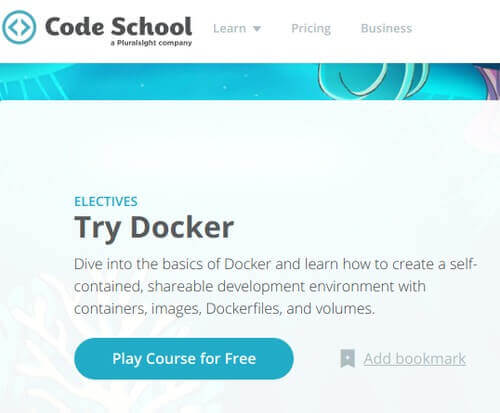 Code School offers this free Docker course which is worth checking out.
Key Features:
The course has 3 levels, each covering one component of Docker.
Uses a combination of video and interactive code to teach the basics.
With an aim to get beginner learners to code, Code School makes learning very easy.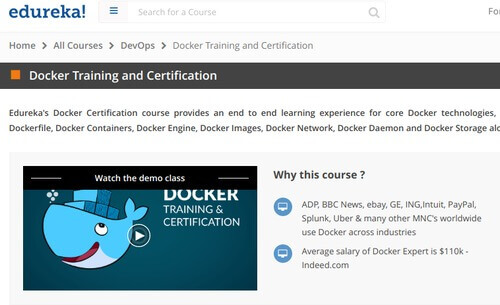 While the previous two courses are self-paced online classes, this one is instructor-led and has set schedules.
Key Features:
Interaction with the instructor helps students to be more engaged than a self-paced class.
There are assignments to be done, and you can get help while doing them.
This is a paid course.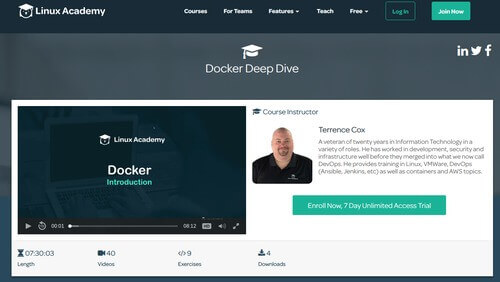 This is a self-paced course and is one of the top-ranking courses on Docker.
Key Features:
Linux Academy focuses on training for cloud computing and has courses on most major vendor platforms like AWS, Google Cloud, Azure, and more.
This course consists of 40 videos and 9 exercises.
You can check out the course with the 7-day trial, and then buy if you're convinced.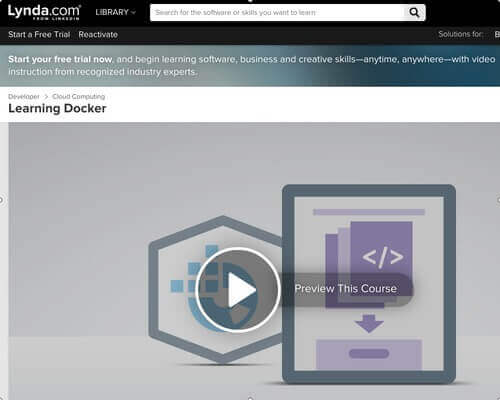 This is another great course from a leading education website.
Key Features:
This is an intermediate level course, and users who need even more basic instructions can opt for Lynda's other courses on Git and coding fundamentals.
It is a self-paced course with videos and exercises.
Lynda provides high-quality transcripts for a quick glance through of the material covered.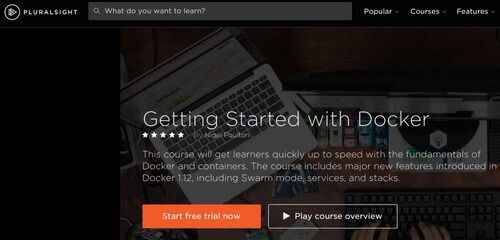 Taught by Nigel Poulton, this course is popular and highly-rated.
Key Features:
Pluralsight offers two Docker courses:
Udemy is another reputable online education website, and its Docker courses receive rave reviews.
Key Features:
Udemy offers many Docker courses, but the most popular one is Docker Technologies for DevOps and Developers
It features 3 hours of on-demand video and gives you lifetime access to them
Though not free, it's very competitively priced
Stay Tuned
We'll continue on with our Docker resource roundup, providing you with a list of helpful tutorials, tools, and assets to help you along your Docker journey. Next up, we'll go over Docker's official resources.
Topics:
courses ,docker ,resources ,devops ,containers
Published at DZone with permission of Angela Stringfellow , DZone MVB. See the original article here.
Opinions expressed by DZone contributors are their own.