Meet "Mustang," the New Approach to Real-Time Data Access
DZone's Guide to
Meet "Mustang," the New Approach to Real-Time Data Access
Progress DataDirect sees connectivity as the new integration.
Join the DZone community and get the full member experience.
Join For Free
Due in Q4, "Project Mustang" Simplifies Integration by Connecting Directly to Data
Business applications need data, but to build them efficiently and get them in the hands of users, developers can't spend hours custom coding one data connection at a time. They need to integrate applications and data quickly, no matter where that data lives; on-site, in the cloud, or both.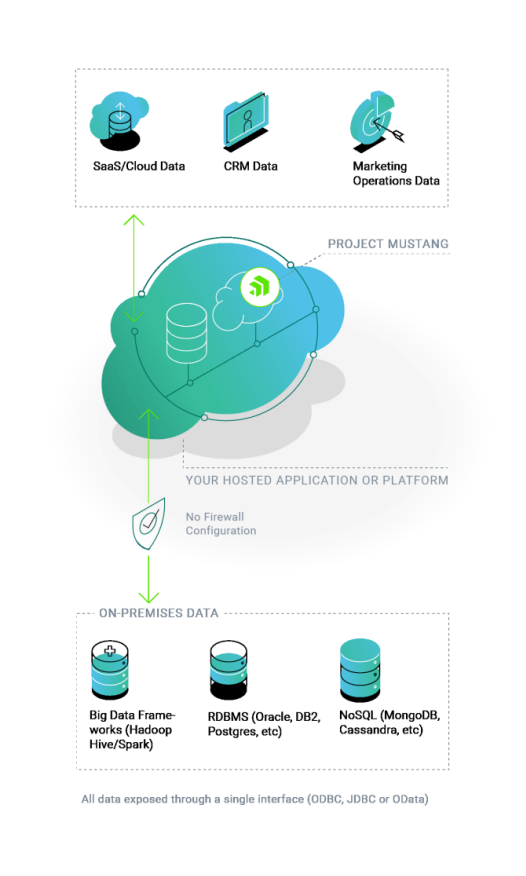 Real-Time Access to Infinite Data Sources
Soon, Progress DataDirect "Project Mustang" will completely change the way applications access data.
Mustang is a lightweight, embeddable data access service that will simplify integration by connecting directly to the data. This provides applications the ability to use SQL or OData to perform real-time access to on-premises and cloud data. This prevents developers from having to do ETL. The product team working on Mustang believes that connecting directly to the data is more agile than setting up a middle tier and that real-time integration is sometimes better than ETL.
Hybrid Connectivity: Access to Data Behind the Firewall
This quote from Dion Picco, Progress DataDirect General Manager, says it all: "More and more products are migrating to the cloud but still need to live in a hybrid world—a world where some resources are within a firewall and others are outside the firewall," he said. "Mustang can provide apps with fast, scalable and secure connectivity to a wide array of on-premises and cloud data Mustang can provide apps with fast, scalable and secure connectivity to a wide array of on-premises and cloud data that drive our customers' businesses with real-time connectivity to SaaS applications like Salesforce.com, popular databases like SQL server and Oracle and emerging data platforms such as Hadoop and Mongo DB."
Keep Up With the Exploding APIs
Mustang exposes a wide range of data sources with a single standard interface (REST and SQL). And it supports standards-based APIs—ODBC, JDBC, and OData to allow existing applications to readily take advantage of its features. No need for developers to code their applications to data source specific APIs. Mustang is easy to install and configure. Customers can be up and running fast—in about 30 minutes—using their existing skills and concepts.
Progress DataDirect Project Mustang will keep up with the ever-expanding array of on-premises and cloud data sources that their customers' applications must access so that their customers don't have to.
Project Mustang is slated to launch in the fourth quarter of this year, however, we are currently accepting a limited number of beta users into a preview with an exclusive first look and custom access.
Topics:
progress ,data ,mobile ,cloud ,connectivity ,applications ,big data
Published at DZone with permission of Sumit Sarkar , DZone MVB. See the original article here.
Opinions expressed by DZone contributors are their own.
Big Data Partner Resources
Big Data Partner Resources