Meet PIBOT, the Automated Co-Pilot
DZone's Guide to
Meet PIBOT, the Automated Co-Pilot
It's not just driverless cars that are seeing a revolution. See how robotics and connected devices are changing the way manned aircraft work as well.
Join the DZone community and get the full member experience.
Join For Free
Digi-Key Electronics' Internet of Things (IoT) Resource Center Inspires the Future: Read More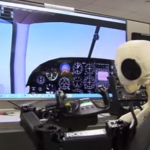 The transition from a human powered world to a driverless one is one I've covered a few times over the past year. One of the more interesting startups in this area was Otto, who was recently purchased by Uber. They offer a system that retroactively turns a traditional vehicle into a driverless one.
The aviation industry is battling a similar issue. While drones have becoming increasingly capable, they still represent a minority of craft in the skies today, and while many commercial airliners have significant 'pilotless' technology, the challenging tasks of landing and takeoff still require human oversight.
Automated Flying
There is demand for fully automated flight however, not least from the American air force, who want to automate cargo, reconnaissance and refueling missions.
One solution has been proposed by the ex Korea Advanced Institute of Science and Technology, KAIST. Their solution involves having a robot, called PIBOT, take the place of the pilot. Via an array of cameras the device is capable of navigating its environment, with arms and legs then used to operate the controls.
The team behind the project focused specifically on three areas: recognition, decision and action, which they underpinned with machine learning to allow the PIBOT to pilot an aircraft effectively.
While the recognition and decision areas are relatively straightforward, the action part is much harder as even simple tasks such as operating joystick in a nimble fashion is far from easy for a robot to accomplish.
PIBOT has been in demo mode since 2014 and has been achieving increasingly impressive results since then. As you can see from the video below, there is still work to be done, especially around the landing, but the progress is impressive.
A new version of the robot, called PIBOT2, has recently been launched, albeit only in simulated environments. The hope is that if the improvements continue, it will be suitable to meet the US Air Force's need for a quick and easy solution that can be dropped into an aircraft without modifying it.
There is clearly a lot going for this kind of automated solution, and it will be fascinating to see both how such systems develop, and also how this market evolves. While the initial forays are into the military market, the team certainly hope that commercial flights are an equally attractive proposition, if not more so.
There is also the possibility of taking PIBOT to the ground and offering a Jonny Cab style robotic chauffeur, with the team already working on such a solution.
They're clearly a team well worth keeping an eye on. Check out the video below to see PIBOT2 in action.
Topics:
drones ,automated ,iot ,robots