Metric-Driven Decisions: KPIs and Dashboards for Product Managers (Part 3)
DZone's Guide to
Metric-Driven Decisions: KPIs and Dashboards for Product Managers (Part 3)
In this third and final installment in this series, take a look at how we finally get to generating KPIs and dashboards.
Join the DZone community and get the full member experience.
Join For Free
[Latest Guide] Ship faster because you know more, not because you are rushing. Get actionable insights from 7 million commits and 85,000+ software engineers, to increase your team's velocity. Brought to you in partnership with GitPrime.
In previous posts, we discussed the importance of KPIs, categorization (leading, trailing), and we offered samples for many KPIs.
In this final post we'll discuss generating KPIs and dashboards, and then offer an example for usage of KPIs.
Generating KPIs and Dashboards
KPI generation
Standard tooling:

Most of the commercial metrics can easily be driven inside Salesforce, and the same goes for customer support metrics. It's a good idea for a product manager to have some basic report creation and navigation in Salesforce.
Some of the technical metrics associated with sprint and developer efficiency, as well as defect tracking can come from tools like Jira, Rally, etc.
Usage metrics and analytics can be achieved with Google Analytics and the like.

Custom tooling: Some of the product/technical metrics need to be put into the actual product: user flows, session length, what is being used, bugs and defects, etc.
Informal: Lastly, there's significant value and insight you can produce via "legwork": talking to customers, to your field, your R&D, support, marketing, and analysts. This is inefficient, unfortunately, but highly valuable. Your findings will need to be incorporated into a metric-based system that demonstrates a KPI.
Dashboards
Following the above, dashboards are where you and your team will consume the data and take decisions. Dashboards must be action-driving: if you have a KPI/dashboard that does not trigger an action, make it a trailing KPI. If you cannot impact that KPI, suggest it to whoever can influence it and make it trailing.
Commercial dashboards and customer maturity can easily be created in Salesforce. Other dashboards can be created in your product. Some dashboards you may want (or need) to expose to your customers (such as usage).
Use dashboards to consult and analyze with your team. For example, PoC success rate needs to be discussed with the leads of presales. Innovation points per sprint need to be aligned with R&D. Analyst activity needs to be aligned with product marketing, etc.
My KPIs
Let's look at a real example (for good or bad). One of the products I manage is between the stage of innovation and growth. Honestly, we are still troubleshooting the exact go-to-market and messaging. What we've seen initially was a lot of excitement and many logos getting onboard to try it out. It drove a lot of small deals. The team has been making investments into getting ready for growth, and that has slowed down customer-facing release deliverables.
Here is the composition of the KPIs I'm tracking.
Leading KPIs
Alignment of stories that articulate pain and pain owner well
Logo acquisition
$ACV, $TCV per Q
Deals and licenses per Q
Licenses per deal
% discount
Usage
Licenses
Pipeline, with focus to strategic opportunities
Customer-facing deliverables per release
Support issues involving/impacting usage
Active reps
Trailing KPIs
COGS
Attach rate
Customer requests for product expansion to new applications
Support tickets and customer challenges
Death by a Thousand Paper Cuts
KPIs and metrics are lovely. You can spend your entire life on those. The reality is, that you need to be very sharp on what KPIs you monitor yourself, which ones you're using to measure your reports on, share as discussion drivers with your peers, etc. You cannot track more than 10 KPIs, and probably not more than 3 for each motion.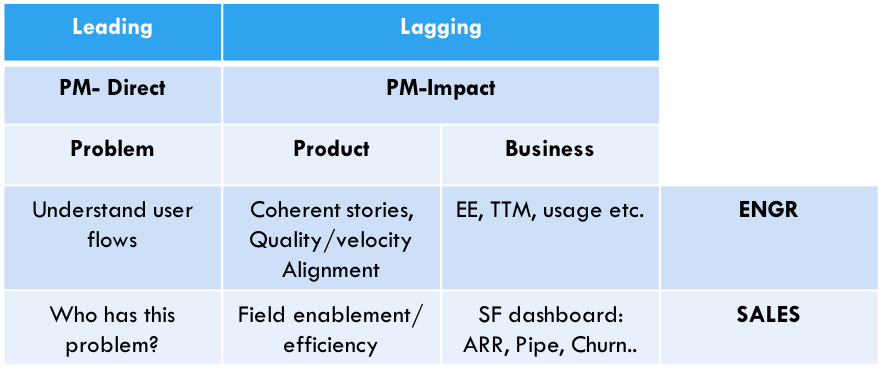 Framing KPIs to product management practice (I borrowed this from the BPMA)
The above table could be used as a framework to examine which KPIs PMs have direct ownership versus those we influence.
PMs, IMO, have full ownership of the pain and who has this pain. Their ability to articulate those will drive everything else, including organizational focus. KPIs associated with these areas can look like: how many stories are you able to create that reflect real pain that is backed by customer evidence and metrics, vs. those that are either less important or aren't defined well?
Moving to the right, there's a slew of PM "awareness" KPIs. The PM-Engineering interface includes a good definition of the stories, and how those translate into velocity, good execution, and usage. Planning continuously with R&D indicates good awareness and alignment by the PM.
On the PM-sales front, doing a great job on field enablement is a great indicator, as well as the outcome both for the PM and the product: how well is the product doing?
Summary
KPIs and dashboards can be extremely helpful for product managers. They help make better decisions, align the team, achieve success and grow your career. There are many KPIs (more than we counted here) and one must customize their perspective based on the company goals, product life stage and their objective.
I hope this post is helpful, looking forward to feedback and comments!
[Latest Guide] Ship faster because you know more, not because you are rushing. Get actionable insights from 7 million commits and 85,000+ software engineers, to increase your team's velocity. Brought to you in partnership with GitPrime.
Topics:
product management ,kpis ,metrics ,adopting agile ,dashboards ,decision making ,agile
Opinions expressed by DZone contributors are their own.