Microsoft Rebrands ASP.NET 5, .NET Core 5
DZone's Guide to
Microsoft Rebrands ASP.NET 5, .NET Core 5
Microsoft rebrands it's ASP .NET framework, and with it, it's plans for .NET as a whole.
Join the DZone community and get the full member experience.
Join For Free
Bugsnag monitors application stability, so you can make data-driven decisions on whether you should be building new features, or fixing bugs. Learn more.
ASP.NET 5 is a novel introduction from Microsoft, which envisages the creation of cloud-based web applications using .NET. The prominent characteristics of this software are that it is open-source and can be accessed from a variety of platforms. The development of the project was initiated on a ground level, and subsequently, a development framework was fabricated which could be implemented either in real-time systems or on the cloud.
Minimal overheads and the provision of components divided into modules can vouch for flexibility in operations. ASP.NET 5 applications can be designed on cross-platforms such as Mac, Windows, and Linux.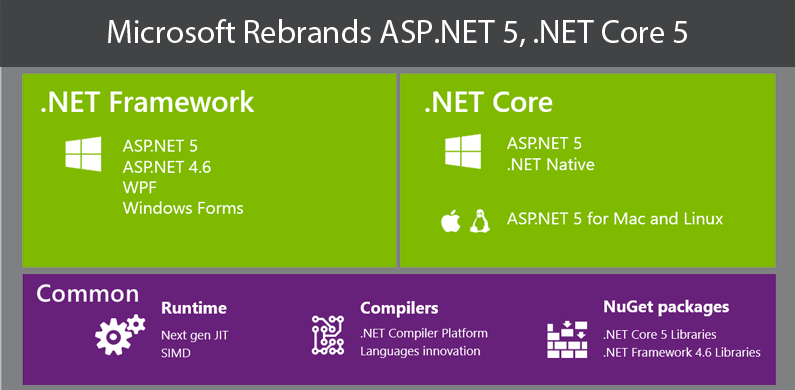 However, Microsoft has taken the initiative of rebranding ASP.NET 5. This can be considered as an outcome of several causes. First of all, a framework which has been designed from scratch would not imply better functionality than ASP.NET 4.6. Thus, the idea of rebranding.NET 5 arose. The principal program manager at Microsoft, Scott Hanselman announced the news on January 19 in his blog.
The new strategy can be credited to different reasons which we shall illustrate in our article.
The seed of change was sowed back at the end of 2014 when Microsoft meditated the formation of .NET core from the .NET framework. ASP.NET 5 needed inclusion of certain features to improve its marketability.

Microsoft had to turn its server-side web-development framework ASP.NET into an open source application running across differing platforms such as Linux, Mac along with Windows.

The most striking feature in this rebranding effort was the introduction of .NET Core.

The company's proposed plan of updating .NET framework once every year is also probable cause for the rebranding.

Furthermore, Microsoft wanted to increase the credibility of .NET by including many novel features which shall be exclusive only in the .NET Framework.
ASP.NET 5 died owing to the above reasons, and we had a new name as well as the version number. ASP.NET CORE 1.0 and .NET CORE 1.0 are completely new concepts and with minor shortcomings.
The foremost setback is being amended in the sector of server-side graphic libraries.

ASP.NET Core 1.0 does not have any provision of web pages or SignalR.

The newer versions do not favor the implementation of F# or VB.
These faults can be mended subsequently but time is very essential to deliver a top notch solution. The rebranding of ASP.NET framework must have raised a few eyebrows in the industry. People are aware of the fact that the new Core version of the .NET framework does not deliver backward compatibility as compared to the.NET 5. The concepts of both the versions are considered analogous which the case is not exactly.
With the rebranding we do not have to consider the tag of ASP.NET 5 since it does not make sense regarding efficacy. The recent events which led to the rebranding effort might also play a substantial role in incorporating additional improvements thus paving the path for fresh versions of the .NET framework development.
Monitor application stability with Bugsnag to decide if your engineering team should be building new features on your roadmap or fixing bugs to stabilize your application.Try it free.
Topics:
asp net ,asp.net development ,asp.net development services
Opinions expressed by DZone contributors are their own.
Web Dev Partner Resources
Web Dev Partner Resources