Moskitos iPaaS — Interview
DZone's Guide to
Moskitos iPaaS — Interview
Read this interview to learn more about Moskitos iPaaS and the Crosscut solution.
Join the DZone community and get the full member experience.
Join For Free
Discover how you can get APIs and microservices to work at true enterprise scale.
Heard of iPaaS? It's one of the hottest trends in Integration right now. It offers the best of both worlds: Integration in the cloud and on-premise. Moskitos, a French iPaaS Provider located in the Paris Area, is one of the fastest growing in the country. I recently had the chance to interview Jérémie Devillard, Director of innovation of Moskitos.
Hello Jérémie, can you tell us about the Moskitos Crosscut solution?
"The Crosscut solution can be described as an Integration and governance platform for data and API in a hybrid information system.
The platform supports the modernization of your IT by focusing on three major elements:
IT as a service: Crosscut connects, transforms, and exposes your data and API securely in the cloud and around your organization.
Organize your cloud platform: Crosscut orchestrates all your Cloud resources. Data and API are quickly connected by leveraging reusable components based on a globally monitored infrastructure.
Enterprise platform: by using Crosscut, your IT can itself become a service provider. You can then reduce your time to market by connecting or disconnecting innovation projects quickly.
We design the platform as extensible and modular to allow us to add modules to extend the integration capacity as, for example, patterns like ETL or MFT. This also allows us to use existing technical stacks of API Gateway to extend governance and portal modules and propose a fully integrated API Management module inside the Integration platform. This is also available for DataSet Stack or IAM Stack. Our monitoring platform is based on ElasticSearch and Kibana to monitor all the platform in the corporate portal. At least, a community portal is also available to provide to third-party developers to use Data/Flow/API expose by the platform and even to reference his own API."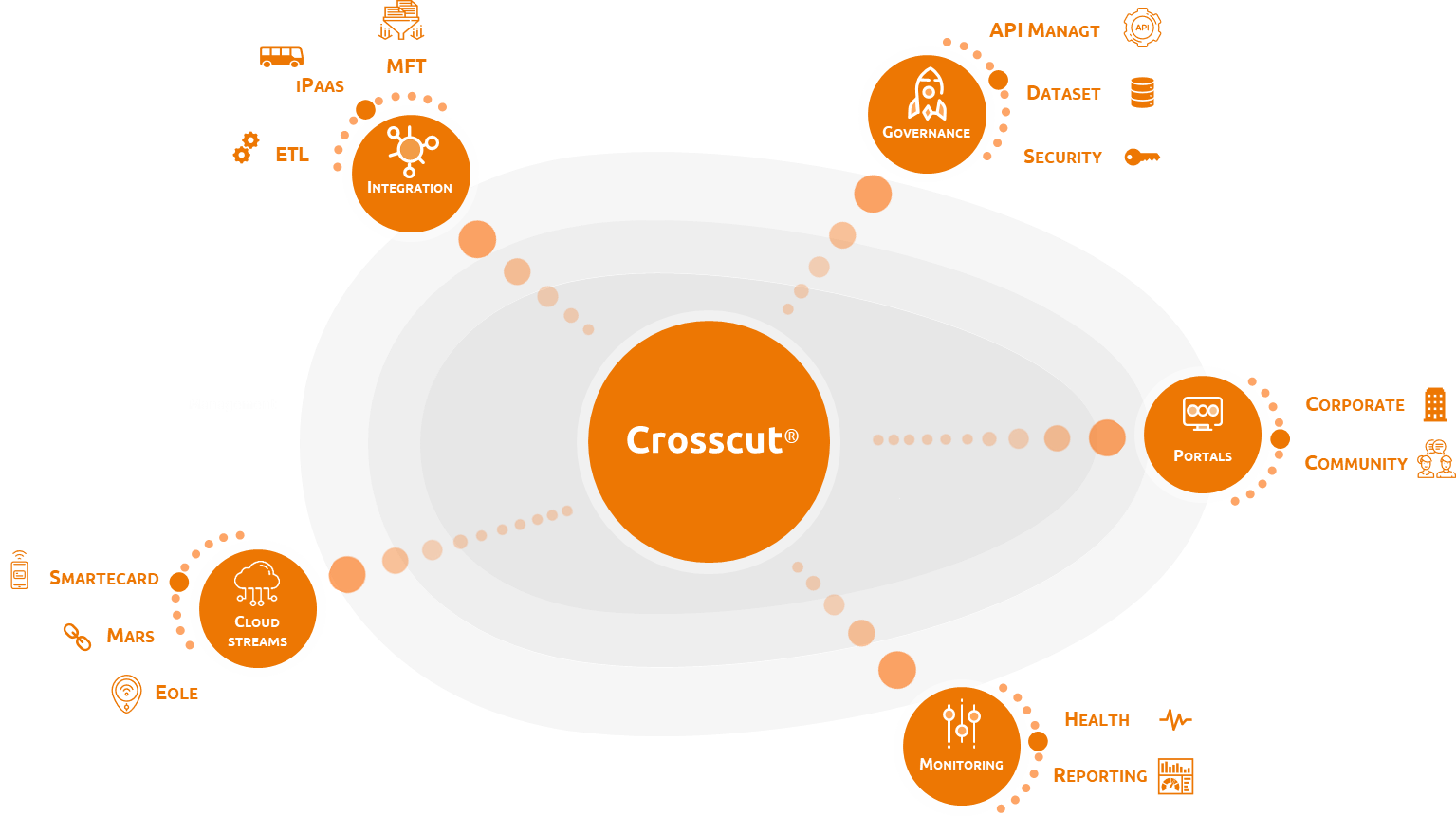 What are the main use cases for which Crosscut works best?
"There are no specifics boundaries for the use of the Crosscut Platform. We think that every sector needs some tools to orchestrate data flow.
Crosscut flows can be used to perform the following scenarios, for instance:
Expose an API to external devices in order to orchestrate data between OpenData & CRM in the Cloud on one hand & Secure Algorithm & internal Catalog on the other hand
Analyze a Twitter stream to extract overall 'mood' from the text — so as to identify the current feelings from an end user, create a support ticket to track the issue and archive data in a database for future audit.
Orchestrate data between multiple cloud applications from different public or private cloud vendors."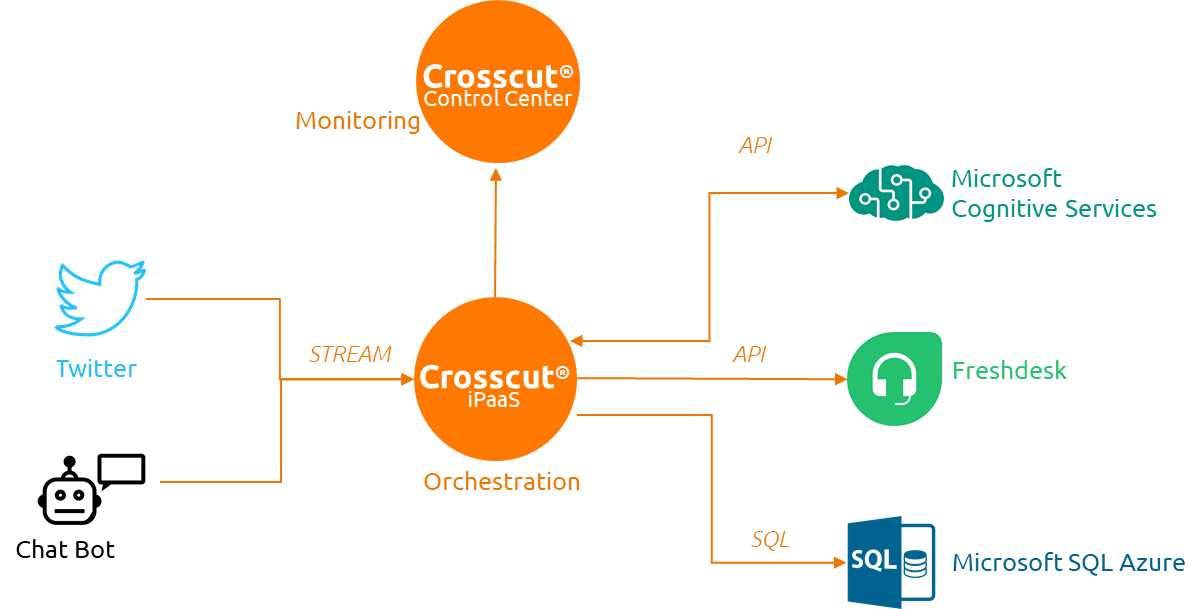 How can Crosscut help enable what is referred to as "Hybrid Integration?"
"From the Crosscut Integration Platform, you define transformation assets and compose data and message interchanges as if every application was in the same network.
Then, you deploy the different assets to a combination of one of two targets to enable cloud-to-cloud, on-premises to on-premises, or hybrid cloud to on-premises integrations:
Deploy to the cloud platform for parts of a SaaS application.
Deploy to an on-premises service for parts of a local application.
The communication between the cloud platform and the service running on-premises is done via the 'Secured Cloud Gate' that encapsulates the required protocol configurations and shields the developer from explicitly dealing with these technical details."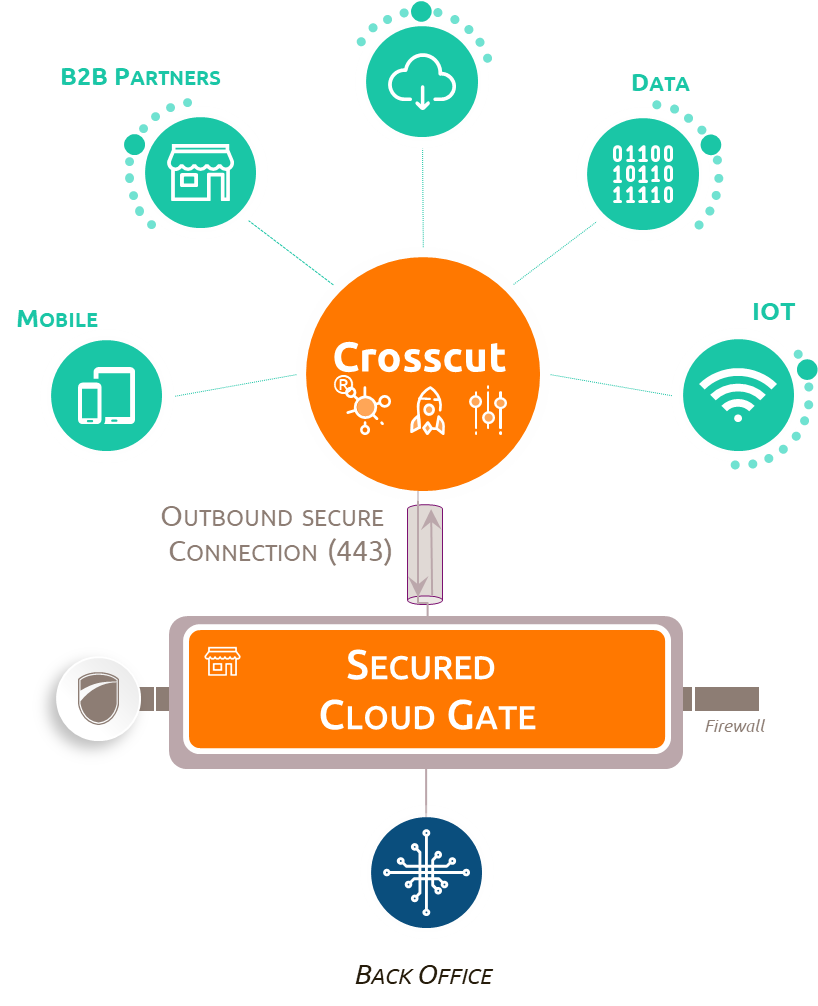 What is your response to those claiming "SOA is dead!"?
"SOA is dead! Long live SOA!
I don't think SOA proper is dead. To the contrary, I think SOA still exists but has evolved toward a better approach, giving rise to SOA 2.0.
Its principles are mainly unchanged: dealing with loose coupling, interface contracts, interop via web services protocols (such as REST). All those principles can be found in the Service Bus, for instance, or in the, now prevalent, microservices architecture.
We find the same approach in the concept of API Management today, that mimics what was once the Service Catalog from SOA."
Your current market mainly consists of French customers. Have you considered expanding your market to foreign countries?
"Yes, we are currently more focused in France, but we already have started to open the Benelux Market, England and Germany.
We plan to open APAC as our new market starting 2019."
Topics:
ipaas ,integration ,api gateway ,api
Opinions expressed by DZone contributors are their own.
Integration Partner Resources
Integration Partner Resources