If you've worked with IoT at all, you're probably familiar with MQTT. As a simple reminder, MQTT is protocol best suited for low-power IoT devices.
Features of MQTT
Lightweight, bandwidth efficient, and suitable for low-power devices

Simple

QoS data delivery (at most once, at least once, and exactly once QoS data delivery)

Continuous session awareness
MQTT Broker Supports
Interoperability

Security (authentication and authorization, payload encryption and signing, topic permissions)

Scaling

Bridging (parallel processing)

Clustering (high availability)

Publish-Subscribe design pattern (topic-based flexible routing)

Subject-based filtering
Publish a Message
The MQTT connector requires a client id to identify its client. The Broker Server URI is mentioned as"tcp://localhost:1883". Before deploying the application, start the Mosquitto Server that resides in the local machine (MQTT broker).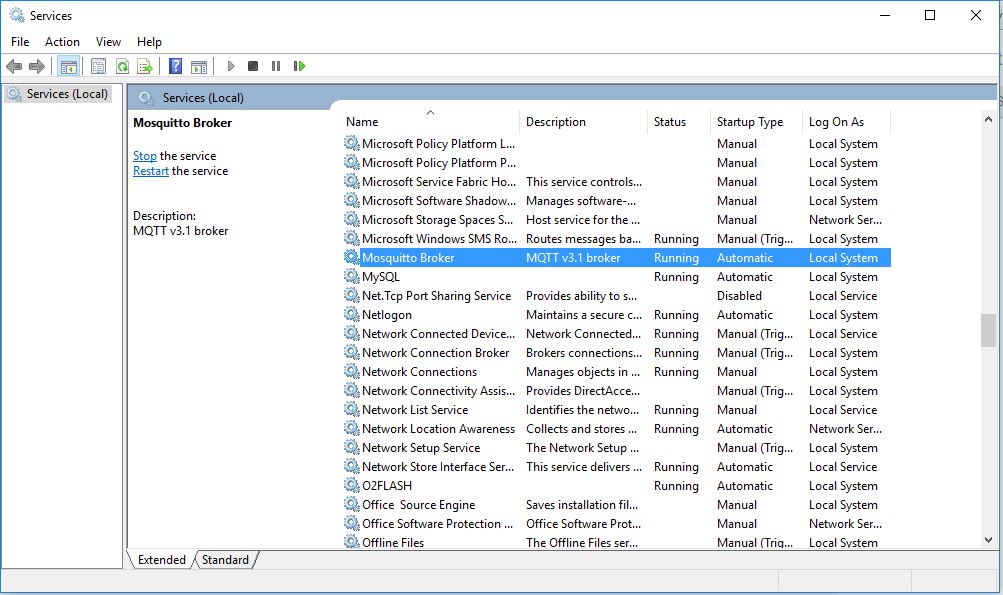 To start an MQTT broker:
Open Services in Windows (in the Star menu, search for "Services")

Locate the installed server "Mosquitto Broker" and change the status to "Running"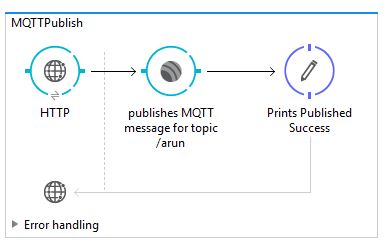 Subscribe a Message
If a message is subscribed for a topic, then whenever a message is posted for a topic, the broker sends the message to the other interested clients that subscribed.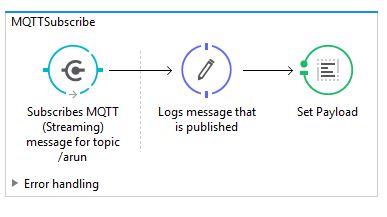 Code Snippet
For those who are curious about how MQTT achieved through Mule ESB, in "Anypoint Studio", an embedded Mule Server, paste the following code and test it. A basic MQTT client and server communication is shown below
<?xml version="1.0" encoding="UTF-8"?>
<mule xmlns:tracking="http://www.mulesoft.org/schema/mule/ee/tracking" xmlns:metadata="http://www.mulesoft.org/schema/mule/metadata" xmlns:mqtt="http://www.mulesoft.org/schema/mule/mqtt" xmlns:amqp="http://www.mulesoft.org/schema/mule/amqp" xmlns:http="http://www.mulesoft.org/schema/mule/http" xmlns="http://www.mulesoft.org/schema/mule/core" xmlns:doc="http://www.mulesoft.org/schema/mule/documentation" xmlns:spring="http://www.springframework.org/schema/beans" xmlns:xsi="http://www.w3.org/2001/XMLSchema-instance" xsi:schemaLocation="http://www.springframework.org/schema/beans http://www.springframework.org/schema/beans/spring-beans-current.xsd http://www.mulesoft.org/schema/mule/core http://www.mulesoft.org/schema/mule/core/current/mule.xsd http://www.mulesoft.org/schema/mule/http http://www.mulesoft.org/schema/mule/http/current/mule-http.xsd http://www.mulesoft.org/schema/mule/mqtt http://www.mulesoft.org/schema/mule/mqtt/current/mule-mqtt.xsd http://www.mulesoft.org/schema/mule/amqp http://www.mulesoft.org/schema/mule/amqp/current/mule-amqp.xsd http://www.mulesoft.org/schema/mule/ee/tracking http://www.mulesoft.org/schema/mule/ee/tracking/current/mule-tracking-ee.xsd">
    <http:listener-config name="HTTP_Listener_Configuration" host="0.0.0.0" port="8082" doc:name="HTTP Listener Configuration" />
    <mqtt:config name="MQTT" doc:name="MQTT" clientId="1235" lwtRetained="true">
        <mqtt:connection-pooling-profile initialisationPolicy="INITIALISE_ONE" exhaustedAction="WHEN_EXHAUSTED_GROW" />
    </mqtt:config>
    <flow name="MQTTPublish">
        <http:listener config-ref="HTTP_Listener_Configuration" path="/" doc:name="HTTP" />
        <mqtt:publish config-ref="MQTT" topicName="/sample" doc:name="publishes MQTT message for topic /sample" clientId="1234" />
        <logger message="***********Published Success" level="INFO" doc:name="Prints Published Success" />
    </flow>
    <flow name="MQTTSubscribe">
        <mqtt:subscribe config-ref="MQTT" topicFilter="/sample" metadata:id="a8f64177-a868-43bd-9f25-eb6a037b5504" doc:name="Subscribes MQTT (Streaming) message for topic /sample" />
        <logger message=" #[message.payloadAs(java.lang.String)]" level="INFO" doc:name="Logs message that is published" />
        <set-payload value=" #[message.payloadAs(java.lang.String)]" doc:name="Set Payload" />
    </flow>
</mule>