Multilingual Push Notifications Using the App42 Service
DZone 's Guide to
Multilingual Push Notifications Using the App42 Service
Learn how to implement push notifications in languages other than English to enable more global user engagement with your mobile app.
Join the DZone community and get the full member experience.
Join For Free
The vitality of push notifications is augmented by the fact that they are the most popular and trusted form of user engagement. Your app users could belong to any religion, age, and demographic, and it is imperative that they be targeted in their local language for better conversions. After all, what's a better way to make someone read your message than in their native language? The usual messages that are sent via push notifications are about any product update, new features, discount offers, chats, etc. With App42 Push Notification Service, it is extremely convenient to send multilingual push notifications to your app users across all platforms.
Kindly follow the steps put forth to send multilingual push notifications in your app:
Register with the App42 platform and create your app.
Download the App42 SDK.
Follow the steps to enable push notifications in your Android app (GCM) registration and configuration of the Android phone's process in the App42 Console.
Later, sticking with a few steps stated above, developers can send multilingual push notifications using the below code snippet. Here, users can send their messages in the terminology they want and set the meta headers where the data encoding is true.
String userName = "Nick";
String message = "消息,你必须发送";
HashMap<String,String> otherMetaHeaders = new HashMap<String,String>();
otherMetaHeaders.put("dataEncoding", "true");
pushNotificationService.setOtherMetaHeaders(otherMetaHeaders)
pushNotificationService.sendPushMessageToUser(userName, message, new App42CallBack() {
public void onSuccess(Object response)
{
PushNotification pushNotification = (PushNotification)response;
System.out.println("userName is " + pushNotification.getUserName());
System.out.println("Message is " + pushNotification.getMessage());
System.out.println("Expiry is"+pushNotification.getExpiry());
}
public void onException(Exception ex)
{
System.out.println("Exception Message"+ex.getMessage());
}
});
In the above code snippet, we have sent a Chinese character in the message. Similarly, you can send messages in other languages like Russian, Italian, etc. Moreover, you can also send multilingual push notifications right from our AppHQ Management Console using the following steps:
Click on Unified Notifications once you have logged into AppHQ with the product selected as App42 Cloud API.
Click on channels or users.
Click on Send Push.
Now, to send message in language other than English, click on Non-English and simply type in the language of your choice: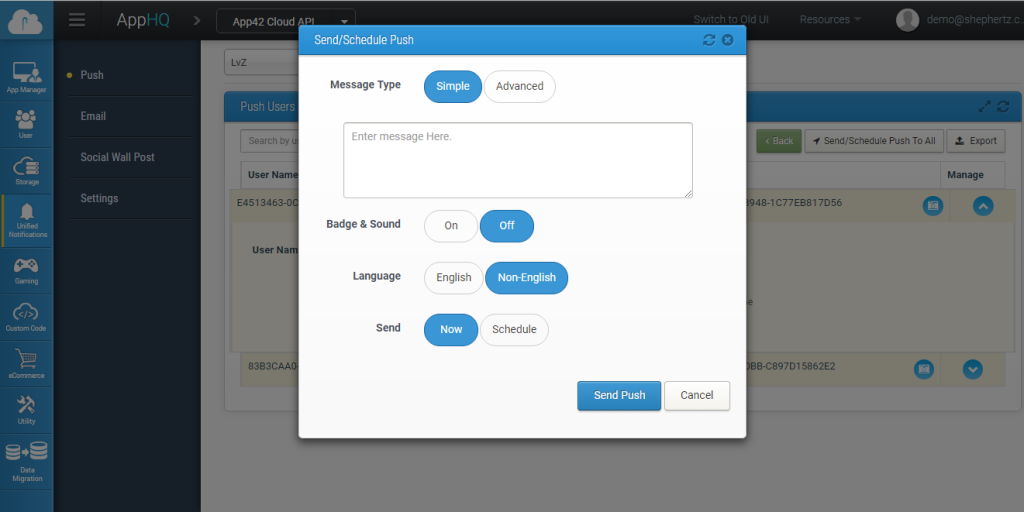 Topics:
push notifications ,mobile ,mobile app development