Network Extortion Is What You Get When Network Neutrality Is Dropped
DZone's Guide to
Network Extortion Is What You Get When Network Neutrality Is Dropped
With the FCC looking to drop net neutrality in the US, what could the potential fallout be? One blogger shares his thoughts.
Join the DZone community and get the full member experience.
Join For Free
Sensu is an open source monitoring event pipeline. Try it today.
Can someone who knows how depict this better than me, please? Just take the OmniGraffle doc and give it another go please (and link back).
Network Neutrality Today (Good)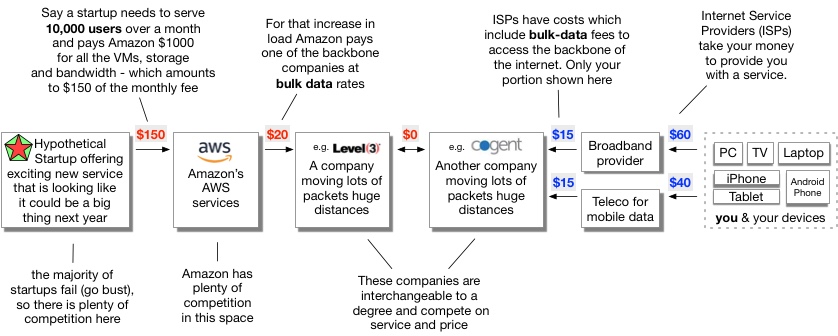 Network Extortion (Bad)

Problems With These Diagrams
The per 10,000 users fees (red and per-month - mostly on the left) does not map well to the per user/account fees (blue, monthly) on the right. Sure, you could divide by 10,000 to arrive at blue legends of 0.15c per user on the left but that's now intangible as well as confusing.
Also 'startup' is just one example.
And, CDNs are not depicted. Would the be extorted too?
Additional Lines/Questions?
What if the telecos try to ask Amazon for fees?
...Or Amazon asks the telecos for fees?
Are the contracts for legalized extortion going to be under NDA, so we the public do not know they are in force?
What Is the End Game:
Startups don't start up?
Startups have to charge end-users too, from the outset?
Micropayments for everything? Look how well that goes for healthcare.
We (end users) bear the brunt of the extra costs, all because telecos want to increase their profits?
Google becomes a non-extorting teleco, benevolent to startups and little orgs/cos?
Breakup of telecos - because this is ultimately self-defeating (it is said there need to be five suppliers of a thing in order to get honest competition, that'd drive prices down)?
Topics:
net neutrality ,fcc ,networks ,performance
Published at DZone with permission of Paul Hammant , DZone MVB. See the original article here.
Opinions expressed by DZone contributors are their own.
Performance Partner Resources
Performance Partner Resources