New Major Version for Git Client Tower Reaches Public Beta
DZone's Guide to
New Major Version for Git Client Tower Reaches Public Beta
Learn about the new features in the new version of Tower, a popular Git client for Mac and Windows, and how to use them.
Join the DZone community and get the full member experience.
Join For Free
Download the blueprint that can take a company of any maturity level all the way up to enterprise-scale continuous delivery using a combination of Automic Release Automation, Automic's 20+ years of business automation experience, and the proven tools and practices the company is already leveraging.
We're happy to announce the public beta for our new major version of Tower - the popular Git client for Mac and Windows.
Over the last months, several thousand users had early access as part of a private beta and the feedback has been fantastic. As of today, the beta is open to the public. To get the new version, you can simply sign up here.
New Features
We're introducing many great new features to Tower and we'd love to highlight the following three:
We're excited to finally bring Pull Requests to Tower. A highly requested and super useful feature. You can now create, merge, close, comment and inspect Pull Requests right from within Tower. The new version supports Pull Requests for GitHub, GitLab, and Bitbucket.
Pull Requests in the new Tower.
We also added Interactive Rebase to Tower - a powerful way to rewrite the history of a repository. We took our time to implement this feature for a reason: we wanted to get it right and make it a pleasure to use.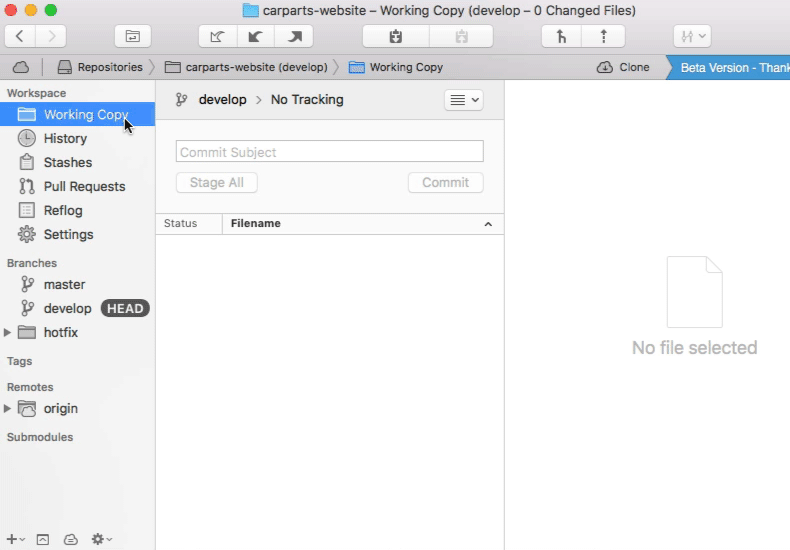 Interactive Rebase in the new Tower.
With Quick Actions, we developed a unique feature that makes using Tower much more productive. It allows you to perform actions right from the comfort of your keyboard. Just to spark your imagination, here are some examples:
Give it a branch name (or parts of it) and it will offer to do a checkout.

Give it a file name and it will offer to show it in the File History.

Give it a commit hash and it will offer to show this commit's details.
Make sure to give it a try. We use it every day.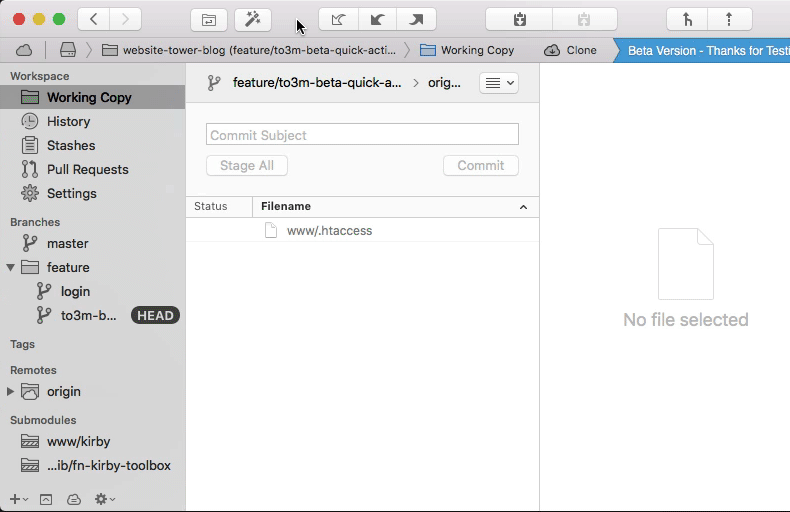 Quick Actions in the new Tower.
There are many other new features that take Tower to a whole new level. You can read more about them in detail on our blog.
The new version also introduces a completely new UI concept that makes navigating through your Git repository as easy as browsing the web. In addition, we heavily invested in substantial performance improvements and polishing existing features.
We'd love to hear your feedback! Make sure to sign up for the free public beta and get to explore the fastest, most powerful Tower - both on Mac and Windows.
Download the 'Practical Blueprint to Continuous Delivery' to learn how Automic Release Automation can help you begin or continue your company's digital transformation.
Topics:
git ,programming ,version control ,devops
Opinions expressed by DZone contributors are their own.