New Social Network for Drones Hopes to Make Flying Safer
DZone's Guide to
New Social Network for Drones Hopes to Make Flying Safer
Drones have become important for monitoring and surveying. But as their numbers grow, so too does safety risk.
Join the DZone community and get the full member experience.
Join For Free
Digi-Key Electronics' Internet of Things (IoT) Resource Center Inspires the Future: Read More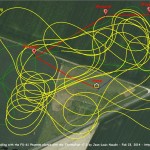 As drones have become cheaper and more versatile, their numbers have soared. They're being used for everything from monitoring pipelines to carrying out environmental surveys. As numbers grow, however, they run the risk of cluttering up the airspace and posing a significant safety risk.
One potential solution has been developed by the Wright State Research Institute (WSRI). They have developed an air traffic control style website and app to help monitor and police drone traffic.
GoFlyZone
The service, called GoFlyZone, uses the flight plans uploaded by drone operators to produce traffic maps, with the aim being to help avoid incidents by allowing other operators to see flight paths and times before they take to the sky.
"The beauty of this is that drone operators go to the website with their flight plans and can immediately find out if there is any conflict," WSRI say. "You don't need an air traffic controller at all."
It's believed that 500,000 drones are in operation at the moment, and whilst hobbyists account for much of this, there is also a growing commercial operation.
A New Form of Air Traffic Control
With the rapid growth in drone traffic, there have been concerns raised that the FAA, and similar bodies, are struggling to keep pace with the change. The WSRI believe their approach may provide an alternative to what is currently being tried.
"Instead of following the air traffic control model, let's create a voluntary, community-based UAS traffic-management website," they say. "We are rolling it out for the Ohio region, but we would like it to expand nationally."
Each flight route is displayed on a map that also displays weather conditions for the area. In time, it's hoped that the map will become richer and display things ranging from live events, potential hazards and other useful features of the area.
In addition to providing the service to drone operators, they also hope that air traffic controllers will use the site to monitor drone activity.
Data on drone activity will also be shared with officials so that they gain a better understanding of the type of drones in operation and the flights they're undertaking.
It's certainly an interesting project, and you can learn more about it via the video below.
Topics:
iot ,drones ,social networking