New Tech Helps Autonomous Trucks Navigate Mines
DZone 's Guide to
New Tech Helps Autonomous Trucks Navigate Mines
A challenge for autonomous industrial vehicles is navigating in the dark and in places where GPS, and Wi-Fi can't penetrate. Here's how researchers are tackling that.
Join the DZone community and get the full member experience.
Join For Free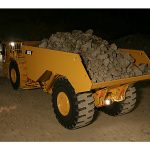 Recently I explored the way digital technology is beginning to have a sizeable impact on the mining industry. Much of this is through the use of autonomous technology to power both the mining trucks themselves, but also the trains that distribute material out of the mine.
A good example of the progress being made comes via Queensland University of Technology (QUT). Researchers from the institute have teamed up with Caterpillar, Mining3 and the Queensland Government to develop autonomous technology that can help underground mining vehicles navigate through dust, camera blur, and bad lighting.
Seeing in the Dark
Autonomous vehicles are increasingly being used in underground mines, but most models today rely upon expensive sensing equipment or infrastructure modifications. The QUT team's system utilizes maths and algorithms inspired by biology to power vehicle-mounted cameras that can locate the vehicle in the underground tunnels extremely accurately.
"This is stage one of the project," the team said. "It's commercially important to be able to track the location of all your mobile assets in an underground mine, especially if you can do it cheaply without needing to install extra infrastructure or use expensive laser sensing."
The QUT system utilizes cameras rather than lasers, with the work based on over a decade's worth of research into navigation technologies that take inspiration from biological systems.
This is key, because the challenging terrain underground means that GPS often can't be used, whilst wireless sensor networks are not especially reliable due to the interference they receive from the rocks.
"We developed a system which could intelligently evaluate the usefulness of the images coming in from the camera – and disregard ones that were blurry, dusty, or that were washed out from incoming vehicle lights," the team explain.
They have already tested the system out via a couple of field trips to Australian mines, with more planned. The team hopes to test even more precise positioning technology that will enable them to locate vehicles to within a few centimeters, which will be necessary for it to be able to safely operate underground.
It's an interesting project, and you can learn more about it via the video below.
Topics:
autonomous driving, driverless vehicles, iot, mining