Nomadic Cloud Systems
In a world where the CEO of some humongously large company can shut down your employer's entire IT infrastructure by simply clicking a button, nomadic cloud systems is really your only alternative
Join the DZone community and get the full member experience.
Join For Free
Regardless of what you think about Parler.com, Donald Trump, and Free Speech, there is no denying that Parler.com is down. I don't know enough about Parler to say anything about whether or not taking it down was the morally right thing to do, but I do know that that Parler is still down, 3 weeks after they were turned off by the guy who is now the CEO of Amazon and hence in control of AWS. But don't worry, this is not an article trying to defend Parler's right to exist, it is rather an article trying to defend your right to exist, and more specifically your employer's right to have a functioning IT infrastructure, resulting in you having a job, being able to support your family. Maybe shutting down Parler really prevented world war 3, and that their employees were all Nazis and fascists for all I know - It's beside the point, lessons can still be taught by the fact that the site is still down, almost a month after it was shut down.
Parler's IT infrastructure
I have no knowledge about Parler's IT infrastructure, but the fact that it's still down, 3 weeks after it was shut down by Amazon, implies they probably based their entire IT infrastructure on AWS lockin technologies, such as Lambda Functions for instance - Implying porting their code to a different cloud became ipso facto impossible. I work in ForEx, and ForEx is considered a "dubious market" in some corners of this world, and some countries have almost completely banned ForEx. For instance, PayPal does not accept payments to ForEx companies due to the way the ForEx business works, even though it's a 100% perfectly legitimate business in most parts of the world.
If my employer was to base its entire IT infrastructure on Lambda Functions or Azure Functions and CosmosDB for instance, we'd be one push of a button away from being out of business within the blink of an eye.
If Parler had created their software in such a way that they could easily migrate it from AWS to for instance Azure, or their own VPS infrastructure for that matter, the site would have been up running 5 minutes after the CEO of Amazon pulled the plug on them. It's not, so we can only assume their code base is scattered with lockin tech, from Amazon's "retention department", created to make it impossible for their customers to move to a different cloud vendor.
The Nomadic Software Developer
Of course, any sane software developer, understanding the implications of having a 3rd party cloud vendor company shutting down his entire company with the click of a button, creates his software such that it can easily be transitioned from one cloud to another. This implies avoiding things such as for instance.
Lambda Functions
CosmosDB
Azure Functions
Other types of "Cool-Aid Tech"
Etc ...
Why? Because it's proprietary technology, preventing your employer from migrating his systems, from one cloud vendor to another. Implying if your cloud vendor decides that your business is not something they want, for whatever reasons they have, they can simply click a button, resulting in that you and 50 of your colleagues becomes unemployed within the blink of an eye. They don't need to justify their reasons either. It doesn't require you violating any laws, supporting Trump, or have a dubious member base either - In fact it might be that the CEO of your cloud simply decides to take your business for himself, squeezing you out of the industry, running away with your customers. This would be a perfectly legitimate reason for them to shut you out of their cloud, annihilating your business in 1 second.
If you at that point had created your company's IT infrastructure on top of a portable code base, you'd move your code base to something else, and your company would be up running again 5 minutes afterwards - Without any harm. Which of course implies you cannot swallow their Cool-Aid, by which I mean lockin tech, such as Lambda Functions, Azure Functions or CosmosDB for that matter. There exists better open alternatives anyways, and there are no reasons for you to choose lockin, where the alternatives are better.
The senior developer wasn't heard
I am almost 100% certain of that some senior developer at Parler originally proposed to build a nomadic software system as they started out creating their infrastructure. Why? Because it's what any sane senior software developer does once asked to start a project. In fact, you can sanity check your own software developers this way by asking them the following question ...
What do you think about Azure and Lambda Functions?
If they tell you they love it, then never give them responsibility to choose platform, and never listen to them as they give you technical advice. However, paradoxically today we cannot any longer hear that software developer's voice, but if you visit Parler.com, you can see how their CEO today probably regrets his "decision to build faster on top of Lambda Functions and other AWS lockin tech". Well, you should have listened to your senior when you started your platform. Sorry mate, but it's too late now. Your startup is gone, and your employees are looking for different venues. Because you didn't listen to your most senior staff as you started. The irony ...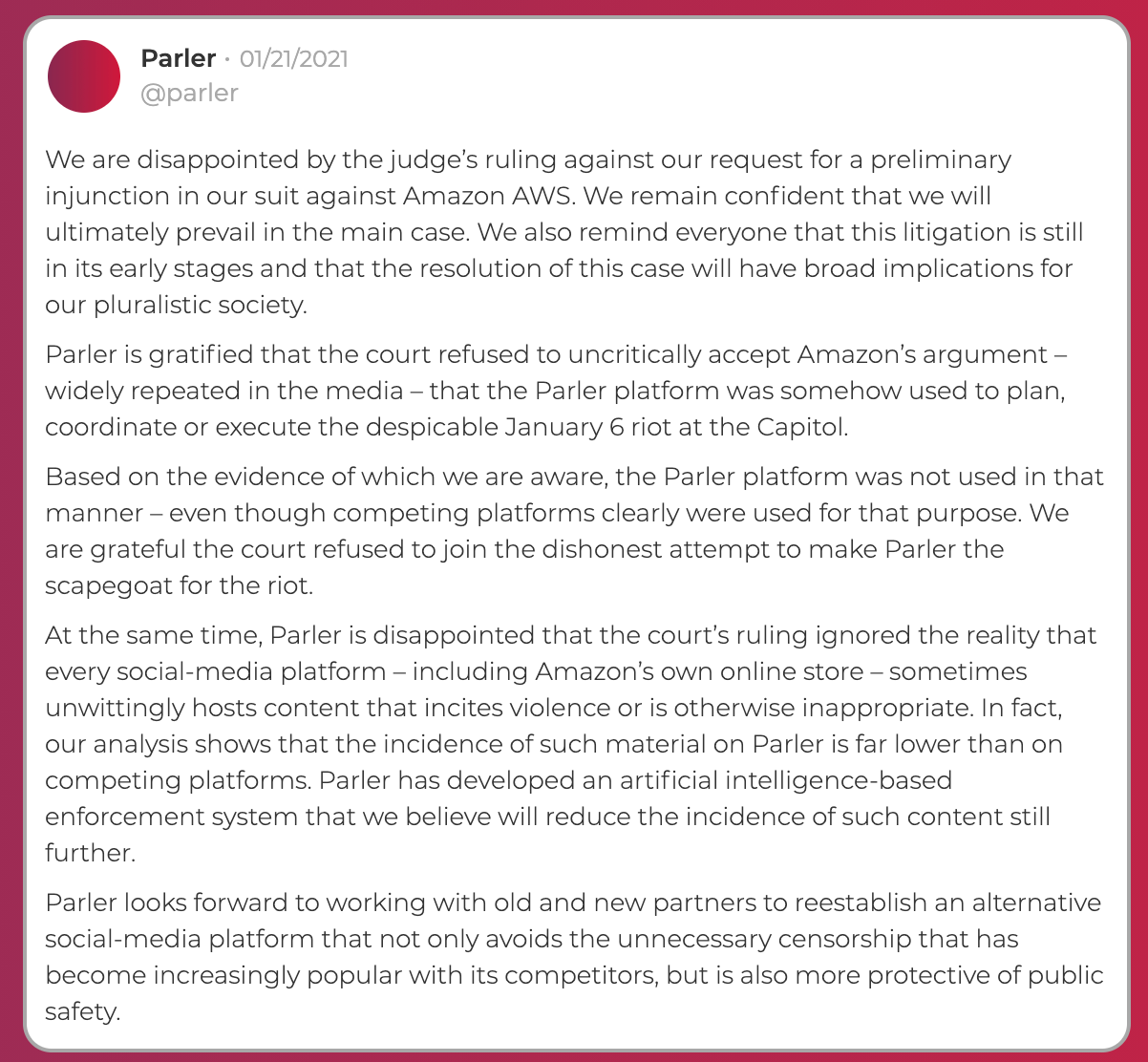 Senior Software developer 1, CEO of Parler 0
However, let me ask you a question John: Did you learn something?
Next time however, build your stuff on nomadic cloud systems. That way you won't need to shut down your business because Amazon's CEO clicks a button. You can see me deploying my stuff in the video below, in such a way that I could have deployed it in 5 minutes, to Azure, AWS, any VPS system I wanted to, etc, etc, etc - If Paler had created their stuff on top of Magic, the site would have been up running again 5 minutes after it was shut down by Amazon's CEO. Stay away from lockin tech, it is the equivalent of giving away your future, in exchange for pennies in savings ...
Opinions expressed by DZone contributors are their own.