NTK 2015: Slides From My Intro Talk on IoT and "Smart Home"
DZone 's Guide to
NTK 2015: Slides From My Intro Talk on IoT and "Smart Home"
Join the DZone community and get the full member experience.
Join For Free
First of all, I'd like to thank everybody who attended my introductory talk at this year's NT Konferenca (celebrating 20th anniversary this year – and back to Portorož venue).
I've talked about my smart home wiring and how I'm able to manage it from inside and outside my home network using my Windows Phone and Surface 2 RT. How various sensors and switches are connected to the main bus and are communicating with the actuators that control the lights, outlets, valves, blinds, etc. How little & cheap devices can help us connect our home devices to the Internet.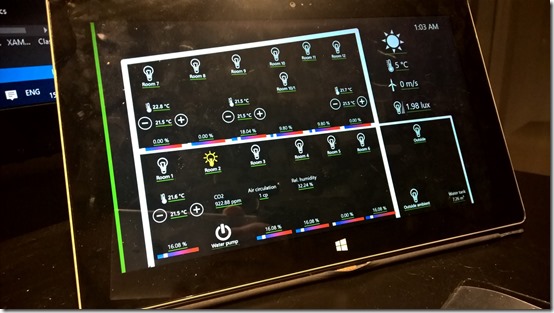 [Very early version of my Windows app, running on Surface 2 RT provides me a dashboard to monitor AND control my home]
My talk also aimed to feature a very simplified version of the above app (with simulating sensors instead of reading actual values) running on the Raspberry Pi. Unfortunately, due to the lack of HDMI->VGA adapters, I couldn't show actual UI from Pi's video output, but the app worked flawlessly otherwise (with Visual Studio 2015 debugger attached to the app running on the Pi).
Problems aside, we were able to monitor faked sensor data that was sent by the Pi to the web app and then relayed, in real time - thanks to SignalR running on Microsoft Azure – to a simple UWP monitoring app running on a Windows 10 desktop.
I've also shown a UI-less version of that same app, running on the Pi in headless mode (a kind of Windows service-ish mode), which I hope proved that Raspberry Pi running Windows 10 makes one very very powerful combo. Even if Windows 10 IoT Core Is currently still way from being final and it's going to improve on its way to the release.
Some more info in the following slides…
Going forward, I'm exploring the possibilities of the internet and cloud-stored data. Computing power that it can give you. Analysis. Learning. Reaction.
What I'm learning right now is finding the right balance between private and cheap.
Topics:
internet of things, iot, mobile, smart home
Published at DZone with permission of Andrej Tozon , DZone MVB. See the original article here.
Opinions expressed by DZone contributors are their own.