I recently attended Oracle Code New York City 2017, and I thought I'd go over my experiences and thoughts on them, from keynote speakers to the latest news. Without further ado, let's dive in!
Keynotes
Chris Richardson did an amazing walkthrough and discussion of the what/why/how/when of microservices. This is incredibly powerful material. Chris explains it very well and removes some of the misinformation around microservices. A full two hours from the keynotes are already on YouTube.
Key Takeaways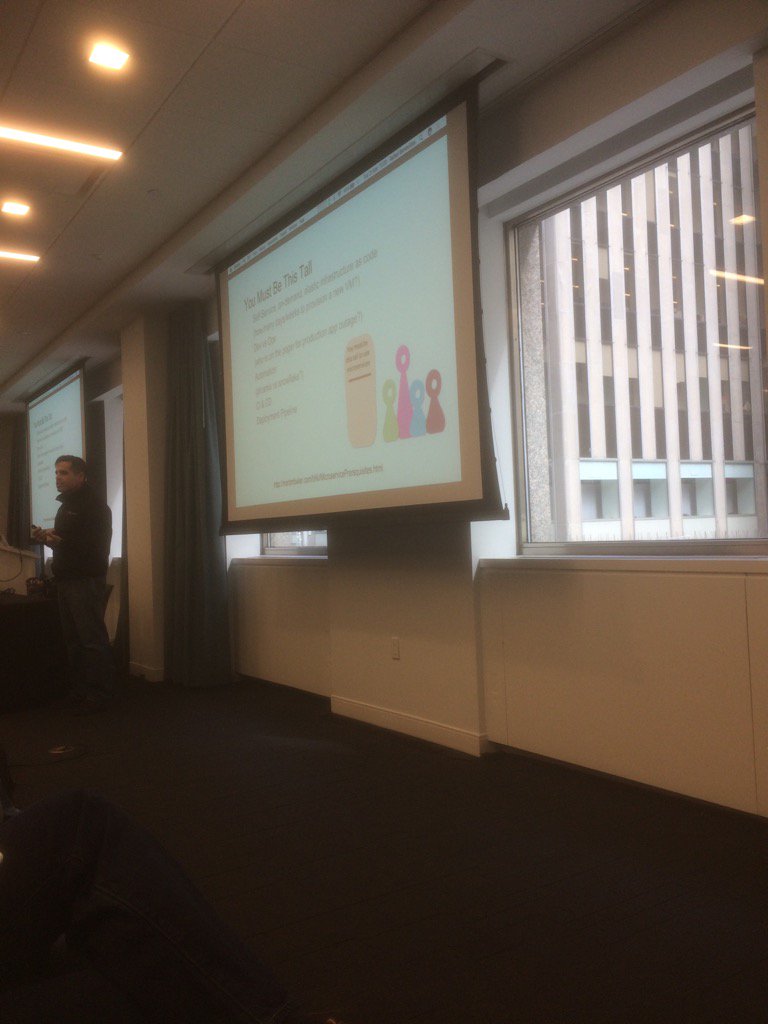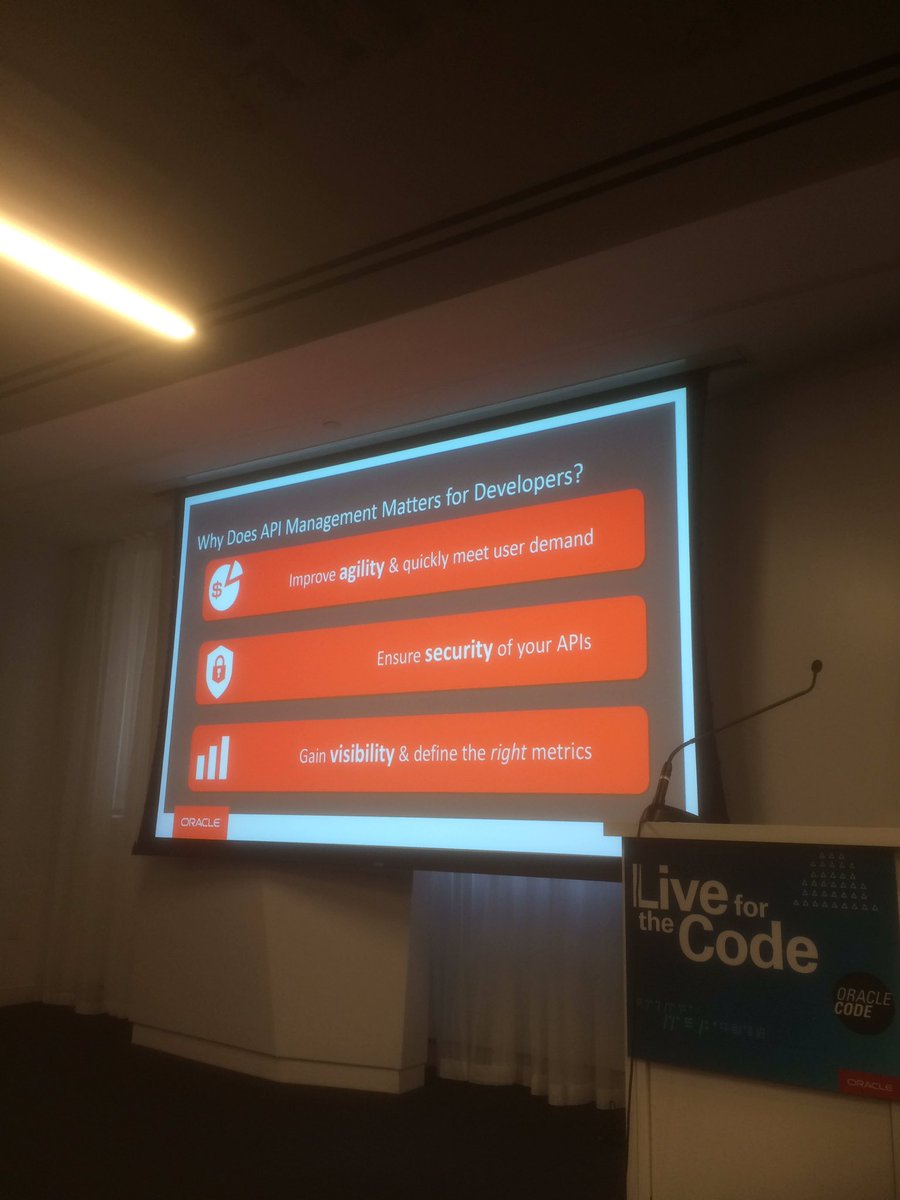 Design APIs first.

Not everything is a microservice.

Microservices work for bigger problems and larger applications.

You need a lot of requirements to support, develop, manage, and operate microservices.

You better have a PaaS or superb DevOps + CI +CD to even consider doing it.

The 100 lines of code thing is silly.

If CQRS is something you haven't thought of, don't even consider anything like "transactions" over multiple microservices.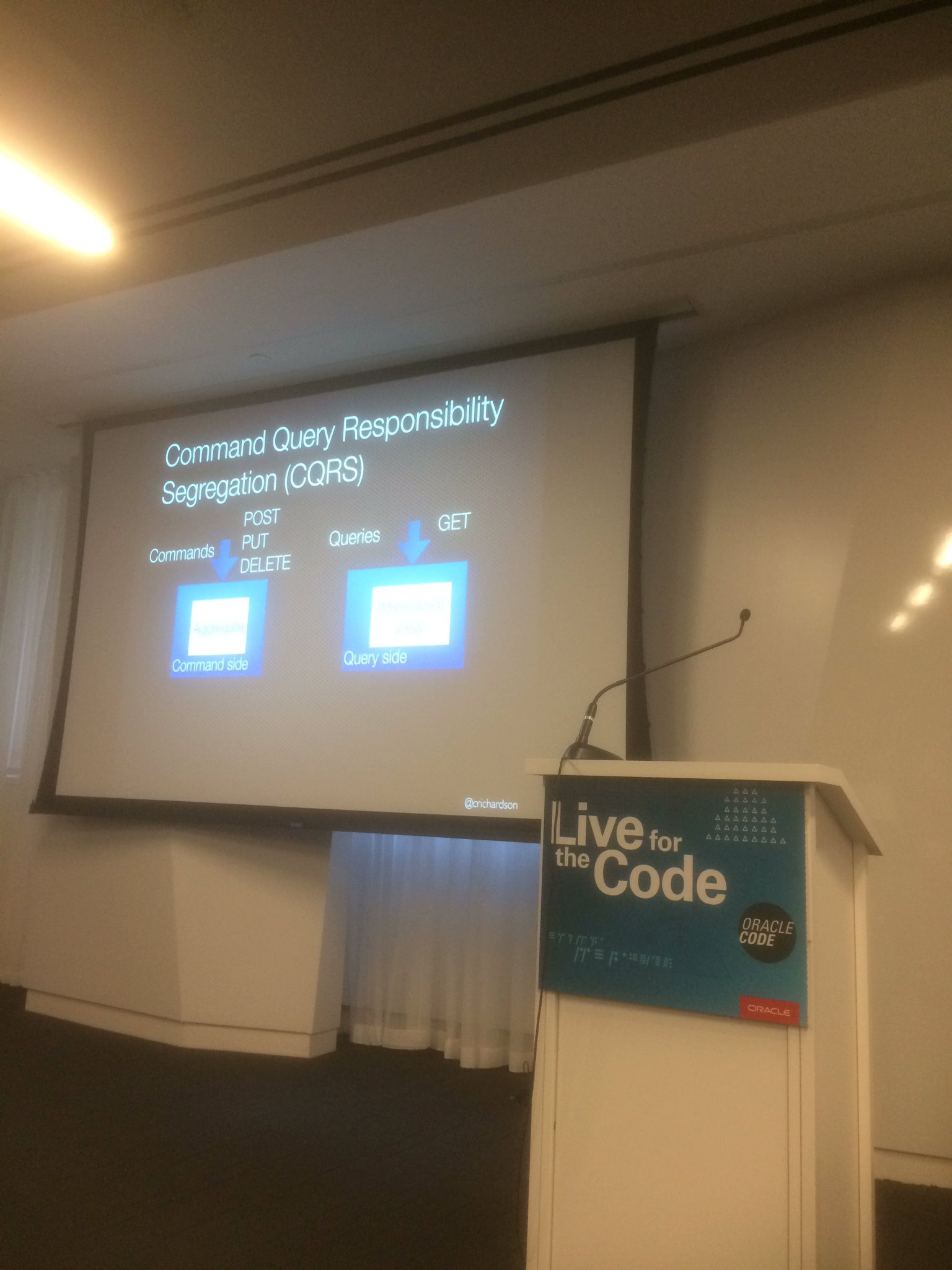 My talk was the last of the day and was well-attended, so let's jump in.
Oracle Code NYC Talk on Ingesting Drone Data into Big Data Platforms
For a pre-talk interview on Oracle TV, click here. (GitHub)
Slides
A big shout-out to the Oracle team for hosting a great event and having me talk about Open Source. Convene is a great little venue and had strong WIFI, snacks and drinks.
Highlights
MetaData EXIF Geotagging:
Photographs taken from UAVs, the JPEGs will have extra data stored in EXIF.
Apache NiFi can extract this information, which is very helpful.
The most important information it contains is GPS information for latitude and longitude.

GPS Altitude Ref: Sea level
GPS Altitude: 21 metres
GPS Longitude: -73° 4' 50.41
GPS Latitude: 40° 45' 16.51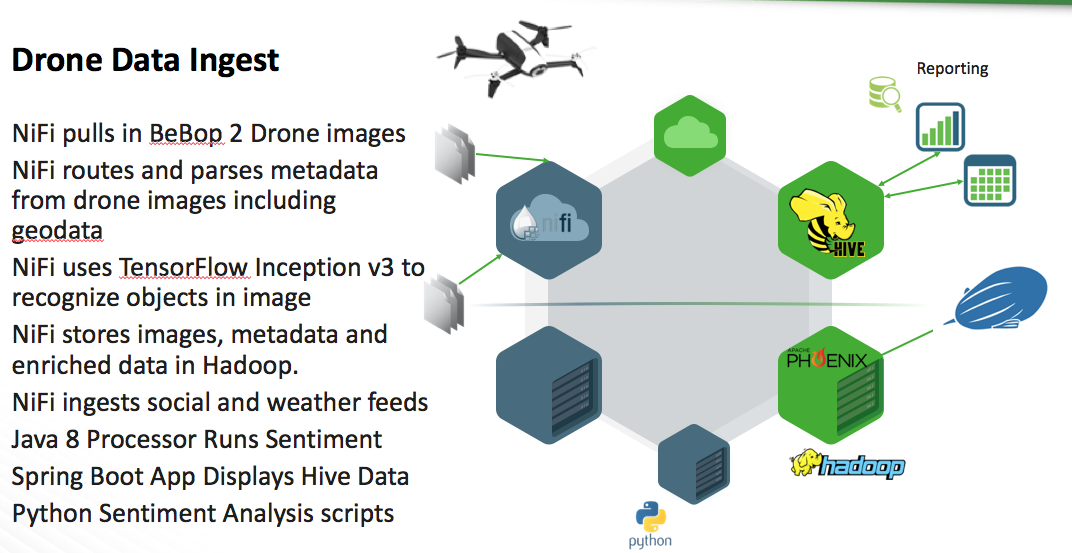 TensorFlow for Inception v3:
python classify_image.py --image_file /opt/demo/dronedata/Bebop2_20160920083655-0400.jpg
solar dish, solar collector, solar furnace (score = 0.98316)
window screen (score = 0.00196)
manhole cover (score = 0.00070)
radiator (score = 0.00041)
doormat, welcome mat (score = 0.00041)

bazel-bin/tensorflow/examples/label_image/label_image --image=/opt/demo/dronedata/Bebop2_20160920083655-0400.jpg
tensorflow/examples/label_image/main.cc:204] solar dish (577): 0.983162I 
tensorflow/examples/label_image/main.cc:204] window screen (912): 0.00196204I 
tensorflow/examples/label_image/main.cc:204] manhole cover (763): 0.000704005I 
tensorflow/examples/label_image/main.cc:204] radiator (571): 0.000408321I 
tensorflow/examples/label_image/main.cc:204] doormat (972): 0.000406186

Sentiment analysis:
/opt/demo/sentiment/run.sh
python /opt/demo/sentiment/sentiment.py "$@"

from nltk.sentiment.vader import SentimentIntensityAnalyzer
import sys
sid = SentimentIntensityAnalyzer()
ss = sid.polarity_scores(sys.argv[1])
print('Compound {0} Negative {1} Neutral {2} Positive {3} '.format(
ss['compound'],ss['neg'],ss['neu'],ss['pos']))

or

if ss['compound'] == 0.00:print('Neutral')
elif ss['compound'] < 0.00:print ('Negative')
else:                    print('Positive')
Zeppelin Data Analytics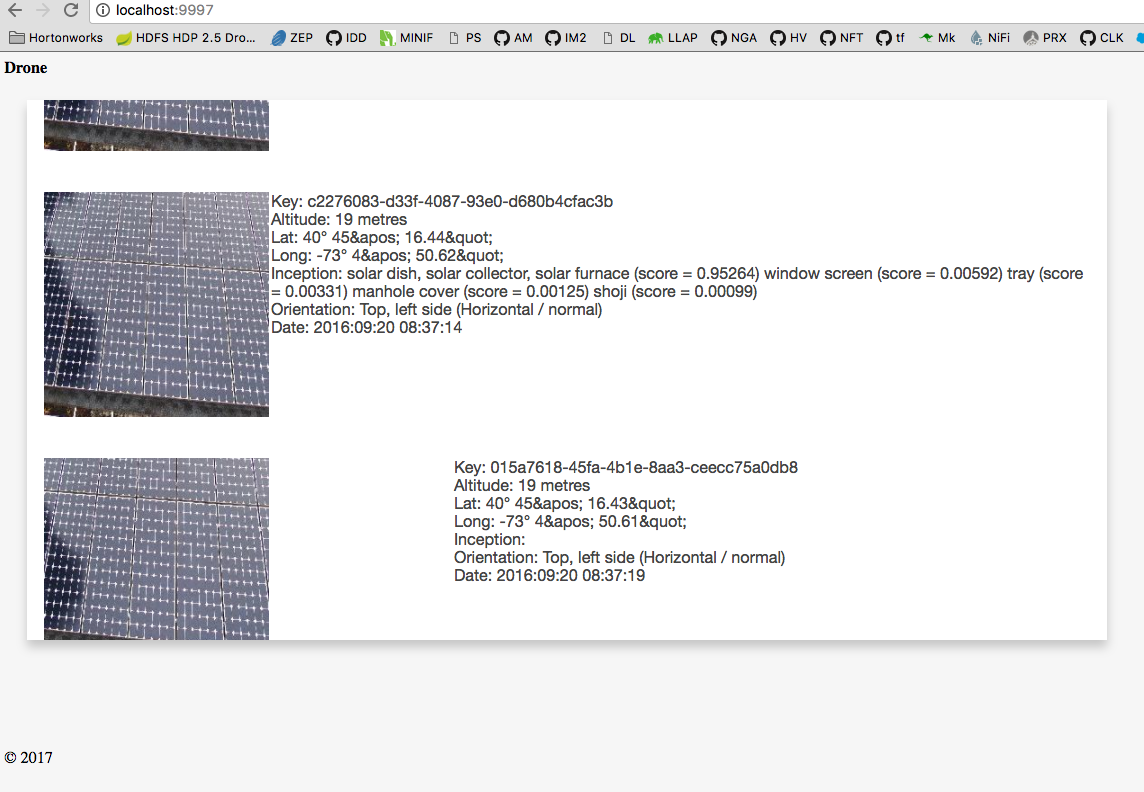 Installing Sentiment Libraries for Python
https://pip.pypa.io/en/latest/installing/
http://www.nltk.org/install.html

wget https://bootstrap.pypa.io/get-pip.py
python get-pip.py
sudo pip install -U nltk
sudo pip install -U numpy
sudo pip install -U textblob
sudo python -m textblob.download_corpora
Installing Apache NiFi
Download the binary from here:  http://hortonworks.com/downloads/#dataflow

Or here:
https://nifi.apache.org/download.html

Or on Mac:
brew install nifi

https://nifi.apache.org/docs/nifi-docs/html/getting-started.html#starting-nifi

bin/nifi.sh start