Orson Charts 1.5 is Open Source
DZone's Guide to
Orson Charts 1.5 is Open Source
Orson Charts is a free 3D chart library for Java, and as of version 1.5, it's free do download! Learn more about Orson Charts 1.5 and new features in the latest iteration.
Join the DZone community and get the full member experience.
Join For Free
Orson Charts 1.5, a free 3D chart library for Java (JavaFX, Swing and server-side apps), is now available to download:
http://www.object-refinery.com/orsoncharts/index.html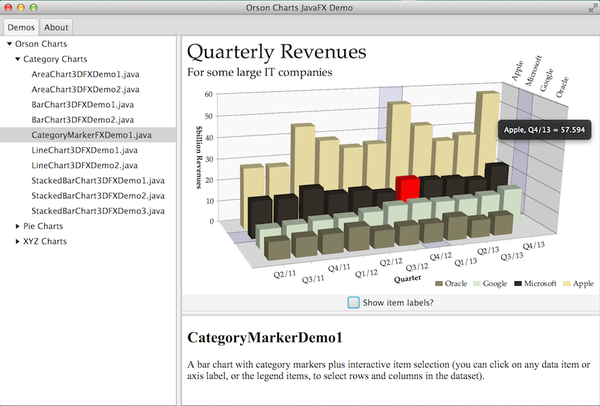 New features in this release:
28-Jan-2016 : Version 1.5

- added new LineXYZRenderer;
- added option to invert axes;
- fix exception when setting a new dataset using CategoryPlot3D.setDataset():
- fix direction of mouse wheel zooming in JavaFX;
- included FXGraphics2D version 1.3 as a dependency;
- updated OrsonPDF to version 1.7;
- updated JFreeSVG to version 3.0;
- added pom.xml for Maven builds;
- JavaFX demos brought up to match the Swing demos;
- various Javadoc improvements.
Orson Charts is Open Source software, licensed under the terms of the GNU General Public License, version 3.
Build vs Buy a Data Quality Solution: Which is Best for You? Maintaining high quality data is essential for operational efficiency, meaningful analytics and good long-term customer relationships. But, when dealing with multiple sources of data, data quality becomes complex, so you need to know when you should build a custom data quality tools effort over canned solutions. Download our whitepaper for more insights into a hybrid approach.
Topics:
javafx ,java ,swing ,charts ,open source ,data visualization
Opinions expressed by DZone contributors are their own.