How Otto Puts Docker's Development and Deployment Capabilities to Shame
DZone's Guide to
How Otto Puts Docker's Development and Deployment Capabilities to Shame
Otto is the successor to both Vagrant (also by developer HashiCorp) and Docker; Otto builds infrastructure from the app up.
Join the DZone community and get the full member experience.
Join For Free
Download the blueprint that can take a company of any maturity level all the way up to enterprise-scale continuous delivery using a combination of Automic Release Automation, Automic's 20+ years of business automation experience, and the proven tools and practices the company is already leveraging.
Docker Who? That time-travelling Vagrant? Why is it so hard for DevOps to get the tools they need to quickly build scalable infrastructure that doesn't cause a provisioning headache?
Thanks to a new concept of development and deployment created by HashiCorp, you can get the benefits of emerging approaches Otto-matically.
Otto is for Automated Development Environments
Both Docker and Vagrant have specific limitations; Docker is a single concept but a lot of tools and processes that are separate, Vagrant is ideal for building a virtual machine, but isn't, in and of itself, directed toward app development.
Otto is much simpler, runs in *nix, OSX, and Windows, and installs in seconds. Otto also supports key features like SSH and deployment to AWS.
A Simplified Build Procedure
Otto needs a minimal set of instructions to work because it's purpose built to create microservices and was created, in large part, as a response to the burden of specialized knowledge that shouldn't concern devs who just want to code, not necessarily delve deep into infrastructure.
appfile specifies and generates:
Development environments,

Build systems,

Infrastructure, and

Deployment.
otto dev creates and configures:
A virtual machine, and

Upstream dependencies.
otto infra
otto build
Packages the app for deployment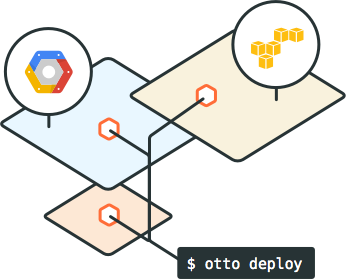 otto deploy
Takes the app from appfile, references the provisioning created by otto infra, and builds artifacts from otto build.
Resources
Download the 'Practical Blueprint to Continuous Delivery' to learn how Automic Release Automation can help you begin or continue your company's digital transformation.
Topics:
infrastructure design ,network architecture ,development tools
Opinions expressed by DZone contributors are their own.